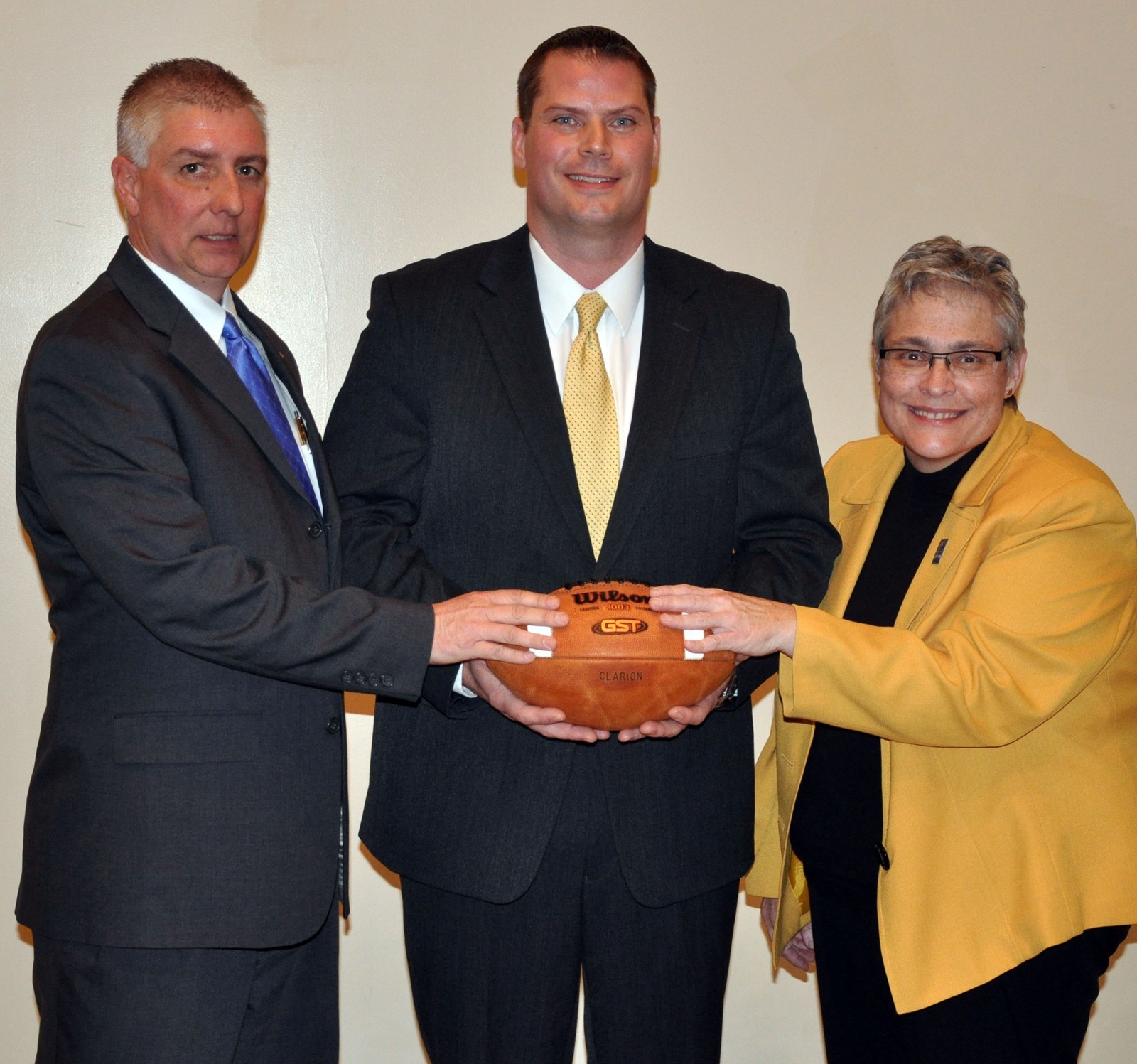 CLARION, Pa. – East Brady native and a former quarterback at East Brady High School, Chris Weibel, has been named the head football coach at Clarion University.
Weibel was the last-ever quarterback at East Brady High School and threw for 1,619 yards and 20 touchdowns as a sophomore under coach Frank Marslyn. After East Brady closed following the 1990 football season, Weibel went to Armstrong Central where he played for Harry Beckwith and threw for over 3,000 yards and 32 touchdowns.
Following graduation from high school, Weibel became the prolific quarterback in Clarion University history and holds all the key passing record including yards thrown for (7.845), passing touchdown (75), single-season passing yards (2,880 in 1996) and single-season touchdown passes (32 in 1996).  His 55 percent (586 of 1,065) completion percentage is the third-best in school history despite having thrown the most passes in a career at Clarion.  Weibel led Clarion to the PSAC West title and the NCAA Final Four in 1996 amd was an NCAA Division II All-America that year. He was inducted into Clarion's Athletics Hall of Fame in 2010.
Upon graduation from Clarion in 1998 he played nearly five years of professional football in four indoor football leagues including the AFL 2 with the Florida Firecats in 2001 and the Greensboro Prowlers in 2002. He signhed during the 2004 season with Grand Rapids of the AFL.
"I'm excited and really proud to be the next head football coach at Clarion," Weibel said. "This is a true dream come true for me, a person that loves this university and its proud football tradition.  I am extremely passionate about the football program, especially being a former player, alumni and coach. I know what this means to everyone involved in football at Clarion. I will dedicate myself to restoring the pride, passion and success of Clarion football. I want to especially thank President Whitney and Dave Katis for their trust in giving me this opportunity, along with the support of so many former teammates, alumni and friends around the country.
"If you look back at the decades of the 1960's, 70's, 80's and part of the 90's, Clarion stood among the best football programs in the nation. A 27-consecutive non-losing season streak (1961-87) and 22-consecutive winning seasons (1964–85) reflects the proud tradition of this program and its alumni. I believe we can win again, and starting today we are going to reach out to all of our constituencies to help get that job done."
Weibel, the 12th head coach at Clarion since 1926, replaces Jay Foster who retired Dec. 2 after nine seasons. Weibel is no stranger to the Clarion program having served as the offensive coordinator the last two years and as Interim Head Coach since Dec. 15. Prior to being named offensive coordinator, Weibel was a positions coach for the Golden Eagles for eight seasons.