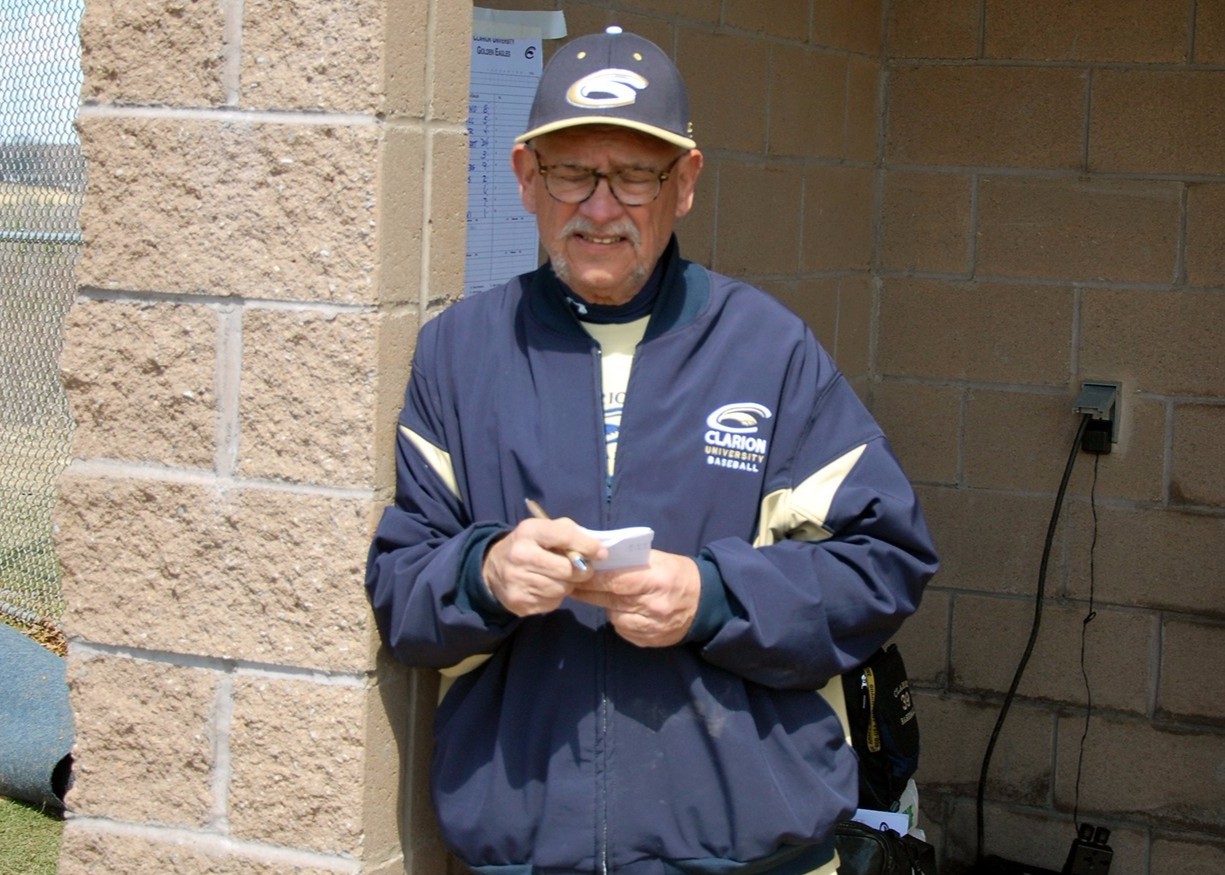 CLARION, Pa. – After serving nine seasons as Clarion University's baseball coach and 43 years as a coach at both the high school and college levels, Mike Brown is retiring from Clarion Friday.
(Cover photo courtesy of Clarion Athletics)
"I think it was the right time," Brown told EYT Media. "I wish it had been a month ago so that I could have given the university more time. I thought the summer would revitalize me, but I realized the time in the trenches and the grind, as they call it, wasn't something I was looking forward to doing. I had an old high school coach tell me no one tells you when it's time to retire, you just know. I just knew. It was time for me to walk away and play with some grandkids and do some other things."
Brown is best known for his time at Redbank Valley where he spent 25 years as the boys' basketball coach, 23 as an assistant football coach, 19 as the head track and field coach and eight as the baseball manager.
Hired at Redbank Valley in 1975 after graduating from the University of Pittsburgh, Brown immediately became a member of the various coaching staffs at the school.
As the basketball coach, his teams won a pair of Clarion County League Championships (1991 and 1992), one District 9 Class AA title (1980), while finishing as D9 runner-up in 1983 and 1991 and making the PIAA playoffs in 1979, 1980 and 1991.
Helping out with the football team, Brown helped coach the Bulldogs to District 9 Class AA titles in 1991 (no opponent), 1992 and 1996 and conference titles in 1985, 1994, 1995 and 1996.
In baseball at Redbank Valley, Brown had an overall record of 105-44 and a KSAC mark of 87-27 winning KSAC titles in 1998, 1998 and 2000 while finishing second in District 9 in 2000 and 2004.
While at Redbank Valley, Brown taught, was the Driver's Ed Instructor and also served as the athletic director from 2000 through his retirement in August 2007.
After retiring from Redbank Valley, Brown joined Clarion University manager Scott Feldman as a volunteer assistant coach with the Golden Eagles in 2006 and 2007 before taking over the program in 2008.
Brown's high school success never quite translated at the college level, where his Golden Eagle teams struggled against programs with much more money. His best season came in 2012 (12-28), 2009 (13-32) and 2008 (12-30).
While the wins weren't there, he did coach some great players including current Houston Astros farmhand Jon Kemmer as well as Ridgway graduate Jerico Weitzel and Johnsonburg grad Seth Peterson, who were all on the 2012 team. More recently, Tyler Falk was named a PSAC Top 10 recipient and a COSIDA Academic All-American. Brown's record at Clarion was 83-281.
"I gave it all I could in my coaching career," Brown said. "I had to consider my health and make sure everything was ok with me. I gave it my all, and I am at peace with it all. It was 43 years of a pretty good career. I had some ups and downs, won some championships and lost some. Would I do it again? Heck yeah."
Brown started his coaching career in the Jewish Congregation League, similar to a CYO League, in the Pittsburgh neighborhood of Oakland where he coached Rodefshalom for two seasons
"It was funny," Brown said. "We have a banquet, and I didn't even know how to put on a yamaka. They had to show me."
A native of Greenville, Pa., Brown graduated from Reynolds High School in 1968.
He lives in Clarion with his wife, Diana. The Browns have three daughters, Cari Harmon, Erin Hunsberger and Moira Shindledecker, three son-in-laws, Jim Harmon, Marc Hunsberger and Daniel Shindledecker and five grandchildren.
Brown was the sixth baseball coach at Clarion since 1964. Joe Knowles coached the Golden Eagles from 1964-77, Barry McCauliff from 1978-87, Jim Englehart in 1988, Rich Herman from 1989-99, Feldman from 2000-2007 and Brown from 2008-2016.