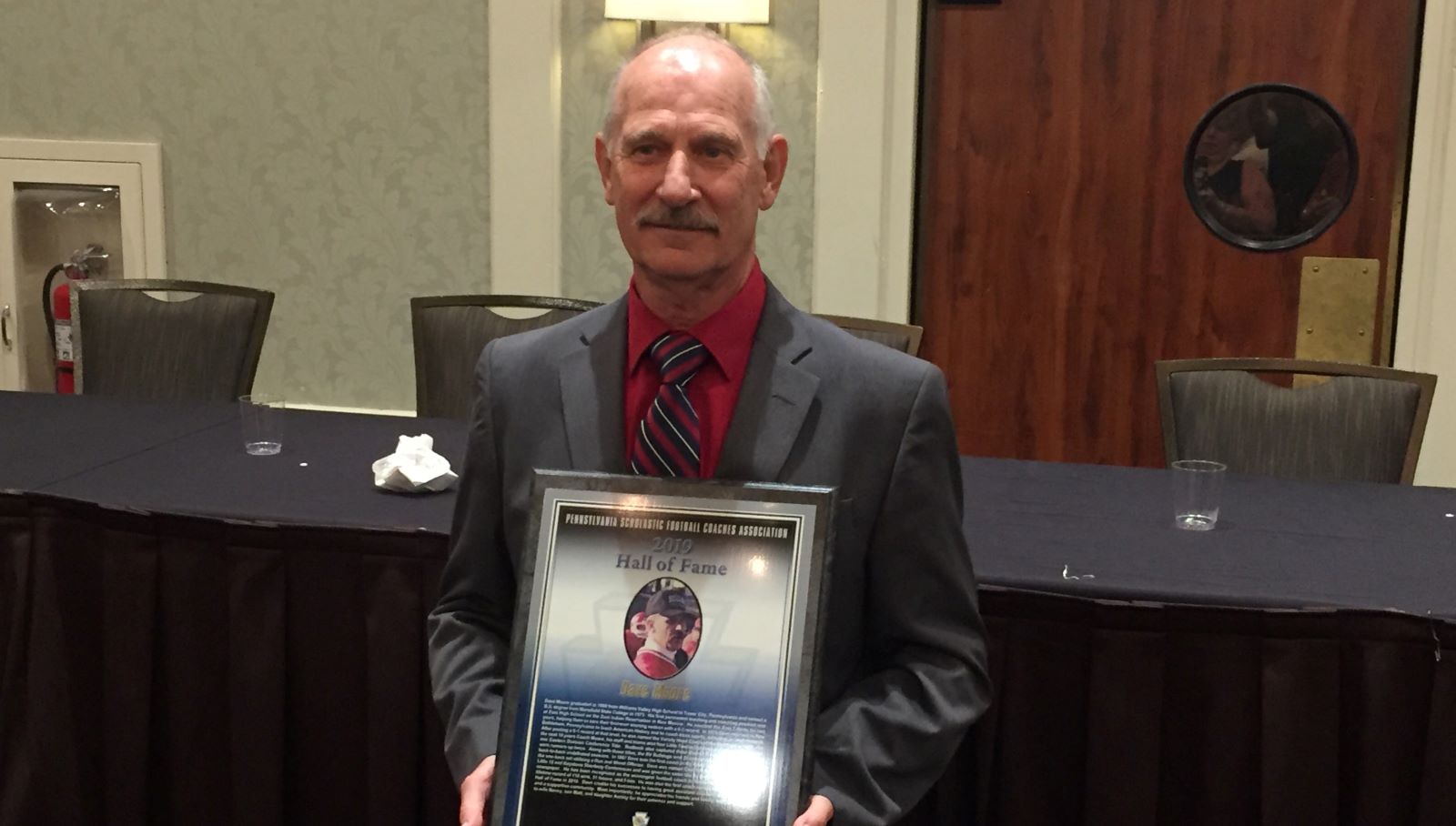 HERSHEY, Pa. – Long-time Redbank Valley head coach Dave Moore was inducted into the Pennsylvania Scholastic Football Coaches Association Hall of Fame over the weekend.
(Photo of Dave Moore with his PSFCA Hall of Fame Award. Photo by Bob Dunkle)
Moore became the Bulldogs football coach in 1979 and was at the helm of Redbank Valley for the next 18 years amassing a record of 118-51-5.
With Moore as the head coach, Redbank Valley won four Little 12/KSAC Conference Championships while also capturing three District 9 Class 2A titles – District 9 didn't start a playoff system until 1987 – and finishing second in D9 2A on two other occasions. The Bulldogs won 25 consecutive conference games at one point, and Moore was named Coach of the Year three times in the Little 12/KSAC.
In 1987, Moore became the first coach in the Little 12 to implement a one-back set utilizing a run-and-shoot offense, something Redbank Valley became known for over the next decade plus.
Prior to taking over as the head coach in 1979, Moore spent one year as the junior high coach at Redbank Valley in 1978 going 6-1.
The 1969 Williams Valley High School (Tower City, Pa.) graduate, Moore graduated from Mansfield State College in 1973. He then went to New Mexico where he taught and coached at Zuni High School on the Zuni Indian Reservation before getting a job as an American History teacher and coach of three sports at Redbank Valley.
In addition to his time as the football coach, Moore also coached girls' basketball at Redbank Valley winning District 9 Class 2A titles in 1996 and 1998 and coaching runner-up teams in 1995, 1999, 2003 and 2004. He was 136-85 in his 10 seasons as the Lady Bulldogs head coach.
Moore joins a long list of former/current coaches who spent at least a portion of their career in the District.
Others include, but may not be limited to, Reynoldsville/Reynoldsville-Sykesville/Central-Martinsburg's Harry Clarke (1986), Bradford/Knox's Bob Plfug (1987), Clarion/Coudersport/Punxsutawney/Franklin/Philipsburg-Osceola's Robert Moore (1988), Brockway's Charles Zoffuto (1989), East Brady/Kane/Indiana's Bernie McQuown (1993), Brockway/Steelton/Williamsport's Steve Torretti (1996), Union's Rich Vidunas (2003), Clarion-Limestone/Slippery Rock/Butler's Clyde Conti (2005), Carl Defilippi (2006), Ridgway's Mike Dominick (2007), Punxsutawney/Slatington/McCaskey/Elizabethtown's Jack Cassebaum (2008),  Clarion's Larry Wiser (2011), Clearfield's Tim Janocko (2013), Brockway's Ray Reckner and Clarion/Ridgway's Norm Zwald (2014), East Brady/Seneca Valley's Terry Henry in 2017 and Clearfield/Danville/Titusville's John Wiley (2018). Moore coached in the KSAC/Little 12 with Vidunas, Conti, Wiser and Reckner with all five coaching at the same time at one point in the conference.
Jack Cassebaum