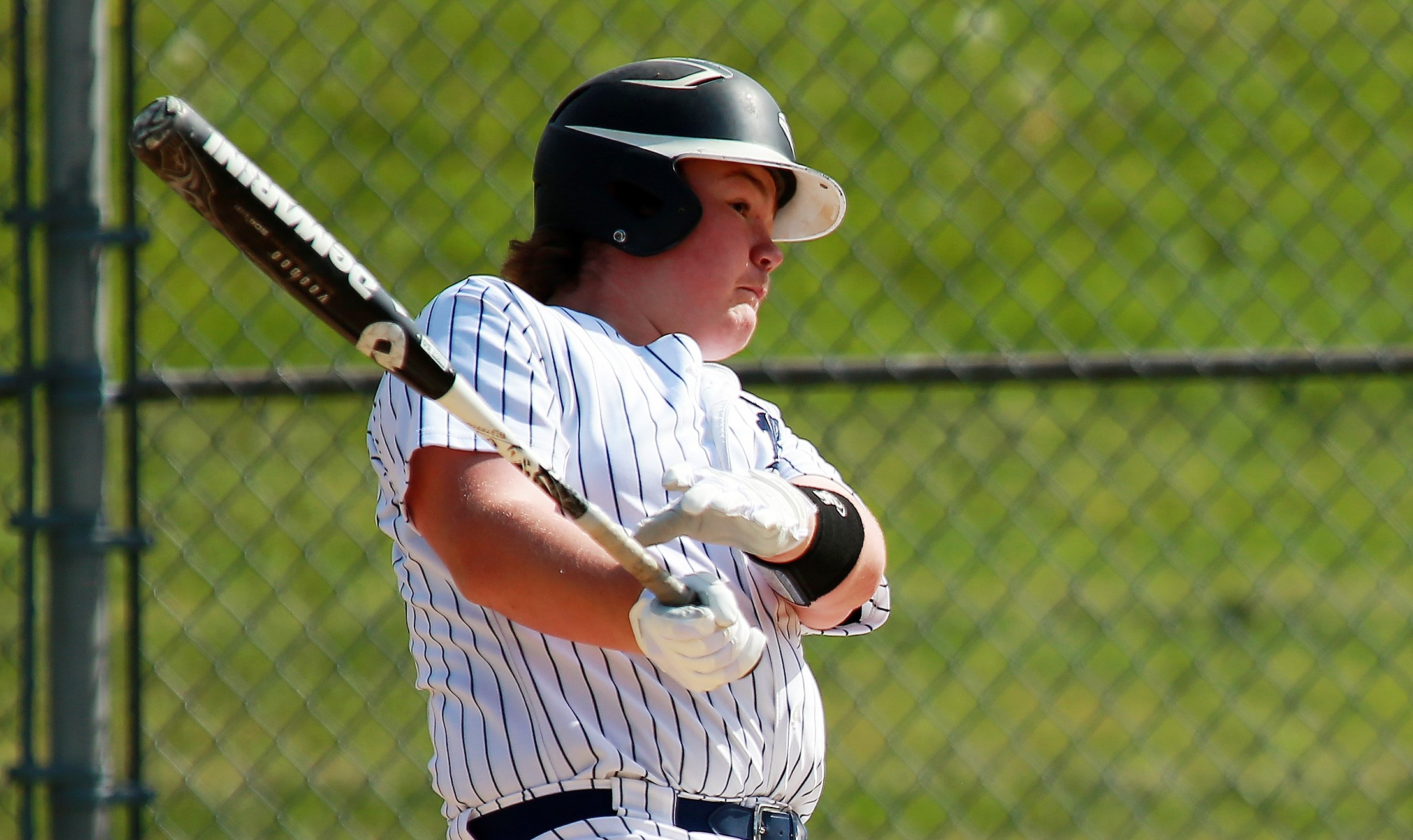 DUBOIS, Pa. – For the first time since 2007, District 9 has three Class 1A baseball teams playing in the PIAA 1A quarterfinals.
(Cover photo of Brookville's Tanner LaBenne. Photo by Paul Burdick. Check out more of Burdick's work here)
All three District 9 qualifiers – champion Oswayo Valley, second-place Clarion and third-place Elk County Catholic – won opening round games this week and are joined in the quarterfinals by Brookville in Class 2A, marking the second time in four years D9 has had four teams in the quarterfinal round and the third time in the last 11 years (it also happened in 2007 when D9 sent a pair of teams to the PIAA title game with Punxsutawney winning the 3A title).
The district is hoping for a repeat of the 2007 season when the Western Finals was an all-D9 affair after second-place Cameron County beat third-place ECC, 11-4, at champion Johnsonburg took down WPIAL runner-up California, 4-3. Johnsonburg then beat Cameron County, 2-1, to reach the championship game where it lost to Minersville, 4-1.
This year's Class 1A tournament, the first under the six-classification system (2007 was a four-classification system), sets up exactly like the 2007 bracket did with 9-2 Clarion playing 9-3 ECC and 9-1 Oswayo Valley taking on WPIAL runner-up Greensburg Central Catholic.
Both of those games at Thursday at Showers Field in DuBois with the Oswayo Valley/GCC game at 4 p.m. followed by the Clarion/ECC contest at 6:30 p.m.
Brookville, meanwhile, which is in the PIAA quarterfinals for the first time since 1999, is playing District 10 runner-up Saegertown at 3:30 p.m. Thursday at Neshannock High School.
Here is a quick look at each game:
(9-1) OSWAYO VALLEY (20-2) vs. (7-2) GREENSBURG CENTRAL CATHOLIC (13-5)
When and where: 4 p.m. Thursday, June 8, at Showers Field in DuBois
Winner gets: Winner of Clarion vs. Elk County Catholic Monday at a site and time to be determined
About Oswayo Valley: The Green Wave can pitch the ball and come into the game with a team ERA of 0.92. Expect lefty Ryan Graves to take the hill. Graves is 6-1 on the season with two saves and an ERA of 0.85. He has struck out 35 and walked 13 in 41 ⅓ innings of work … Garret Babcock leads the offense hitting .435 with 26 RBIs, while Gage Babcock is hitting .410 with 16 RBIs and Garren Black .433 with 20 RBIs … Oswayo Valley, which has been to three straight District 9 title games and won two of them (2015 and 2017), won the first PIAA playoff game in school history with an 8-3 win over Union-New Castle Wednesday.
About Greensburg Central Catholic: The Centurions are in the PIAA playoffs for the third straight year and for the second consecutive season as the WPIAL runner-up. They made it to the quarterfinals two years ago, losing to Eisenhower, 3-2 … Many didn't see GCC being here this season, but they upset WPIAL No. 1 seed and defending PIAA champion Vincentian Academy in the WPIAL quarterfinals, 1-0, before beating Jefferson-Morgan, 7-0, in the semifinals and losing to rival Jeannette, 7-3 in 12 innings, in the championship game. They then beat District 6 champion Juniata Valley, 2-1, Monday in the opening round … Senior Neal McDermott has been the key on the mound this year sporting a 6-0 record and a 0.29 ERA. But McDermott needed 92 pitches in the win over Juniata Valley to throw the complete game and isn't eligible to pitch Thursday. That means the Green Wave will most likely see Anthony Cavallo, who is 2-0 on the year with a 2.13 ERA … GCC got a boost with the return of Jack Liberatore to the lineup in the PIAA playoffs game. Liberatore, who hit .361 as a junior, hadn't played since April 19. In limited time this year, he is hitting .571, and he was 1-for-2 with a double in the PIAA opener. McDermott and Jason Hoover are both hitting over .400 on the year with McDermott coming in at .433 with a homer, four triples, two doubles and 21 RBIs and Hoover at .414 with two doubles, a triple and 21 RBIs. Cavallo also hits .393 with a team-best 28 RBIs.
(9-2) CLARION (19-3) vs. (9-3) ELK COUNTY CATHOLIC (19-5)
When and where: 6:30 p.m. Thursday, June 8, at Showers Field in DuBois
Winner gets: Winner of Oswayo Valley vs. Greensburg Central Catholic game Monday at a site and time to be determined
About Clarion: The Bobcats are in the PIAA quarterfinals for only the second time in school history and for the first time since 2009 after winning just their second PIAA playoff game ever with a 4-3 victory Monday over Berlin Brothersvalley. The other PIAA win was a first-round win in 2009 … Clarion has been a squad built around pitching and defense all season long, and the Bobcats sport a 1.26 team ERA and a .948 team fielding percentage while committing just 32 errors on the year. The Bobcats will have a full stable of pitchers eligible for the game, including lefty ace Reed Anthony (10-1, 0.49 ERA). But Anthony may not be able to go the whole time having thrown 55 pitches in relief Monday after tossing 100 in 7 ⅓ innings of the June 1, 4-1, eight-inning loss to Oswayo Valley in the D9 title game. Reed's twin brother, Ryan Anthony, a righty is 3-0 on the year with a 1.28 ERA. He tossed 23 pitches in 1 ⅓ innings of relief Monday, while Sterling Conner (1-0, 0.89 ERA) threw 41 pitches in 1 ⅔ innings Monday after getting the start … Offensively, Spencer Miller leads the way at .450 with six doubles, a triple and 15 RBIs. Ryan Anthony is hitting .329 with a team-high 19 RBIs, while Reed Anthony has driven in 18 while hitting .254 and Cam Craig 17 despite a .182 average.
About Elk County Catholic: The Crusaders, who lost to Oswayo Valley, 3-1, in the D9 semifinals, upset WPIAL champion Jeannette, 7-4, in the first round Tuesday. ECC won't have the services of ace Brad Dippold (8-1, 1.95) and will most likely go with Alec Wehler (2-3, 2.14 ERA), who threw one inning Tuesday, or Brady Schneider (2-0, 2.92 ERA), who last pitched in the semifinals against Oswayo Valley. Gabe Kraus, who threw 42 pitches in the win Tuesday is also an option with a 2-0 record and a 4.31 ERA … Dan Stauffer leads the ECC offense hitting .473 with two homers and 26 RBIs, while Ryan Heary strokes at a .419 clip with a pair of dingers and a team-high 30 RBIs. Dippold comes in at .380, while Frank Singer is hitting .289 with 20 RBIs.
(9-1) BROOKVILLE (13-11) vs. (10-2) SAEGERTOWN (16-7)
When and where: 3:30 p.m. Thursday, June 8, at Neshannock High School
Winner gets: Winner of Rocky Grove vs. Bishop McCort game Monday at a site and time to be determined
About Brookville: The Raiders are a bit of a Cinderella having entered the District 9 playoffs at 9-11 and as the fifth seed. But they have won eight of 10 with a young team that has only two seniors and one junior but nine sophomores and four freshmen … Brookville will send one of those freshmen, Aaron Park, to the mound against Saegertown. Park is 7-3 with a 1.35 ERA and got the win in a 4-3 first-round win over Conemaugh Township Monday after blowing the save when he allowed a solo homer in the seventh before Ben Caun's sac fly in the bottom of the inning gave the Raiders the win. Park threw three innings and used 65 pitches in that game. Co-ace, senior Ben Reitz, also could pitch after throwing 75 pitches Monday but manager Bruce Ferry would like to limit him to an inning at most. Reitz is 5-1 with a 1.93 ERA. Bryan Dworek (1-4, 2.89 ERA) is also an option … Offensively, Brookville has used a more patient approach over the second half of the season to score runs. The Raiders are paced by Park, who is hitting a team-high 429 with 17 RBIs, while sophomore first baseman Tanner LaBenne strokes at a .406 clip with six doubles and 10 RBIs. Freshman shortstop Seth Dunkle, whose defense might even be better than his offense, comes in at .324 with 14 RBIs, and Dworek, a sophomore, is hitting .316 while stealing a team-high 10 bases in 11 tries.
About Saegertown: The Panthers enter the contest winners of 15 of 16 with the lone loss coming in the District 10 title game, 12-0 in five innings to Rocky Grove … They have struggled on the mound, though, at times this year with a team ERA of 4.60, and their best pitcher, statistically at least, Dane Rhoades (8-0, 2.20 ERA) won't be available because he threw 90 pitches in Tuesday's 7-3 win over WPIAL champion California. That means either Wesley Price (5-1, 3.39 ERA) or Tony Offi (1-4, 7.83 ERA) could go against Brookville. Price started and Offi relieved in the D10 title game when Rhoades wasn't available … While the Panthers haven't always been great on the hill, the Saegertown offense is explosive averaging 9.4 runs per game over the last 16 while having five players hitting .392 or above on the year. Alan McGill leads the way at .463 with 14 RBIs. Nick Palmer is also hitting .463 with 10 doubles and 27 RBIs, while Rhoades chimes in at a .421 clip with 24 RBIs. Josh Weaver (.396, 19 RBIs) and Price (.392, 7 doubles, 19 RBIs) are also key to the offense
EXTRA BASES
District 9 has had a ton of success in Class 1A over the last decade plus. In addition to Johnsonburg's runner-up squad in 2007, the Rams took home the PIAA title in 2013. Elk County Catholic, which was in the 2012 semifinals then lost in the title game in 2014. DuBois Central Catholic also won the 2001 1A title back in a three-classification system while being a 2000 semifinalist.
Punxsutawney's 2007 3A title is the only other PIAA title besides Johnsonburg's in 2013 that a D9 team has won, although Ridgway (2A in two-class system) and DuBois (3A in two-class system) were both runners-up in 1992.
A District 9 2A team has never made it out of the quarterfinals since the PIAA expanded to three classifications in 1999 and then went to four in 2005. Ridgway was the last D9 2A team to move into the PIAA semifinals doing so in a two-classification system in 1997.
DISTRICT 9 BASEBALL TEAMS IN THE PIAA SEMIFINALS OR BEYOND
Note: In 1977, there was one baseball classification. From 1978 to 1998 there were two classifications (2A and 3A). From 1999 to 2004 there were three classifications (1A, 2A, 3A). From 2005 to 2016 there were four classifications (1A, 2A, 3A, 4A). This year the field expanded to six classifications.
2014 – 1A: Elk County Catholic lost to Devon Prep, 2-1, in nine innings in the title game
2013 – 1A: Johnsonburg beat Canton, 5-0, to win the title
2012 – 1A: Elk County Catholic lost to Bishop McCort, 17-0 (6 innings), in semifinals
2007 – 3A: Punxsutawney beat Marple Newtown, 5-4, to win title
2007 – 1A: Johnsonburg lost to Minersville, 4-1, in the title game
2007 – 1A: Cameron County lost, 2-1, to Johnsonburg in the semifinals
2005 – 3A: Punxsutawney lost to Peters Township, 12-2 (5 innings) in the semifinals
2001 – 1A: DuBois Central Catholic beat Camp Hill, 8-7, in the title game
2000 – 1A: DuBois Central Catholic (Christian at the time) lost to Sharpsville, 13-1, in the semifinals
1997 – 2A: Ridgway lost to Canevin Catholic, 5-0, in the semifinals
1997 – 3A: DuBois list to State College, 4-3, in the semifinals
1992 – 2A: Ridgway lost to Old Forge, 15-5 (6 innings), in the title game
1992 – 3A: DuBois lost to Montoursville, 4-1, in the title game
1990 – 3A: Clearfield lost to Indian Valley, 9-3, in the semifinals
1986 – 3A: Clearfield lost to Hopewell, 10-8, in the semifinals
1984 – 2A: Bradford Central Christian lost to California, 5-4, in the semifinals
1979 – 3A: Clearfield lost to Chambersburg, 9-2, in the semifinals
Note: A full preview on the Clarion vs. ECC game with quotes can be found around 12:20 a.m. June 8 on ExploreClarion.com, while a full preview of the Brookville vs. Saegertown game with quotes can be found around 12:20 a.m. June 8 on ExploreJeffersonpa.com.