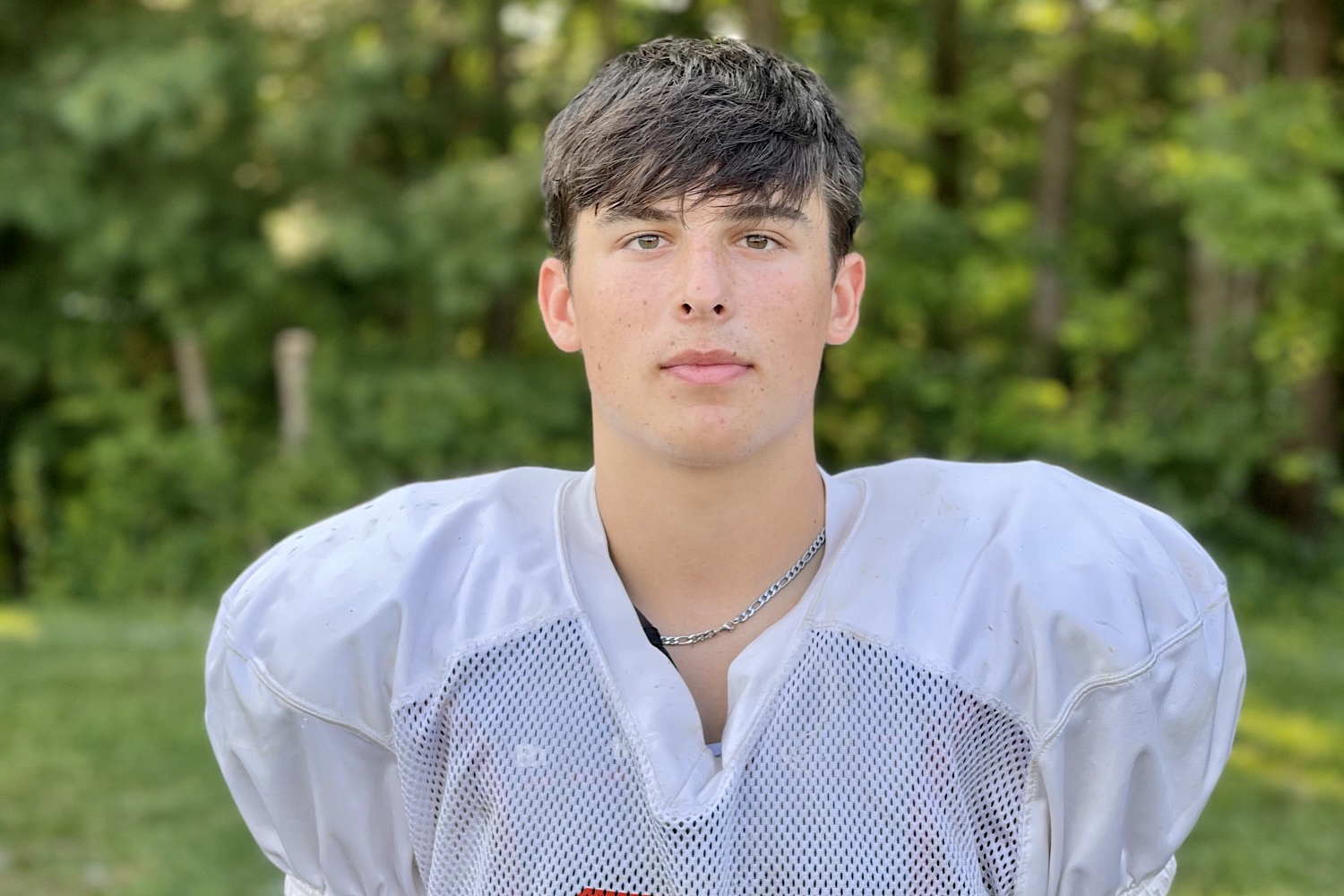 KARNS CITY, Pa. (EYT/D9) — The Central Clarion football made its share of mistakes in the first half but still led 15-0 at halftime. However, the Wildcats turned things up a notch in the second half, outscoring the Gremlins 35-15 — including 21-0 in the fourth quarter — en route to a 50-15 victory to remain perfect on the season.
"We had a couple turnovers in the red zone so we felt we left some points on the field in that first half," said Central Clarion coach Dave Eggleton. "The second half, we came out and ran the ball effectively, which allowed us to open things up for the passing game. Overall we just played a better half of football in the second half."
Early on it was no secret what the Gremlins planned to do.
That was to run the ball and try and control the clock.
Central Clarion football coverage on Explore and D9Sports.com is brought to you by Redbank Chevrolet and DuBrook.
It worked out well with Karns City taking the ball from its own 33 after receiving the opening kickoff and driving to the Wildcat 10-yard line before Jase Ferguson ripped the ball away from Luke Cramer and raced 90 yards for a touchdown. After a penalty on Karns City on the PAT kick, Ferguson connected with Dawson Smail on the 2-point conversion for an 8-0 lead with 3:44 to play in the first.
Central Clarion then recovered an onside kick and took over at the Karns City 41.
Then the miscues happened.
After a 20-yard gain by Brady Quinn on first down, the Wildcats lost 18 yards on a bad snap. They would move the ball to the Gremlin 13 before Ferguson fumbled. Even though he recovered his own fumble, it was determined the fumble happened short of the first down stick, turning the ball over to Karns City.
"That first drive took eight minutes off the clock," said Eggleton. "We knew that's what they wanted to do. They wanted to run, trying to get around four yards at a time and methodically move down the field. We knew if we stopped them on first and second down and put them in third and medium or long it would take them out of what they wanted. They had to be happy to move the ball on that first drive and you figured they'd be happy even if they didn't score. However, Jase taking that ball away and going the other way for a touchdown had to deflate them a bit."
After a Karns City punt, the Wildcats would take over at their own 36. Ten plays later Ferguson would connect with Mason Burford on a 12-yard touchdown pass. Thomas Uckert would add the PAT kick for a 15-0 lead with 4:35 to play in the half.
Central Clarion appeared to be driving for a score following another punt by the Gremlins as they would move the ball from Karns City 46 to the 18 before Hunter Scherer intercepted a pass to end the threat as the score would remain 15-0 at halftime.
"I want to watch film and see some of the penalties, and we need to work on not turning the ball over like we did in that first half," said Eggleton.
The Wildcats were whistled for seven penalties for 86 yards, including five 15-yard infractions.
Central Clarion would take the opening kickoff of the second half and move 70 yards in six plays, the first five on the ground, before Ferguson connected with Hayden Hindman on a 14-yard touchdown pass for a 22-0 lead at the 9:53 mark.
Karns City would answer with a seven-play drive of their own, which would all be rushing attempts that Luke Cramer capped off with a 1-yard run. He would also tack on the two-point conversion with a run to cut the lead to 22-8 with 5:42 to play in the third.
Karns City then attempted on onside kick of its own, but Central Clarion recovered and wasted little time finding the end zone again.
After a short gain on first down, Ferguson took to the air again with a 57-yard strike to Burford to increase the lead to 29-8 at the 4:52 mark.
The Gremlins would answer with a nine play 80-yard drive which ended on an 18-yard touchdown run by Cramer. Zach Kelly made the PAT kick to trim the lead to 29-15 after three quarters.
Ferguson would connect with Tommy Smith on the first play of the fourth quarter from 38-yards out to push the lead to 36-15.
The Wildcats defense would hold Karns City without a first down in the fourth quarter and force three punts which they would eventually turn into points.
Ferguson would score on a 22-yard run to up the lead to 43-15 with 5:21 to play.
Noah Harrison would close out the scoring on a 29-yard run for the 50-15 final.
After gaining just 11 rushing yards in the first half, the Wildcats would gain 140 yards on the ground in the second half. Quinn would lead the way with 82 yards on six attempts. Noah Naser added 73 yards on eight carries while Harrison would chip in with 61 yards on eight carries.
"We just figured we'd try and run the ball in the second half until they could stop us," said Eggleton. "When they stopped us, we were able to hurt them over the top. Our O-line doesn't get enough credit for what they do. They opened up holes for our backs and for the most part gave Jase time to throw."
Ferguson completed 9-of-15 passes for 184 yards with four touchdowns and one interception.
Burford caught four passes for 95 yards with two scores. Five other receivers caught one pass.
Cramer finished with 119 yards rushing on 19 attempts.
Cole Johnston completed 6-of-11 passes for 33 yards.
Central Clarion football coverage on Explore and D9Sports.com is brought to you by Redbank Chevrolet and DuBrook.