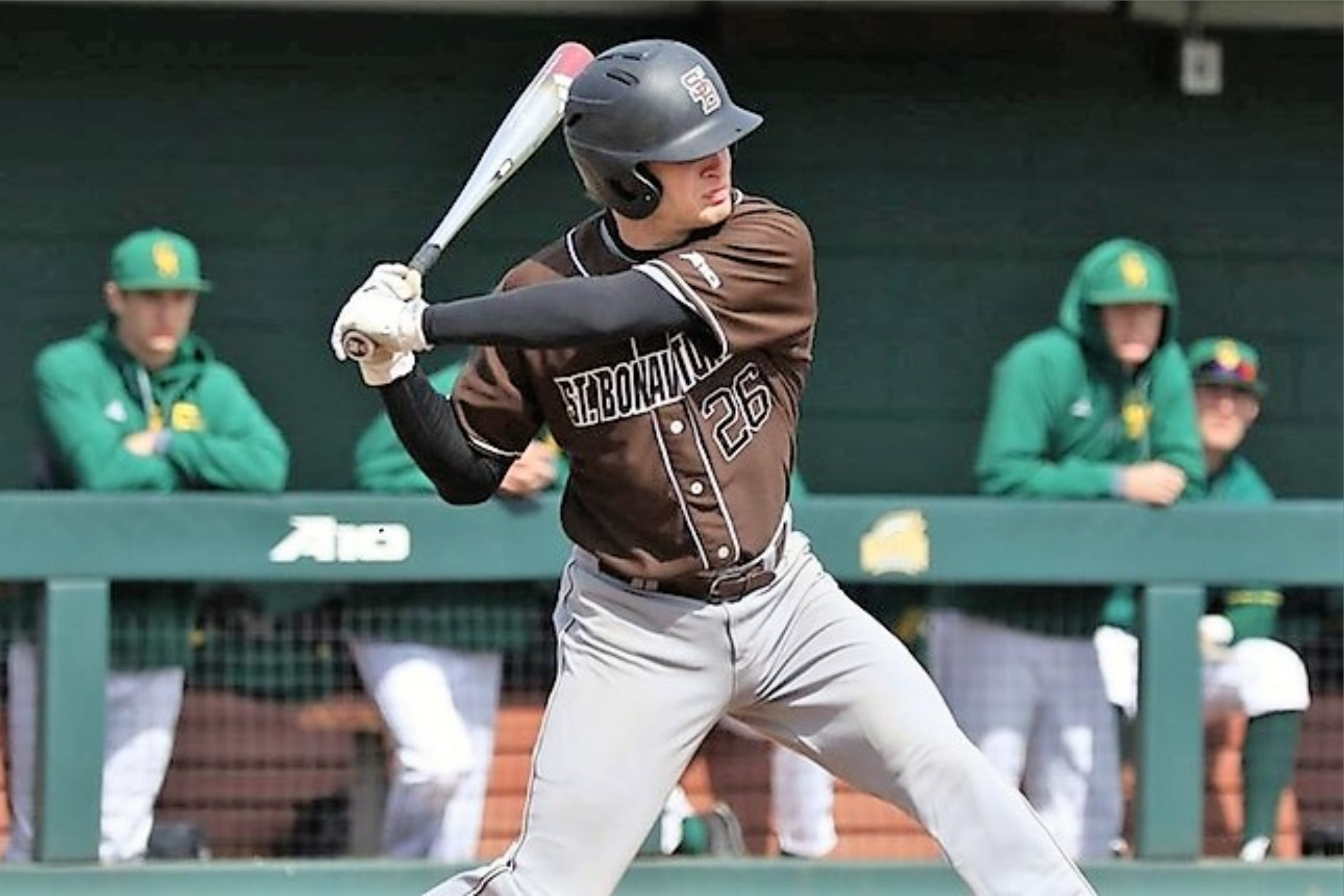 ST. BONAVENTURE, N.Y. – The St Bonaventure Bonnie baseball program has seen many players join their team from District 9 over the last several seasons.
(Photo courtesy of St. Bonaventure Athletics)
These players gain a top-notch education while competing in Division I baseball close to home. Allegany, New York is the home to St Bonaventure University, and also home to former Pennsylvania All-State safety Ben MacDonald.
When people think of the name Ben MacDonald in our area, they think of three straight seasons of 100-plus tackles for the Ridgway football team, a District 9 championship in basketball and consistent play throughout his four years on the diamond.
When people think of this name on a national stage, they may get him confused with former LSU two-sport star Ben McDonald, who became a solid Major Leaguer for the Baltimore Orioles and Milwaukee Brewers.
It is quite a coincidence that both of these men are both big-time, two-sport athletes who have unfortunately have battled through some shoulder injuries in their respective careers.
While Ben McDonald, the former big leaguer, saw his career was ended due to rotator cuff surgery, Ben MacDonald, of District 9 fame, continues to take steps in the right direction at St Bonaventure.
A medical redshirt in his freshman season leaves MacDonald with two years of NCAA eligibility going into the 2019 season.
In two season for the Bonnies, he has compiled 17 career hits and 13 RBIs showing a knack for hitting with runners in scoring position.
Being a teammate of Ben MacDonald's my entire life, I am not surprised by Ben performing in clutch situations. He has always been someone who is fully confident in himself and his abilities, and for good reason. During basketball and football seasons, Ben would find time to get into the batting cage or practice blocking baseballs from behind the plate.
"I like structure, being busy and spending my time wisely," MacDonald explained. "I would get my work in at practice during that respective sports season, and then I would put in more work after that to improve as a baseball player."
Those extra reps and swings in the cage have paid dividends, but there is much more that helped Ben reach the Division I level.
At a very young age, Ben was moved up to play higher levels of baseball and basketball. He credits playing against older, bigger and better kids for pushing him to be a better competitor and overall athlete. This was a method he used his entire pre-college career, and this formula helped Ben become one of the best competitors and athletes Ridgway has seen in recent memory.
At 14-years old, Ben made the journey in the summer to Wilcox to play Legion baseball with other local star athletes like Cole Peterson, Josh Mitchell, Cameron Grumley and the Holmberg brothers.
As a young teenager, Ben began to take notice of these older kids and not just their abilities, but their work ethic and passion for winning.
"Catching an ACC-caliber pitcher like Josh Mitchell (who played at Pitt and was drafted) helped push me to be a better catcher in a hurry," MacDonald said. "He has great stuff, and he can throw hard, place the ball and mix in offspeed pitches well. Catching for a pitcher like him made me think the game and play the game at a higher level.
These former teammates provided a great support system and example for Ben, and they also helped lead him to St Bonaventure.
"Having the chance to play with a teammate like Cole Peterson (a former St. Bonnie star who also was drafted) again was an intriguing option," MacDonald said. "Cole loves the game of baseball and works extremely hard in everything he does. When St Bonaventure reached out to me, I knew it was a place I could see myself succeeding at both in baseball and academically.
St Bonaventure has just over 2,000 students at the university, and the small town feel was an aspect MacDonald liked.
"Having a small community feel with the opportunity to have a good relationship with professors was also an attributing factor to me selecting St Bonaventure," MacDonald said. "I am from a small town and a small high school, and attending a small college helped the high-school-to-college transition go smoothly. They also had accounting and finance at St Bonaventure, which were two areas of study I knew I would be interested in."
With two years of eligibility remaining in MacDonald's college athletics career, Ben plans on graduating in May with a degree in accounting before then beginning his Masters in Business Administration and preparing for his Certified Public Accountant (CPA) exam as well.
While being a three-sport athlete in high school, Ben managed to graduate with two selections to the National Honor Society as well as in the Top 10 from Ridgway. This incredible work ethic in the classroom has translated to college as well, and Ben has been selected to the Atlantic 10 Commissioner's Honor Roll each of the last three years.
While Ben is a highly self-motivated individual, his father, Gary, has been there through his journey to become a Division I baseball player.
"My Dad was a former college athlete and knew the kind of work I needed to put in to reach the college level," Ben said. "He would always find time to throw to me in the cage and he never missed any of my games even though he traveled sometimes for work. He really showed me how to be accountable and take initiative."
Ben's mother, Laurie, provided great support for his goal of becoming an accountant because she works in the industry herself. She has helped Ben take a great understanding on what is expected in his professional career.
His sister Megan and brother Neil made many of Ben's game over the years, and Ben and Neil were actually teammates in Ben's senior seasons in basketball and baseball at Ridgway. Ben set a tremendous example to younger brother Neil on just what it takes to succeed in high school athletics and academics, and Neil went on to have an outstanding high school career in his own right.
The support his family continues to provide him with has been important to Ben, and especially important during these tough couple of years physically for Ben. Healing from a shoulder injury and now a knee injury, MacDonald has been thankful for the support of his family and friends during this time.
"Getting injured was not something I was prepared for," MacDonald said. "However, these injuries are just minor setbacks for big comebacks. I admit that it is frustrating at points, but I still love baseball and I refuse to let these injuries define me and my college baseball career. I will be back from my knee injury in a few months if everything goes as planned, and I am excited about beginning preparation for my junior season."
Ben had a lot of advice for future college athletes, and especially those who will and have faced injuries during their careers.
"Injuries will happen to everyone, but is how you respond to them as an athlete and a person that will define you," MacDonald said. "Always believe in yourself and remember why you play your respective sport. Looking at the bigger picture is important when dealing with an injury than giving up and living in the present."
With two years left in his college baseball career, Ben will surely only have better luck and success in baseball. The Bonnies will look to improve on a disappointing 10-33 season in 2018, and MacDonald will be called upon to contribute to some St Bonaventure's victories both behind the plate and in the batter's box. Ben MacDonald is one of the best competitors Ridgway Area High School has ever seen, and St Bonaventure should consider themselves lucky to have an individual who plays the game of baseball so hard while also being a great student.
Note: From D9 to D1 is a series run on D9Sports.com highlighting current and former NCAA Division I athletes who hailed from District 9. To see past stories, click here.