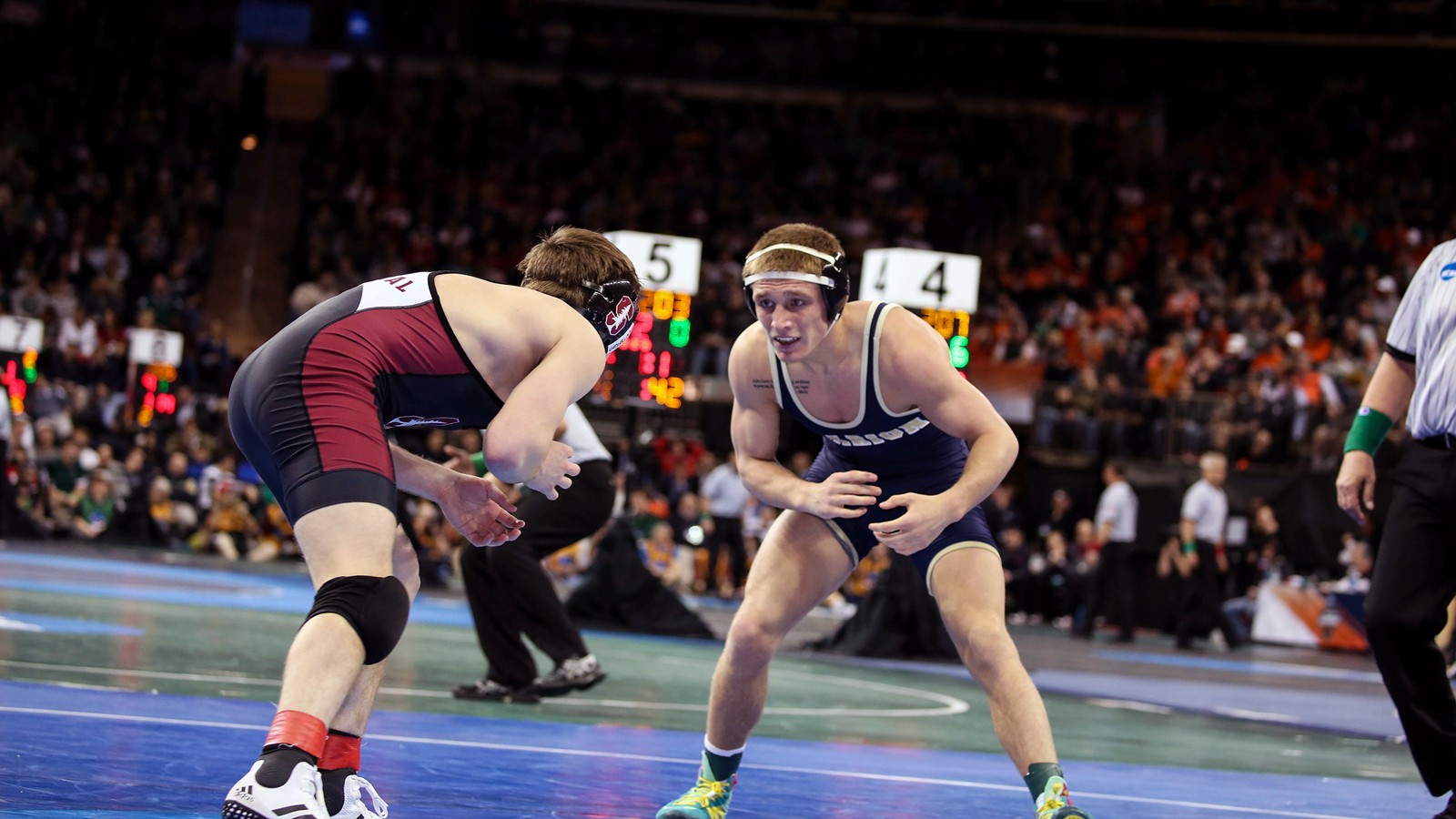 BROOKVILLE, Pa. – There's something to be said about an athlete that sticks to their roots.
(Photo courtesy of Clarion University Athletics)
There's a lot of uncertainty involved coming out of high school if you aspire to become a college athlete, especially when a number of different coaches across the country try to pull you in several different directions to come join their program.
Brock Zacherl stayed home to continue his athletic career on the wrestling mat, as he went from D9 in Brookville, Pa., to D1 in Clarion, Pa.
Zacherl attended Brookville Area High school, and he stressed how the school has been impacted his academic and athletic career thus far.
"Athletically, if I went to any other school I wouldn't be answering questions for this article," Zacherl said. "Coach (Dave) Klepher helped me develop a desire to understand the sport of wrestling as opposed to just learning the techniques of the sport without any foundation of what types of things work. This desire became a passion that fueled my success throughout my entire career."
Brock pointed out that the care of the Brookville faculty was vital for his success in the classroom.
"The faculty at Brookville showed me how much educators care about their students," Zacherl said. "They were some of the kindest and generous people I have ever met, and that was important for me because it made me feel comfortable approaching the faculty at Clarion with any questions about how to study for a test, how to schedule classes or just even asking for help in life."
Zacherl played multiple sports growing up, and that helped him develop body awareness and a competitive edge that would benefit him during his wrestling career.
"Growing up, I played a lot of soccer and football," Zacherl said. "Wrestling is a sport that requires a tremendous amount of technique to even become average at, and children don't really develop the skills that they need on the mat until they reach a mature age. So, football and soccer were perfect competitive outlets to develop an edge as well as good body awareness. Once I decided to start wrestling at age 10, I was a very good athlete with a desire to win. I learned that through soccer and football."
The Brookville alum became interested in wrestling by watching WWE star, John Cena, at a very young age.
"I first became interested in wrestling after watching WWE religiously and wanted to become the next John Cena at age six," Zacherl said. "I quickly realized that the wrestling on TV was far from what they taught at school, so I didn't go to another practice until I was 10 years old."
In wrestling, Zacherl knows that self-motivation is important. He also knows that having a teammate push you is equally important, especially when one of your teammates is your twin brother.
"Self-motivation is everything in wrestling," Zacherl said. "During competition, you are alone on that mat with just your opponent. It's who gives up first that loses the biggest matches. Luckily for me, I grew up with a twin brother (Brodie) who was better at almost everything than me by a lot. I always wanted to be better than him at something, and for that reason, he continuously pushed me in the practice room every day. I was blessed with countless practice partners that would push me every day."
According to Zacherl, attending Clarion University had many benefits, and he cited that his family, coaches and faculty at Brookville helped his decision-making process go smoothly.
"I chose Clarion because it was home," Zacherl said. "Like all young kids, I was too reluctant to leave the safety and comfort of my mother at home to wrestle for some guy I hardly knew. The decision-making process was very awkward at first. But with the help of my mother, brother, Coach (Nick) Deloia and Coach Klepher, as well as the teachers at Brookville, I narrowed my list down to a couple schools. Luckily for me, there was a Division I school 20 minutes away, and that program was coached by Keith Ferraro, someone who I have worked with since the first day I stepped on a wrestling mat and someone who I could trust my life with. That trust helped me choose Clarion."
When talking about people who have made a lasting impact on his life, Brock brought up his mother, Emily Zacherl, brother, Brodie Zacherl, along with coaches Roland Reitz and Dave Klepher.
"My mother is the strongest person I have ever met," Zacherl said. "She works harder than anyone I have ever seen and never complains. Her work ethic is something I envy every time I think about hitting the snooze button on the alarm or when I get lazy in a workout."
Brock sees his brother, Brodie, as someone who he looks up to throughout his life and states that Brodie's traits as a man help the two form a strong relationship.
"My whole life I have been looking up to him, trying to do everything as good as he did things, and I would constantly fail," Zacherl said. "After each failure, he wouldn't hesitate to help me up and explain to me what I was doing wrong. Brodie is the toughest person I have ever met. He's had to endure some tough circumstances throughout his time here, but he never complains about it. Without him by my side, I would be lost. I'm proud to call him my brother."
Coach Roland Reitz taught Brock the value of detail in the sport, and he paved the way for him to reach his full potential.
"Coach Reitz was one of the first people to break it to me that I wasn't good enough … yet," Zacherl said. "He knew my goals and what I was capable of. He critiqued every little thing I did, and I hated it. He made me tougher, better and made me realize I can accomplish all of my dreams. But in order for me to do that, I would have to be willing to do what no one else is willing to do."
Lastly, Coach Dave Klepher showed Brock what it takes to not only be a great wrestler but a great man as well.
"Coach Klepher taught me everything I know about wrestling," Zacherl said. "But that is not the most important quality about him. He is the most genuine person I have ever met and the best role model I ever had. He molded me into both the wrestler and man I am today. If I am even half the husband, father and coach he is I will be very happy with who I have become."
Brock is currently in the MBA program at Clarion and hopes to own a small business in downtown Clarion with his brother, Brodie. When asked about the challenges that student-athletes face on a daily basis, Zacherl said that time management is the biggest challenge that he faces.
"I am constantly challenged with time management," Zacherl said. "My schedule is very inflexible, and I find myself having to shuffle study times and workout times to make things work. Luckily, the staff at Clarion has been more than willing to work with me through these difficulties."
The former Brookville wrestling star has accomplished some incredible things throughout his athletic career, but one moment he will never forget is winning a PIAA state title in 2014.
"That was important to me as it capped off my career in a Brookville singlet and put my name with Chuck Yale, Jason Gilligan and Jeremy Reitz," Zacherl said. "All three of those men were my biggest heroes at the time."
Zacherl not only earned a PIAA state title in 2014 in the 138-pound class. He also is a 2015 World Team Trials Champion (60 kg,), a three-time University Freestyle All-American, twice in the 65 Kg class and once in the 61 Kg class. To top it off, Brock is a three-time NCAA National Qualifier in the 141-pound class.
Brock has stayed close to his roots, and he has a message for young wrestlers around District 9.
"I want to inspire young local wrestlers to chase their dreams and that they can accomplish their goals right here in District 9," Zacherl said. "That is one of my biggest self-motivators as an athlete. I want to show them that anything is possible. It doesn't matter how small the school is that you come from."
Zacherl has the heart of a champion, and he stays hungry each day he steps on a wrestling mat.
"Failure is what helps me pursue my goals," Zacherl said. "I have been so close to many of my goals several times. I know what I am capable of, and the constant failure keeps me wanting more. Everyone remembers a champion."
Zacherl was tested again this season when an injury cut his year short. He is hoping for a medical red-shirt and an opportunity to continue his career.
"It's a small hiccup in the grand scheme of things," Zacherl told D9Sports.com at the time of the injury.
Brock Zacherl uses that mentality not just on the mat but in his life as well. He surrounds himself with great people, and will not be denied of his goals. That is why Zacherl continues to excel on the wrestling mat and in the classroom.