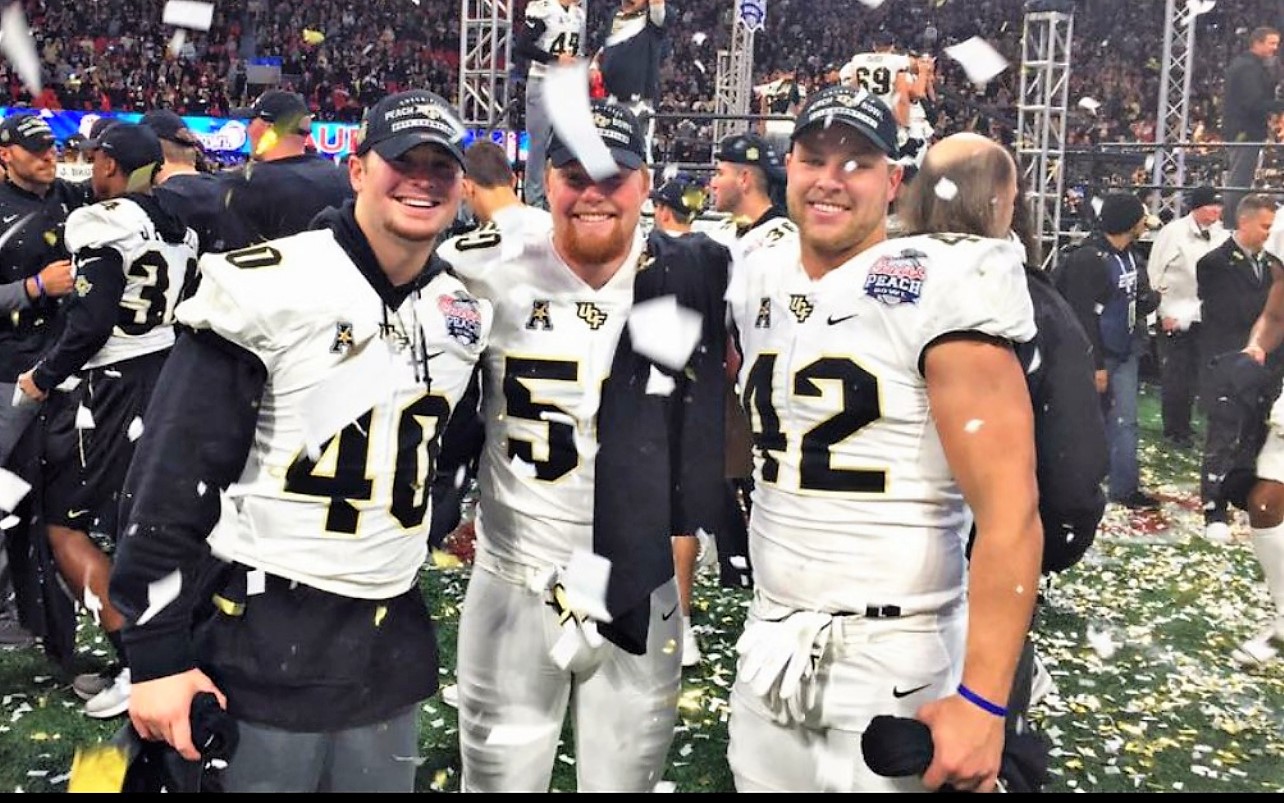 Clearfield Area High School unquestionably has one of the greatest football traditions and legacies that any high school from District 9 has ever seen.
The Bison have won numerous District 9 Championships and won many PIAA state playoff games. Through the years, they have developed some high-level football players who have gone to play for Power 5 football programs.
One of the most notable of these football players is 2014 Clearfield Area High School graduate and 2018 Peach Bowl Champion Christian Lezzer.
Christian began playing football in the third grade when he lived in Curwensville, Pa. His inspiration for playing football stems from his uncles Josh and Chad playing football for Coach Joe Paterno at Penn State.
However, Christian is more than a great football player, but rather he is a tremendous all-around athlete.
In high school, he lettered four times in football while also playing basketball and competing in baseball and track and field for one season respectively.
Though Lezzer played a lot of sports in his high school days, there was never a question to many that football was his best.
After playing wide receiver as a high school freshman and then transitioning to a true athlete position as a sophomore, Clearfield Head Football Coach Tim Janocko knew he needed to get the ball in the hands of Lezzer to achieve the most success on offense.
While Lezzer's abilities on offense were a great asset to the Clearfield Bison, he made the biggest impact in football on the defensive side of the ball.
Coming out of Clearfield, Lezzer drew interest from schools like Bucknell, Akron, Kent State, Temple, Rutgers, Arizona and Boston College.
Boston College was the initial destination for Lezzer, although a variety of factors contributed to Lezzer graduating from the University of Central Florida.
After two years at Boston College, Lezzer thought his football career had come to a close. He had suffered several concussions throughout his time at BC, and doctors advised him to retire from the game of football.
Initially, Lezzer hoped to stay at Boston College and walk on to the Eagles baseball team. After Boston College ruled baseball as a contact sport, Lezzer decided that his college athletics career would be over; that was until he decided to give football another chance.
In the summer of 2017, Lezzer met with a world-renowned neurologist at Harvard who cleared him to play the game of football once again.
Boston College was out of the question to play football at again, so Lezzer began the recruiting process all over much like high school.
A few schools reached out to him about transferring to their school including Arizona, Penn State, and later UCF. Lezzer was set on going to both Arizona and Penn State, but after complications in the medical and transfer processes, Lezzer was offered a spot on the UCF football team.
Lezzer decided Central Florida was a great opportunity that he could not pass up, and the rest is truly history.
However, Lezzer's concussion history forced him out of action in the 2017-2018 season. He was unable to compete for the Knights, and this last concussion would end his collegiate athletic career.
While Christian may not have been able to suit up for the Knights, he was a member of a historic run for the UCF football program.
In the 2017-2018 football season, UCF finished 13-0 and won the Peach Bowl over the Auburn Tigers. Nebraska Head Football Coach and former UCF Head Football Coach Scott Frost is much to thank for this historic season. While UCF ran the table, they remained on the outside looking in from the College Football playoff which is something Lezzer wishes he would have had the chance to be a part of.
"Winning the Peach Bowl was an outstanding feeling," Lezzer said. "We beat Auburn who beat Georgia and Alabama which are the two teams who competed for the National Championship. I wish we had a chance to play in the final four because I think we had a team that could compete with absolutely anyone in the country. I will always cherish the 13-0 season, but I will always wonder if we got in the playoffs if we could have shocked the country even more."
While Lezzer's collegiate football career may not have been exactly what he and many supporters hoped for, Christian has experienced many different things that many people can say they have never achieved.
Christian was initially supposed to redshirt in his freshman season at Boston College, but injuries to the Eagles linebackers allowed Christian the chance to play in his true freshman season.
His biggest play from that season came in a game against the University of Southern California in which he sacked current Jacksonville Jaguars quarterback Cody Kessler on a third-down play.
When speaking on this play, Lezzer remembered it quite vividly and spoke about the meaning of the play.
"To that point, it was the biggest play I ever made," Lezzer said. "It is the most memorable play of my college career because it was the first play I was in that game, and it was a big-time play against a high caliber team and player."
In addition to personal achievements, Lezzer won four D9 Titles in football and played in the PIAA state playoffs four times. He has also traveled across the east coast representing two different Division I football programs, and with one of them, he was a member of an undefeated season and a Peach Bowl win. These are dreams that many kids have growing up, and Christian Lezzer was able to live many of these unbelievable feats.
Christian was able to graduate on time despite transferring schools in the middle of his college career.
"I did not take a summer off from college," Lezzer explained. "Summer classes were a big component of my success in the classroom along with so many other athletes I know. I loved being able to stay on track to graduate on time while Also preparing for the next season of football. I gave up summers back in Clearfield, but it has all been worth it."
Lezzer graduated in the spring of 2018 with a degree in Communications and Psychology with integrated business.
It has prepared him well for his new role in Lancaster, Pa., working for Lezzer Lumber in management.
Christian has taken a step back from being directly involved, although he has made it to most of Clearfield's games this year to watch his brother, Jake, who has the promise to be a college player himself at the highest level. Christian was quick to speak about how talented his brothers Ryan and Jake both are as receivers.
"There is a four-year gap between Ryan and I and another four-year gap between Jake and Ryan," Christian said. "When I was in high school, I was throwing passes to them the same way I threw passes to anyone. Those two are so talented as pass catchers that it honestly made me a better quarterback as well. They always practiced really hard with me and it helped all of us raise our game to new levels."
In addition to his brothers, Lezzer gave credit to his parents Amy and KC for the continued support and belief in his dream to be a Division I football player. His parents would drive him and allow him to participate in big-time football camps to get his name out to many schools and to get better as a football player. Lezzer's family has provided him with an excellent support system that has fueled his desire and ability to play the game of football at an elite level.
Lastly, Lezzer spoke about his experience playing football at Clearfield and how it was so of his best memories of his life.
"Playing football with my friends and surrounded by so many elite high school coaches was a surreal feeling for a small town Pennsylvania kid," Christian said. "It was such a blessing to be a Bison, and I am proud of the program I was able to play for in high school. I think outsiders see the success, but they fail to see how great this program truly is. I believe it's one of the best in the state, personally."
Christian spoke more in-depth about the kind of impact Janocko has had on numerous young men's lives in his time coaching the Bison.
"Coach Janocko knows how to prepare players for their next step in life," Christian said. "He has prepared many players for college football or whatever their next step beyond high school may be. The staff he has compiled and worked with over the years is also unbelievable for the high school level. The attention to detail these coaches provide players at Clearfield with is incredible. It all starts with the great work Coach Janocko has put in over the years."
Coach Janocko undeniably has done another masterful job in the 2018 season as he helped lead the Bison to a 12-1 mark and a District 6-9 championship.
Christian was not surprised by the success the team has had because of the elite coaching and the great group of players the Bison had this season.
Though his playing days are behind him and his college career may not have gone how he would have hoped, Lezzer has years full of memories to share. His work ethic to become a college linebacker is truly incredible. Lezzer is not the biggest guy on the field, but he worked extremely hard on his quickness and also in the weight room in college to help himself become a better player for his team. This work ethic is something Christian Lezzer will take with him for the rest of his life as he begins his career working for Lezzer Lumber in management. Lezzer got to live out a dream of playing football at the Division I level, and that dream all started by playing in District 9.