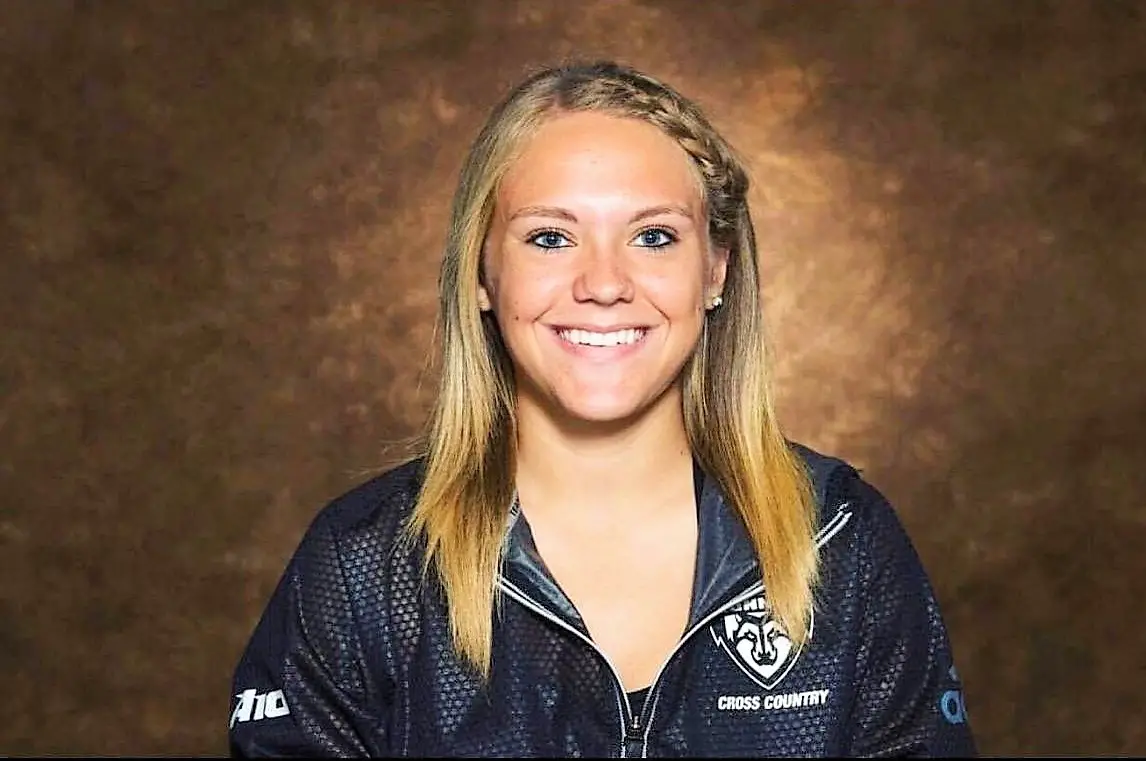 OLEAN, N.Y. – It takes a special kind of person to dedicate themselves to running.
(Photo by Craig Melvin)
It is a sport where you are in charge of how well you do. Your main opponent often times is yourself, and the question that always crosses your mind is that if you are willing to push your body to the limit day in and day out. People that run on any level deserve praise, but it is surely an incredible feat if you come from a small city in Elk County, Pennsylvania, and have the ability to run on an NCAA Division 1 Cross Country/Track team.
Jenna Cherry, a junior on the St. Bonaventure Women's Cross Country/Track team, has accomplished that incredible feat.
Cherry is from St. Marys, Pa., and graduated from St. Marys Area High School in 2016. Her experience at St. Marys had a positive impact on her both academically and athletically.
"I really did enjoy my time in high school," Cherry said. "Although, I don't think the cliche 'it's the best four years of my life' really fits in with me. I did make the most of my time there. My life took a huge turn my senior year, but I chose to look at everything in a positive way from there on out."
Along with being in Cross Country and Track, Jenna also played basketball during her high school years which helped her prepare for cross country and track.
"Growing up, my parents encouraged me to participate in as many extracurricular sports as possible," Cherry said. "I am forever grateful for that. I played basketball starting in fourth grade and loved it. It prepared me for cross country and track for many different reasons, especially the physicality of the game. We were notorious for running sideline sprints, a lot, before and after every practice. In basketball, we used running as a punishment for the mistakes we made in a game or a practice, but it did not feel like a punishment to me."
Cherry became interested in running when she was in middle school, and one of her biggest influences in joining the cross country team was her best friend at the time,
"She joined the Cross Country team in seventh grade," Cherry recalled. "She ultimately persuaded me to join in ninth grade because in middle school cross country interfered with basketball."
In such a demanding sport like cross country and track, team comradery is important for individual and team growth. Jenna realizes how important this factor is in her sport.
"The atmosphere of a team can make or break someone's experience," Cherry said. "Teammates may start out as just people you work with competitively but evolve into friendships, mentors and family. When I got into college, we were assigned partners based off of our running abilities. When negative thoughts enter my mind during a race, I would just look at my partner and think back to all of the practices where we felt great and hit our times spot on. We use each other for positive energy."
Jenna said she chose St.Bonaventure for a multitude of reasons, but she cited three main factors that helped her chose the Bonnies over a number of schools.
"The atmosphere of the place is like no other," Cherry said. "They really treat you like family here. I loved the distance from home with it only being an hour-and-a-half away. My coach really took interest in me on my recruiting visit, and he was very interested to talk to. From the moment I left on my recruiting visit, I was ready to sign."
Jenna is currently studying marketing at St. Bonaventure, as this major tailors to who she is as a person.
"I came into school as an accounting major, but shortly switched because I wanted to be more interactive with people," Cherry said. "Marketing just fits my personality. It is something I will enjoy doing for the rest of my life, and it has a lot of room for advancement."
There is an important ingredient when it comes to participating in collegiate athletics, and that is the term student-athlete. Cherry understands the demands of fulfilling that task.
"Time Management is one of the biggest issues for student-athletes," Cherry said. "You have to prioritize your responsibilities and make sacrifices, but it pays off in the end."
Over the course of her running career, Jenna has memories that will last a lifetime, as she reflected on participating in the state (PIAA) track meet her freshman year which gave her the belief that she could run at a high level.
"One meet that I will never forget is my freshman year at track states," Cherry said. "I was on the 4×8 relay team and we typically won every meet. We did not do as well in the preliminaries as we had hoped, and we thought that we did not make it to the finals the next day. After putting my sneakers in my bag, I heard 'St. Marys Area' over the loudspeaker for qualifiers for the 4×8 finals. I will never forget the excitement we all had after hearing that."
Another memory that sticks out to Cherry is when she received her first phone call from Bob MacFarlane, head coach of the men's and women's cross country and track programs at St. Bonaventure.
"Getting the call from Coach Mac on my way to a basketball game my senior year of high school really impacted me," Cherry said. "I was so blessed to be able to continue doing what I loved at a place that I loved."
When talking about people that have made a lasting impact on her life, Cherry cites her basketball coaches in high school for making a positive impression that she did not realize while she was still playing the sport.
"They really taught our team about character and respect," Cherry said. "They were tough on us, which we did not appreciate at the time. But now, I am truly thankful for the things they taught us."
It is not easy for runners to get up each day and meet the demands of a grueling sport, but Cherry runs everyday for the people that have believed in her since day one.
"Running is just part of my routine, but I'm mostly motivated to run for the people that influenced me over time, especially family, friends and teammates that believed in me when I did not believe in myself," Cherry said. "The team atmosphere plays a huge role in my experience running."
Running is bigger than just the sport itself, and all the elements of the process of running has taught Jenna more life lessons than she can count.
"From coaches, teammates, vigorous practices, 6 a.m. weight training and competing, I have gained so much self-confidence, time-management, accountability, risk-taking and many other valuable skills that I can use in the workforce," Cherry said. "Running will always hold a special place in my heart."
Jenna Cherry is a special kind of person that dedicated herself to running for much of her life. With the many core values, friendships, and memories she ingrained herself with throughout her athletic career, Jenna has set herself up for a bright future ahead going forward in life.
Note: From D9 to D1 is a series run on D9Sports.com highlighting current and former NCAA Division I athletes who hailed from District 9. To see past stories, click here.