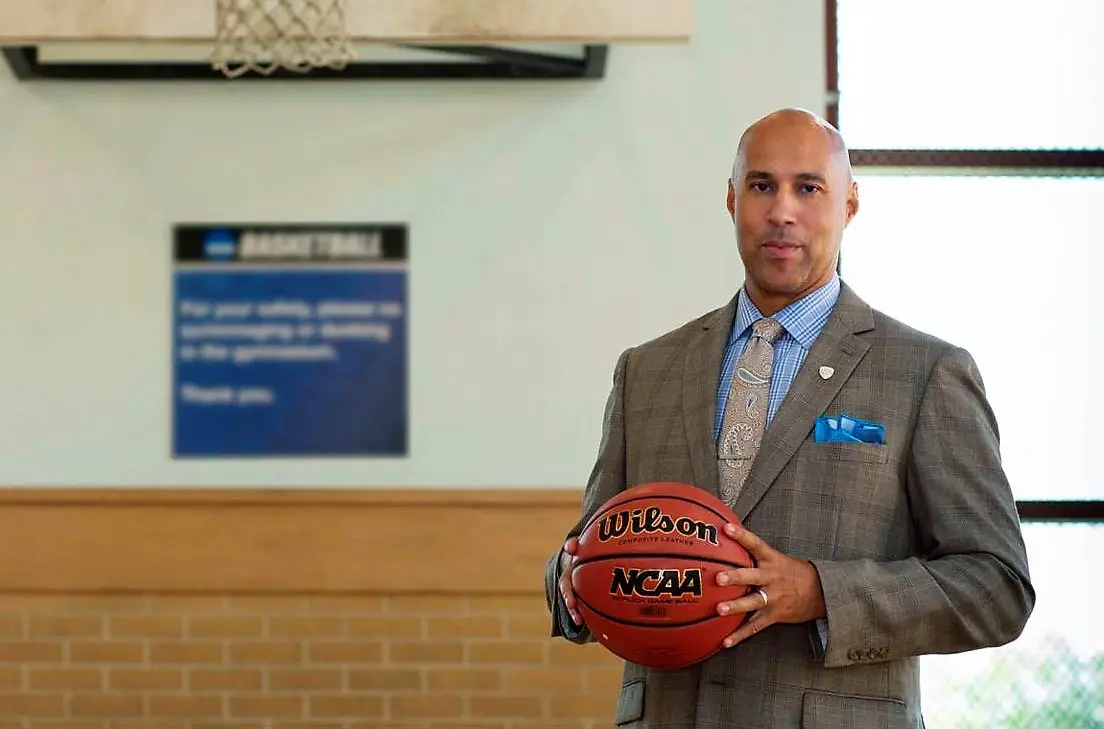 INDIANAPOLIS – Working in the sports industry is an extremely demanding, but mostly fun job.
There are countless jobs in the sports industry including coaching, playing, advertising, writing, and even compliance.
While an overwhelming majority of athletes never play collegiately or professionally, there is one District 9 alumni who had the opportunity to play collegiately and professionally who also remains in the sports industry working for the NCAA to this day.
Keystone High School alum Jeremy McCool has been around the world playing the game of basketball, but these days, McCool can be found in a business setting trying his best to make the NCAA a better place for its current and future athletes.
The former Panther was a huge part of Keystone's success on the gridiron and on the basketball court in the late 1980s.
McCool was the starting quarterback for the Panthers in his high school days and helped lead Keystone to two straight District 9 championships in football while also helping the Panthers win two straight D9 titles on the hardwood as well. He also led Keystone to the 1989 PIAA Class 1A title game in football, the first District 9 team to reach the PIAA Championship.
His stellar play in both sports helped McCool get noticed by Division I coaches in each respective sport.
In fact, McCool had Power 5 Conference offers in both football and basketball.
McCool had offers to continue his football career at schools like Arizona State, Tennessee, West Virginia, Rutgers, Lehigh and Lafayette.
However, after weighing his options and following his heart, Jeremy chose the game of basketball over a career on the football field.
After listening to offers from schools like Lafayette, Rutgers, Iona, Tulsa, St Bonaventure, Vermont and IUP, McCool knew The University of Vermont was the best place for him to continue his education and athletic career.
McCool was not the lone Pennsylvania kid at the University of Vermont during his four-year career, and, in fact, played with four other PA kids on the Catamounts basketball team.
The former 1,000-point scorer played the small forward position for a total of five years of his college career after accepting a medical redshirt in his junior season.
Under the guidance of head coach, Tom Brennan, the Keystone product averaged 7.3 points per contest to go with 3.9 rebounds, 1.4 assists and 1.0 steal for his career. In his sophomore season, McCool shot over 44 percent from downtown, which ranked him among the best shooters in the NCAA in that season.
After his college career, McCool knew he wanted to make a career out of basketball or sports in some way. He knew that he could put his degree in education to use and coach the game of basketball, but decided to enter on another journey before beginning his career as an educator.
In 1998, Jeremy accepted a spot with the New York Nationals, who like the Washington Generals, were the team that played against the Harlem Globetrotters.
McCool had the opportunity to travel to 48 states and nearly 20 countries to play the game of basketball against the Globetrotters.
"We practiced for about a week down at Disney in Orlando, Fla.," McCool said. "After this week of preparation, we headed out to play 105 games in just 110 days. I was able to play in Australia, South America, Europe, all over the United States. It was a great experience."
After a three-year career with the Nationals, McCool decided it was time to begin his coaching and teaching career in a more serious fashion.
"My grandfather was a basketball coach at Keystone growing up," McCool explained. "I always had ambitions to follow in his footsteps and coach basketball at some point in my life."
McCool began his teaching and coaching career in Maryland at Snow Hill High School where he coached football and also basketball. After nearly two years of teaching and coaching, McCool learned of a unique opportunity to coach college basketball closer to home in Knox.
Clarion University had an opening for a graduate assistant men's basketball coach as well as a future position in admissions.
Legendary Clarion University men's basketball head coach Ron Righter and longtime Clarion assistant coach Al Modrejewski had maintained a good relationship with McCool for several years and made him aware of a chance to begin his career as a collegiate coach while also continuing his education.
McCool worked at Clarion University for about six years before learning of one of the more unique career opportunities; working for the NCAA.
McCool learned of a position called Assistant of High School Review which was a new position the NCAA added after a lot of issues with eligibility in college sports.
After working in this role for a total of seven years, McCool took a new position within the NCAA titled Director of Enforcement in Men's and Women's Basketball.
McCool has done such a great job in his 11 years with the NCAA that he recently received the NCAA President's Award. The award goes to the NCAA Employee of the Year in a sense, and in 2018 Jeremy took tremendous pride in making sure that NCAA member institutions were handling their athletics responsibilities in the correct manner.
While McCool has spent his entire life working in and playing sports, he has a few special memories that he likes to recall most.
"Playing at Clarion University in high school basketball for the District 9 playoffs was like a home court advantage," McCool said. "It became our home away from home. I loved playing on that court. We won two district championships there which was pretty special."
In addition to his memories in athletics, McCool remembers his upbringing in Knox very well.
"I truly had the storybook childhood," McCool said. "I have so many memories from playing sports and traveling to play in AAU basketball tournaments. My childhood fueled the kind of success I had and continue to have to this day."
Jeremy listed his parents and his grandfather as the strongest people he knows and three of the key people who have led him to such an accomplished life.
In addition to his family, his high school basketball coach Greg Heath was another person who helped McCool maximize his potential in the game of basketball.
"My grandfather, Robert (Bob) Gehres, and coach Greg Heath were both great coaches I could rely on to help me improve as a player," McCool said. "In the process, they helped me become a better man. Without them, I would have not have reached the Division I level."
McCool currently resides in Indianapolis with his family. He's enjoying a great career with the NCAA to this point, and his unique skill set of coaching, playing and educating has put him in an ideal environment to succeed. The former Keystone Panther fulfilled his dream to become a Division I basketball player. His focus these days, however, is to assist prospective and current student-athletes in their pursuit of athletic and academic success as they confront the challenges of life as a student-athlete in the NCAA.