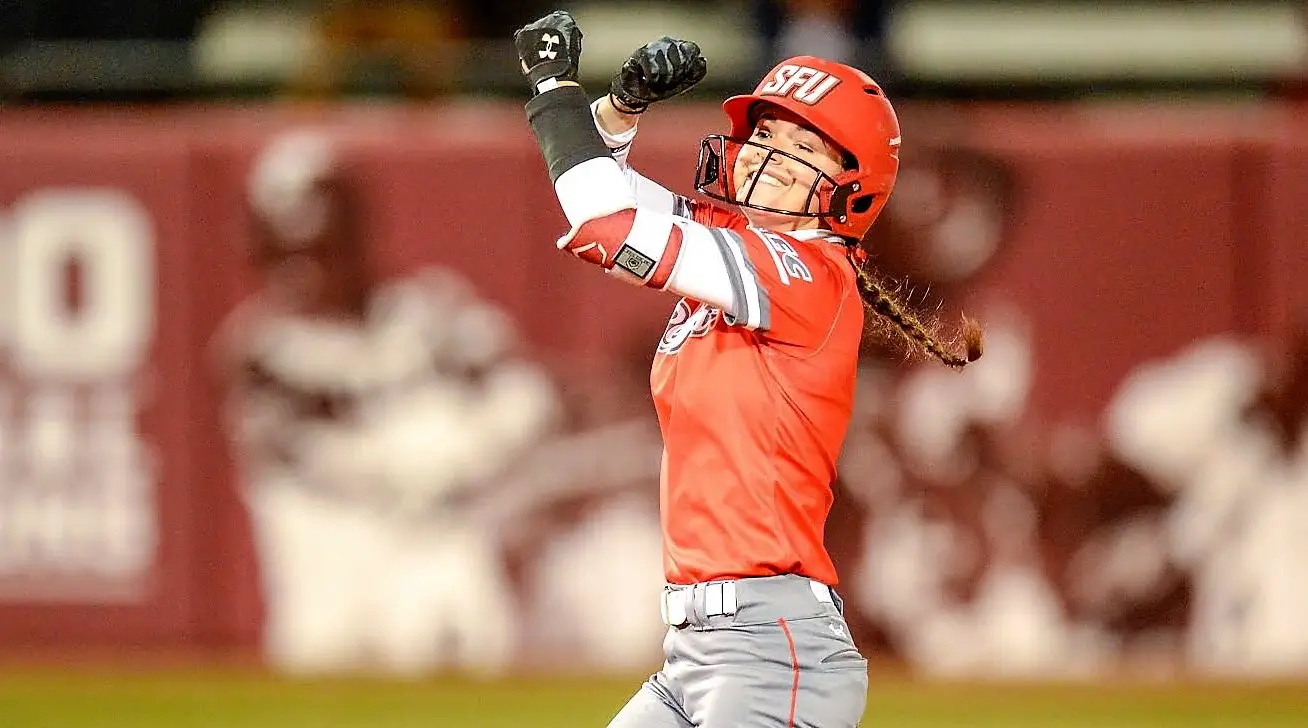 LORETTO, Pa. – Dubois, Pa., has one of the best Little League baseball and softball systems in Pennsylvania, so it should come as no surprise that many of the players that get their start in the system go on to play baseball at a higher level after graduating from either DuBois Area or DuBois Central Catholic.
(Photo courtesy of St. Francis Athletics)
Recently, St. Francis softball has become a popular destination for former Dubois Beavers and now former DCC Cardinals.
The Red Flash have won two straight Northeast Conference Titles and have not lost an NEC Conference since May 13, 2016. They have made two straight appearances in the NCAA Tournament have had the opportunity to play some of the best collegiate softball teams in the country as a result of their stellar play.
For Jordy Frank, a 2017 graduate of Dubois Central Catholic, St. Francis was the perfect college to obtain a degree in nursing while competing at the Division I level.
"Honestly, a lot of schools I talked to told me I had to choose between studying nursing or playing softball," Frank said. "St Francis never forced me to choose one over the other. I knew after I visited that it would be the perfect play to play high-level softball while also gaining the necessary experience to become a successful nurse."
The former four-sport athlete at DCC was recruited by a number of schools including Gannon, Mt. Aloysius and Carlow but knew St. Francis presented the best overall opportunity to her personally.
Frank became the third Dubois resident to join the Red Flash Softball program in as many years. Cheyanne and Sierra McKee are 2015 graduates of Dubois Area High School and immediately had a huge impact on Jordy both on and off the field. Sierra and Cheyenne both major in nursing and have given Jordy great tips and advice on how to manage softball and a difficult major like nursing.
In addition to the McKee sisters, Frank has had a great amount of support from her boyfriend and Penn State Behrend pitcher Phil Myers.
"Phil has been my biggest supporter since high school began," Frank said. "Everyone at DCC knew he was my biggest fan, and I absolutely love the support he has given me throughout my career in athletics. He, too, has been so key to my success so far because he is also majoring in nursing."
Frank's parents, Stacey and Tommy, have served as a great support system to both her and her twin brother, Jackson, who is a baseball player at Penn State Dubois.
"My dad began playing catch with me as soon as I was able to walk," Frank said. "As I grew up, my brother Jackson and I began to play catch all the time. I credit playing catch with him all the time for me having a great arm today. We would play long toss regularly and this helped me as a catcher in high school and now as a center fielder in college."
Jordy could not forget the support her younger sister, Jessy, has shown to both her and Jackson over the years.
"Jessy is the Red Flash softball teams biggest fan," Jordy said. "I am grateful she has been able to see me play so much over the years. I enjoyed coaching her travel softball team this past summer with my dad to help her improve as an athlete."
It is obvious Jordy has had a lot of help and support through her life so far and as a result, she has succeeded in every endeavor she has embarked on.
At DCC, Frank played basketball, soccer, track and field, and, of course, softball. She had one of the most successful high school careers in the history of DCC athletics.
Frank helped lead the Cardinals to two appearances in the PIAA Class A softball semifinals and three district championships. She was the four-year starting backstop and was named all-state and the 2016 Class A softball player of the year. She also accompanied these accomplishments with two D9Sports.com District 9 MVPs and three AML MVP awards.
During her time at DCC, she led the Lady Cardinals in hits, runs, RBIs, doubles, triples and home runs and also hit .625 for her career.
In basketball, Frank was an AML All-Star as a sophomore and was a four-year starter. There was not much left for Jordy Frank to accomplish at DCC, and some of the records she set may never be broken.
When asking Frank how she was so successful in high school in softball and ready for the Division I game, she spoke about her time with the Dubois Xtreme team that allowed her to play such a high amount of games each summer.
"I played for the Dubois Xtreme for several seasons and in one summer, I played over 80 softball games," Frank said. "While this was exhausting, I had so much fun and gained valuable experience that set me up to succeed in the high school season."
Frank has high hopes and expectations for the Red Flash softball team once again this season.
They welcome first-year head coach Jessica O'Donnell, who has helped St. Francis transition from a power-hitting team to a well-rounded team that can produce offense in a more consistent and variety of ways.
"Coach O'Donnell has been a blessing to this program," Frank said. "She has done an excellent job recruiting already and also helped us become a more fundamentally sound softball team. I believe in what she is teaching us, and I am excited for my second season in center field."
Frank has had the opportunity to play against Oklahoma and Mississippi State so far in her young collegiate career which she lists as a humbling experience but also an experience she wanted to make the most out of.
Frank had the lone hit against Oklahoma for St. Francis which showcases just what this young lady is capable of when she steps up to the plate.
"I know we can contend and win another NEC Championship this season," Frank said. "We have the talent, but we need to continue to put the work in. I hope we get another opportunity to play in the NCAA Tournament this year because I know we will make the most of it."