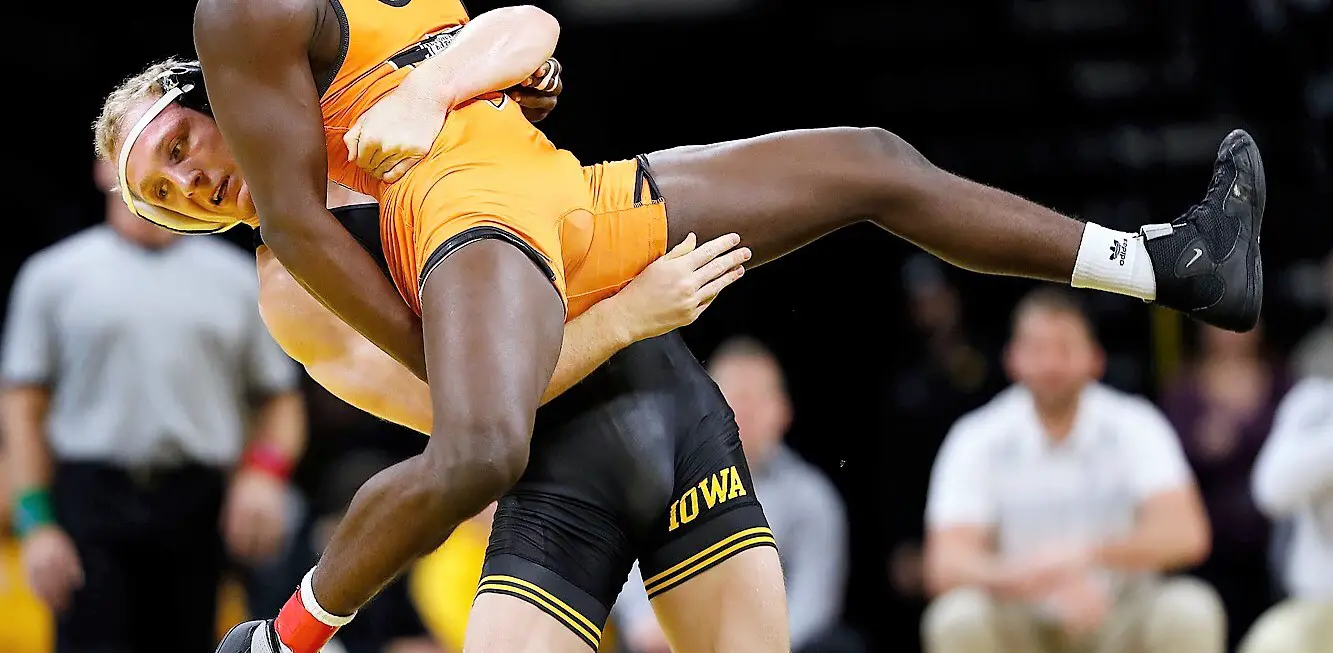 IOWA CITY, Iowa – District 9 is unquestionably one of the best districts in the Commonwealth of Pennsylvania in wrestling.
There is a great tradition of the district producing high-level wrestlers that become college athletes. Most of these wrestlers stay close to home to continue their collegiate wrestling careers, but there is one District 9 alumni who is writing his own unique legacy in Iowa City, Iowa.
Kaleb Young, a Punxsutawney Area High School graduate recently began his third year as a wrestler for the Iowa Hawkeyes and is having so much success that this week he was named the Big Ten Wrestler of the Week.
Kaleb began the sport of wrestling at the age of six and was inspired to begin competing in the sport because his father is a long time high school wrestling coach at Punxsy.
"My dad was the high school coach all throughout my childhood so I was in the room with him before I could walk," Young explained.
Being exposed to the sport and competing at such a young age has put Kaleb in a great spot as a wrestler at the Division I level in the best wrestling conference in the country.
The Iowa Hawkeyes have a sound tradition in wrestling, and that is what inspired the three-time PIAA state medalist to check out the University of Iowa.
"My club wrestling coach, Jody Strittmatter, wrestled at Iowa, and he took me to a dual meet in Iowa against Penn State my sophomore year of high school," Young said. "I loved the excitement in the arena. Eventually, Ryan Morningstar, our assistant coach, had me out on an unofficial visit and I loved the work ethic and attitude of the team. The coaches had a passion for wrestling that I had never seen before and it caught my attention."
It was a great fit for the former Chuck who over his high school career won four district, three regional and a state title. Kaleb also has a fifth-place and fourth-place medal from states to his credit, as well, while changing weight classes each season of his high school career.
Switching weights speaks to the versatility of Kaleb Young as a wrestler, but perhaps the greatest thing that speaks to his versatility and skill was wrestling in freestyle tournaments in the offseason to improve in any possible way during the offseason.
Young is a former football and soccer player but decided after his middle school days that wrestling was something he wanted to specialize in.
While wrestling is unquestionably Kaleb Young's biggest passion, he is taking care of business in the classroom at Iowa as well.
Young is a Human Physiology major and was inspired to pursue a degree in the medical field because his close friend Eli Lambiotte's father, Chuck, was an emergency room doctor. After seeing what a typical day was like for the elder Lambiotte, Kaleb was inspired to pursue a degree in a health-related field.
While there are a lot of people who Young has to thank for success, he realizes that his teachers and coaches are much to thank for helping him reach the level he is currently at.
"Someone that impacted me academically in high school is Russ Bishop, my high school math teacher," Young said. "Athletically, I would say Jody and John Strittmatter, Eric Eddy, Chris Albright and Scott Rendos. In addition, my coaches here at Iowa. These people all played big roles in my development whether in school or wrestling."
Kaleb was also quick to add his parents and coaches Tom and Terry Brands and the opportunities they gave him to succeed.
"My parents contributed a lot to my athletic career," Young said. "My dad would drive me one-and-a-half hours each way to club practice after high school practice at least twice a week every week. They definitely put a lot of time and money into my wrestling, and I'm thankful for that.
"I also love wrestling for Tom and Terry Brands. They bring a lot of intensity and passion into the room. I think they bring out the best in my wrestling because of it. They do not try to force any style on us, but they teach us to use our own style to score points and put pressure on our opponents. They're awesome coaches and people."
There have been countless hours spent on the mat and in the weight room, but there is not one memory Kaleb puts above over any other.
"I live the life," Young said. "I have wrestled in some big matches and at some big venues. I know there have been a lot of great opportunities, but I am looking forward to the next one."
Kaleb still has a lot left to give on the mat and has not thought much about what the future may hold for him when he no longer is able to compete.
"Wrestling's such a big part of my life that I don't see it going anywhere even when I can't wrestle anymore," Young added.
The 2018-2019 season is one that looks promising for the Iowa Hawkeyes. Young was quite direct with the goals of himself and the Hawkeyes this season and those goals include winning everything they possibly can. They are not going into any match, dual or tournament looking to lose. Without question, the Iowa Hawkeyes are a national championship-caliber team and it will be interesting to see if Kaleb Young and his fellow teammates can help lead Iowa to a national title in 2018-2019.
The Hawkeyes will be calling on Kaleb Young more and more over these next three seasons to win matches at 157 pounds. He posted a winning, 9-7, record last season after redshirting as a true freshman. In addition, he was named an Academic All-Big Ten letter winner last season which helps demonstrate his work ethic both in the classroom.
When speaking about how being a college wrestler has served as a positive to him in his college years, Kaleb said, "I feel like wrestling has taught me a lot of traits that make college more manageable. Things like perseverance and time management definitely help keep me structured in college and life in general."
Kaleb Young has an opportunity to wrestle for Big 10 titles and national titles each of the next three seasons.
Iowa currently is ranked third in the polls, while Young is ranked 13th in the country at the 157-pound weight class.