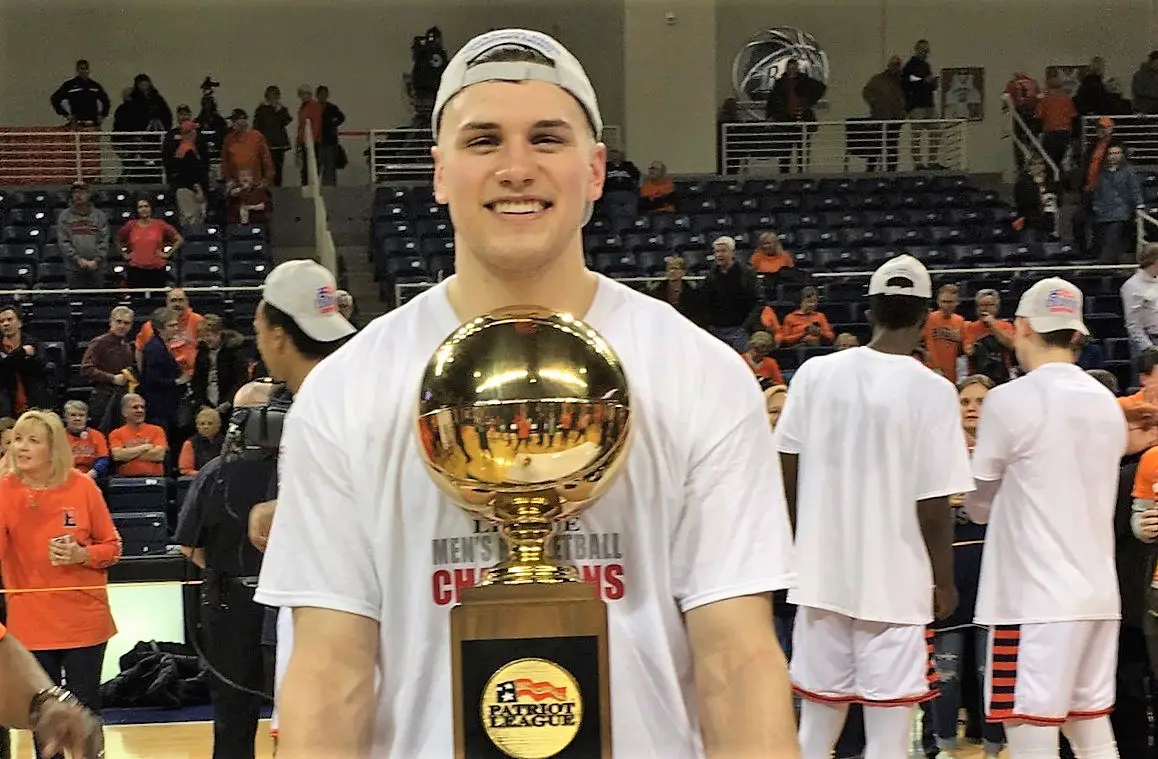 LEWISBURG, Pa. – California, Maryland, Virginia, and Pennsylvania.
(Nate Sestina with the Patriot League Championship Trophy. Submitted photo. Photo by Rachelle Sestina)
Four states that are represented by Bucknell men's basketball. The Bison's senior class has a resident of each of these states on their roster. Three of these seniors are from large cities, while one Bucknell senior is from a town of just 2,000 people.
Nate Sestina, a senior forward/center at Bucknell University, is the small town Pennsylvania kid playing Division I basketball.
Sestina is a 2015 graduate of Cameron County Area High School and is one of the best basketball players in the history of District 9.
The four-year letter winner at Cameron County was undeniably a problem for opposing teams over his high school career, but this dominance did not happen overnight admits Sestina.
"Heading into my freshman season at Cameron County, I was excited to get the opportunity to play varsity basketball," Sestina said. "However, I had just grown from a 5-foot-9 inch middle schooler to a six-foot-4 inch freshman over the summer. I really had not grown into my body yet and learned how to use my size to my advantage. It was a learning experience for sure."
While Nate was a raw talent early in his high school career, he had a lot of people by his side to help him reach his full potential.
His brother, Andrew, is a former college basketball player at Allegheny College as well as Nate's teammate his freshman year of high school. Andrew was one former teammate who is responsible for Nate raising his game to new levels.
"I am quick to say that Andrew used to drive me crazy in practice in high school," Nate Sestina said. "We would always play on opposite teams, and he would block my shots, foul me and get under my skin to get me to react. At the time, I didn't understand what he was trying to do, but as time went on, I understood he wanted me to be great and do something special with basketball."
In addition to his big brother Andrew, Nate's entire family was responsible for his success in basketball.
He is the youngest of five children in the Sestina family and all of his siblings were athletes in high school. Growing up watching his older siblings unquestionably inspired Sestina to become a great athlete, and he used every opportunity to his advantage.
Nate's father, Donald, is the former athletic director at Cameron County. He was able to let the Sestina children into the school, weight room and gymnasium to work on their game.
"I am fortunate that my Dad and the administration at Cameron County High School got along so well," Nate Sestina said. "My Dad could let me in the gym anytime I wanted. We lived just a few minutes away from the school and both of these things helped me get the extra work in easily. I gave up a lot of potential social time in high school and spent it in the gym. I would not have it any other way because it has opened a lot of doors for me as a result."
Sestina is fueled by his family and it is important to note what each of his siblings has contributed to his success and continue to contribute.
"My parents put 130,000 miles on a car from my sophomore year of high school to my freshman year of college," Sestina said. "This is a number that just showcases their belief and love for me. They have been there for absolutely everything, and I could not have been blessed with better parents."
In addition to his parents, Sestina thanked his sisters, Jen and Kristin, for opening up their homes, making him great meals and listening to him talk about basketball. His brother, Jason, has driven to a lot of tournaments in the southern part of the United States including one in Louisville, Ky., which was one of the biggest AAU Tournaments in terms of being recruited for Sestina.
While these people are blood family, Nate spoke about his best friend-for-life Keith Spehalski and his fellow seniors at Bucknell.
"Keith has been my best friend my whole life," Sestina said. "He was my teammate in every sport growing up. The one thing that sets him apart is that he drove to Louisville to watch me play AAU hoops. It brought tears to my eyes that he cared enough to come watch me chase my dream so far from home. That's my brother for life."
Bucknell seniors Kimbal MacKenzie, Nate Jones and Matt O'Reilly have been an outstanding support system both in and out of basketball over his career at Bucknell. Their ability to know how to pick Sestina up after feeling down has been instrumental to his success. In addition, they have helped Nate push himself in practice as well as in the classroom. It is a group that has been to the NCAA Tournament together twice and also won the Patriot League Conference Championship twice. Bucknell will definitely miss their leadership and togetherness in the 2019-2020 season.
While all of these people have played a part in Nate Sestina's life and success to this point, Sestina's basketball career is merely beginning.
Having redshirted his freshman season after a torn labrum, he has two years of NCAA eligibility remaining. However, Nate is scheduled to complete his degree in Geography in May of 2019. He is facing the decision whether to stay in school or forgo the last year of eligibility to become a professional basketball player. Nate is excited to be back for his third full college season, and he will surely show even more improvement this season.
Nate has made steps in a positive direction each year that he has been at Bucknell. For his career, he is averaging 5.6 points to go with 3.7 rebounds while shooting 53.7 percent from the field. He had a monster game in the Patriot League Championship last season when he had 16 points, four rebounds and two blocks to help lead the Bison over Colgate. He then scored seven points and had seven rebounds against Michigan State in the NCAA Tournament. Sestina squared off against NBA talents Jaren Jackson and Miles Bridges. When speaking about his experiences playing in these big games, Sestina had such a humbling response.
"The atmosphere at Bucknell for the Patriot League Championship was electric," Sestina. "I was nervous for this game, but seeing every one of my teammates' focus and all of the fans enthusiasm, I knew we could not lose. The NCAA Tournament was a different animal, however. I was starstruck by the NBA talent and playing against Tom Izzo. There were a lot of Michigan State fans and minimal Bucknell fans. I remember checking in and not being able to talk. After I got my first bucket against them, I was able to realize that Michigan State is not too much different than us."
Heading back to the NCAA Tournament for the third straight season is on the agenda in Lewisburg this upcoming season, and Sestina will play a big role in the Bison's quest for a three-peat in the Patriot League. His ability to stretch the floor has served the Bison well and it will continue to serve his career well because of his versatility both inside and outside the paint. The stretch four- and five-man in basketball is becoming more important, and Nate Sestina's skill-set prepares him for a long and successful career in basketball.
Sestina's career began by playing Single-A schools in the Northern Tier League where he recorded 26 double-doubles in 28 games as a high school senior. It led to him being selected first-team All-State after averaging 22 points and 14 boards per game in his final high school season. He led Cameron County to two straight Northern Tier League Titles and their first state playoff win since the early 1970s. Over 1,700 points and over 900 rebounds later, he found himself drawn to Bucknell for a chance to get a great education and contribute to a great tradition that is Bucknell Bison basketball.
Seeing the progression of Sestina from high school to college is truly remarkable. He might not be a stat stuffer at Bucknell like he was in District 9, but Sestina is making a big impact on the highest level of college basketball. He came from a town with less than 2,000 people and drove hours to improve his game several times per week. He gave up high school football, baseball, and hours of socializing with his friends in order to get to this point.
People are quick to see the end result of Nate Sestina playing in big-time games and having big-time performances, but many take for granted just how much he sacrificed to live out this dream. The work ethic and discipline he has is truly immeasurable; much like the impact he made at Cameron County Area High School and on District 9 in general. This six-foot-9-inch stretch-big man has put in hours of work for the chance to play Division I hoops, but he realizes that he has thousands of more hours ahead in order to live out his dream of playing professional basketball.
Note: From D9 to D1 is a series run on D9Sports.com highlighting current and former NCAA Division I athletes who hailed from District 9