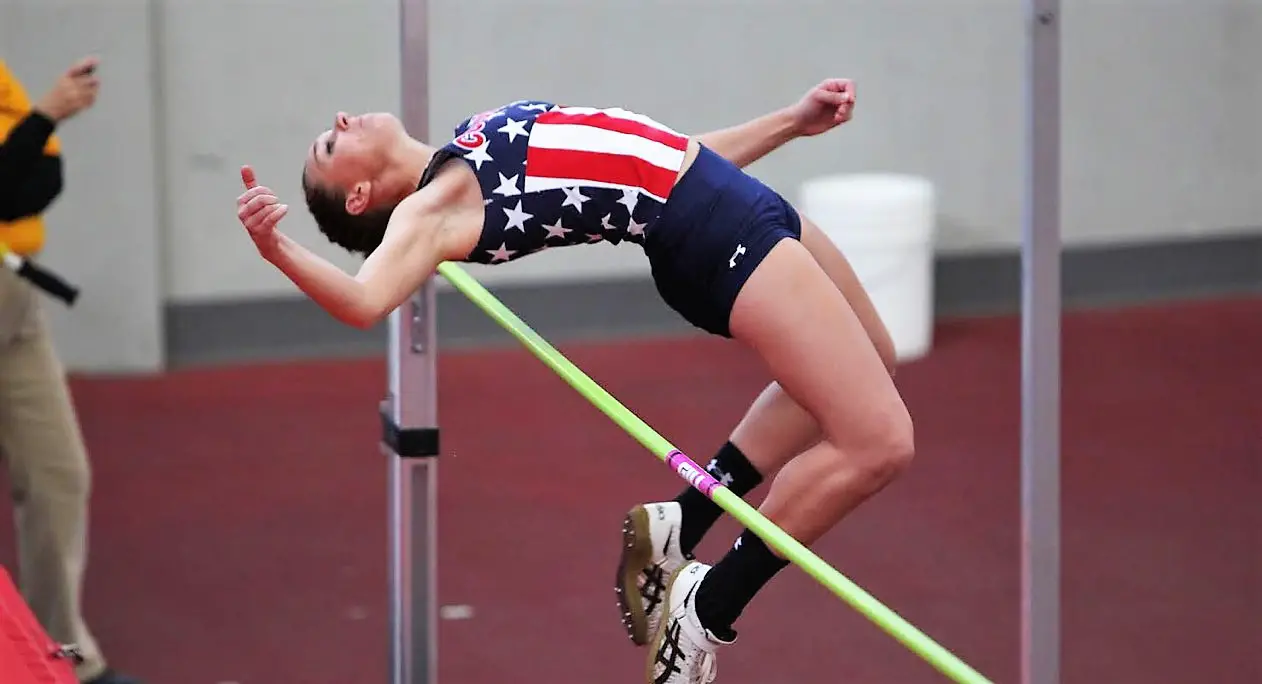 MOON TWP, Pa. – Elk County Catholic graduate Nicole Florio was prepared for her venture from one of the top high school program in Pennsylvania to Division I Robert Morris University in Moon Township, Pa., but it didn't come without some bumps in the road.
(Photo courtesy of Robert Morris University Athletics)
"As an incoming freshman, I believed actuarial science was the major for me," Florio, who was a member of the ECC program through 2015 said. "I quickly discovered that this was not the case, but rather accounting and data analysis was the correct career path for me. Changing my major early in my career was instrumental to me enjoying my studies, thoroughly."
In addition to this early change in majors, Florio has also faced some injury in her collegiate career.
In her freshman season, Florio missed a lot of time because of an injury to her foot. She missed the entirety of the outdoor track and field season as a freshman and was able to gain a redshirt as a result of the injury and can now run through 2020 if she chooses.
"My plan, as of now, is to obtain my Master's Degree in Data Analytics at Robert Morris with the option to potentially participate in outdoor track in 2020," Florio said. "It is a decision that would force me to compete unattached in any competitions until the spring of 2020," Florio said.
With two big decisions to make in the near future, Nicole Florio understands none of this would be possible without a great support system which stems from ECC, but has grown since enrolling at Robert Morris starting with her family.
"My family continues to be extremely supportive of me," Florio said. "My dad never bets against me in anything I am trying to accomplish. He has tried to learn and understand the sport to help me improve, and I am grateful for that."
In addition to her parents, Nicole spoke about how truly supportive her high school teachers and community have been to her in her career.
"All of the teachers at ECC knew and recognized what all of the students were doing both in the classroom as well as extracurriculars. It was a great environment to be in." Florio said.
Nicole also spoke highly of the training she endured as a member of the cross country and track and field teams. She listed coaches Fernan, Frank, Schneider and Weisner as great mentors and coaches who paved the way to a successful high school career and also led to an opportunity to continue her career at the college level. Nicole was inspired to begin track and field because her cousins were track and field athletes. While she had a successful running career, there is little debate she was meant to be a jumper.
During her career at ECC, Florio placed at districts and qualified for the state meet all four years. Her highest finish in states was third in the high jump, but her highest finish ever in states was a second place finish in the high jump during indoor track states.
In her high school career, she placed at states three of the four times she qualified. Competing against the best competition the state had to offer were experiences that pushed her to a higher level of performance and also memories she would love the opportunity to experience once again.
"The fans at the state track and field meet are truly incredible," Florio said. "There is always a competitive event going on, and it is one of the most exciting and unique atmospheres I have ever competed in and been around. I enjoyed my time competing on this stage."
Competition at this high level in high school prepared her for the type of competition she would face in the Northeast Conference.
In her sophomore season at Robert Morris, Florio finished second in the NEC in the high jump which is her highest finish to date.
Like mentioned earlier, Florio was forced out of competition for one of the outdoor track and field seasons due to an injured foot. This was a frustrating time for Florio who never missed much time due to injury before, but she had some great takeaways from the injury and some advice to those who face an injury.
"It is important to continue to pursue the correct treatment and preventative measures to ensure an injury will not happen or will not happen again," Florio said. "While being injured is never fun, it is a time where athletes can really focus on school or preparing for a better career in their respective field."
While Nicole is quite busy participating in track and field, which is truly a sport that requires training and preparation at all times of the year, she has found time to represent Robert Morris in the Student-Athlete Advisory Committee (SAAC). Robert Morris has also started a club to advocate for the mental health of student-athletes which she has also assisted with. Florio also enjoys the sport of gymnastics and watches the sport when she can in her free time. She was a four-year letter winner in gymnastics at St Marys Area High School which has a co-op in gymnastics with Elk County Catholic.
As Florio's career as a student-athlete is possibly nearing the end, she has countless memories from this sport that will last a lifetime. She intends to coach track and field at the high school level after she establishes her career in the field of accounting. Nicole expressed her gratitude to her teammates at both Elk County Catholic and at Robert Morris University for their continued support of her both in and out of athletics.
"I have made some lifetime friendships because of track and field," Florio said. "I could not imagine how different my life could be without this sport."
Nicole Florio is living out her dream of participating in track and field at the Division I level, but her experiences from District 9 are what allowed her to reach this great level of athletics.