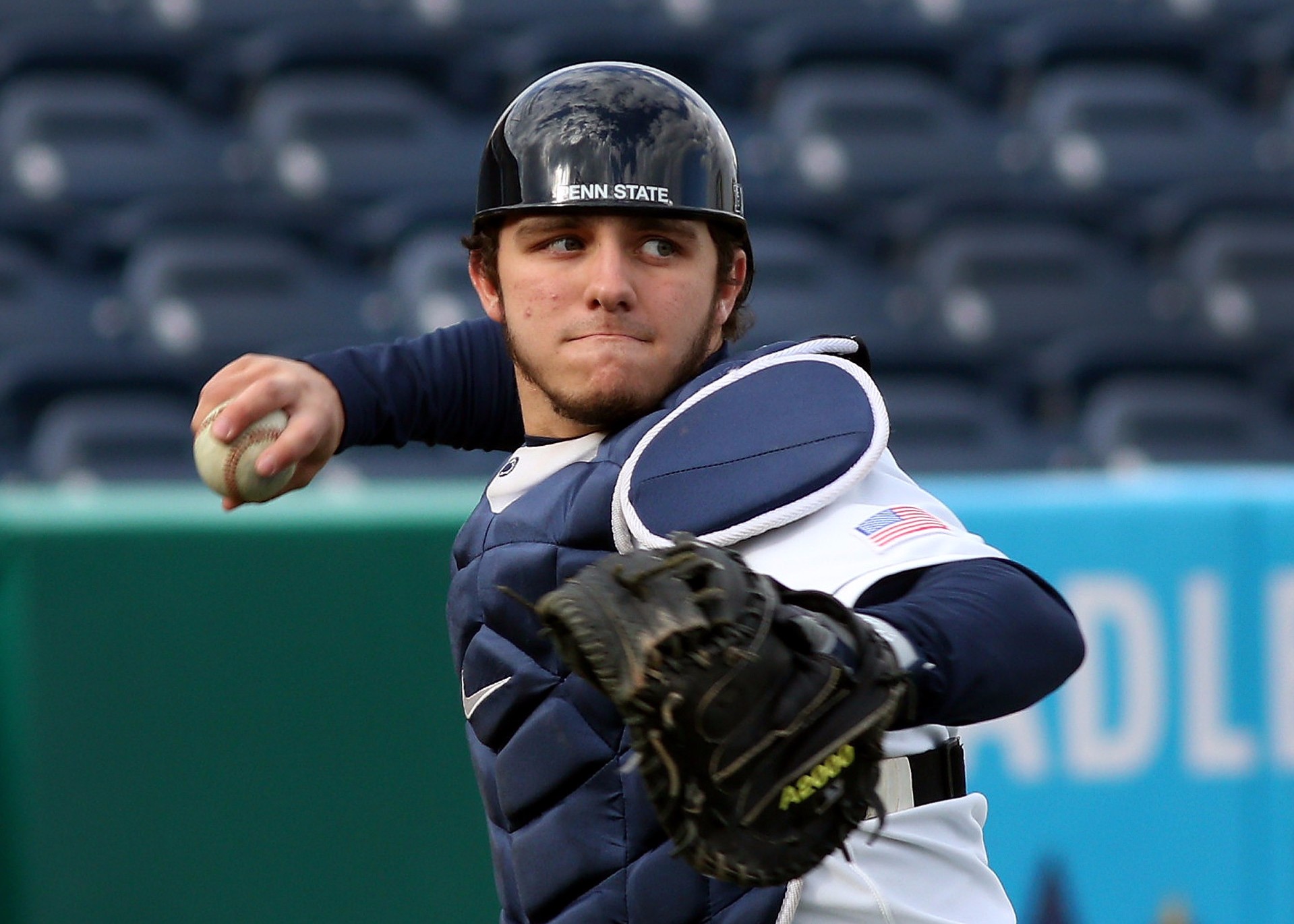 UNIVERSITY PARK, Pa. – Without question, Punxsutawney, Pa., is known for Groundhog Day and Punxsutawney Phil.
(Photo courtesy of Penn State Athletics)
This is one of the biggest traditions in the entire United States, and people from all over the country come to see this little groundhog decide about the upcoming weather.
While Punxsy Phil has helped create this great tradition, the Punxsy Chuck's baseball program might be the second-most famous thing in this small Pennsylvania town.
The program has sent four players to Division I schools over the last four seasons, and Punxsutawney Area High School Baseball Coach Mike Dickey is much to thank for this as well as 13 straight District 9 Championships and the 2007 state title led by current New York Mets backstop Devin Mesoraco, who was the PA Gatorade Player of the Year in the 2007 campaign.
While Mesoraco, a former first-round pick of the Cincinnati Reds, is a catcher at the highest level, he may not be the only catcher from Punxsy to make an impact in professional baseball.
Ryan Sloniger, a 2015 graduate of Punxsutawney, currently serves as the starting catcher for the Penn State Nittany Lions. Sloniger is entering his fourth year for the Nittany Lions and is hopeful to lead this baseball program in the right direction in his last season.
Sloniger has started for the Nittany Lions since arriving on the campus of Penn State, but it has not always been behind the plate. Sloniger has logged time at primary catcher but has demonstrated his team-first mentality and versatility on defense by filling in at first base. He was ranked as a top 300 prospect in the country and the ninth-best prospect in Pennsylvania as a high school senior by Perfect Game.
When hearing this, it is easy to see why Ryan is in the position he is in at Penn State. While Sloniger has proven he can play at an elite level, it has not come without great preparation and coaching. Sloniger played for some elite travel teams over his lifetime including spending time playing for US Elite and Chandler World. These teams allowed Sloniger to gain the exposure and the test that he needed to be prepared for Division I college baseball.
"I was lucky enough to play for one best travel ball programs in the country," Sloniger said. "We traveled the country weekly in the summer and got to play in front of a ton of college coaches every time we played. It was special."
While travel baseball is what helped prepare him for the level of competition he would face in college, Sloniger talked about a few coaches and family members who also contributed to the success he has had in his life.
"My dad (Jim) was a baseball player and has invested so much time into teaching me everything he knows about baseball," Sloniger said. "He and my mom (Sandy) know my swing better than anyone. I'm blessed to have parents who gave me every opportunity they could to help me achieve my goals and dreams."
In addition, Sloniger spoke about the impact Mike Dickey has had on him as a baseball player.
"Coach Dickey has been key in so many players playing college baseball and also our team achieving such great success as a team," Sloniger said. "I won districts all four years of high school, and this was in large part because of the type of coach he is."
Ryan also talked highly of his former travel baseball coach and former Indiana Hoosier pitcher Joe Vicini.
"Coach Vicini was a 23-year old coaching my 13-14-year-old travel baseball team," Sloniger said. "He had a great career at Indiana and really taught me a lot about the game of baseball. We talk on a weekly basis about the grind of college baseball and playing in the Big Ten. I am thankful he was my coach and we remain such good friends to this day."
These coaches and family members have a great reason to be proud as Ryan has enjoyed a tremendous career that has only improved over his time at Penn State.
After changing his approach and working on his swing, Sloniger had a much more consistent season at the plate for the Nittany Lions while continuing to prove himself as a dynamic defensive backstop. Sloniger led the team with a .306 batting average to go with five long balls and 31 runs batted in.
"Being more consistent was my biggest goal after a disappointing two seasons as a hitter to start my career," Sloniger said. "I knew I was capable of more and really worked at it to get more comfortable in the box and help make our team better overall."
Over the summer of 2018, Sloniger spent time playing in the New England Collegiate Baseball League which featured future professionals and some of the best baseball talents in the country.
It was a great opportunity to work on his craft and play with and against some great talent.
Through experiences like this and of course playing at Penn State, Sloniger is preparing for a career as a professional baseball player that he has dreamed about for most of his life.
The Punxsy product has one final season left at Penn State to prove his worth to major league scouts, but he has some unfinished business left at University Park.
"I came to Penn State to lead this program in a great direction and help us win a lot of games," Sloniger said. "I have one final year to help us get to where I hoped we would be and I am going to give it my all to go to the Big Ten tournament and also the NCAA Tournament. I really want to be the guy who helped lead PSU baseball to a better place for many years to come."
While Sloniger is helping lead Penn State, his former high school teammates John and Brandon Matthews along with former Penn State teammate Braxton Giavedoni have pushed him to become a better baseball player. Together, these four former Punxsy Chucks found themselves at the DI level.
"It's quite unique to have four Division I players on one high school baseball team especially a school as small as Punxsutawney," Sloniger said. "We took extra reps, swings and stayed after practice together to get our work in. It helped us work well together on the field."
While Ryan has played in hundreds of baseball games over his career, breaking the Punxsy all-time hits record on Senior Night is by far his favorite. He hit a two-run blast to become the Chucks hit king in April of 2015. It was a record that stood for eight years and was previously held by Mesoraco.
While Sloniger has stayed local for his college baseball, he has had the opportunity to travel the country representing District 9. He is set for another great season both in the batter's box and behind the plate which will bring MLB scouts out to Medlar Field at Lubrano Park to see a great talent go to work. Ryan Sloniger has brought great pride to Penn State baseball and has hopefully will help bring a lot more wins to State College in his final collegiate season.