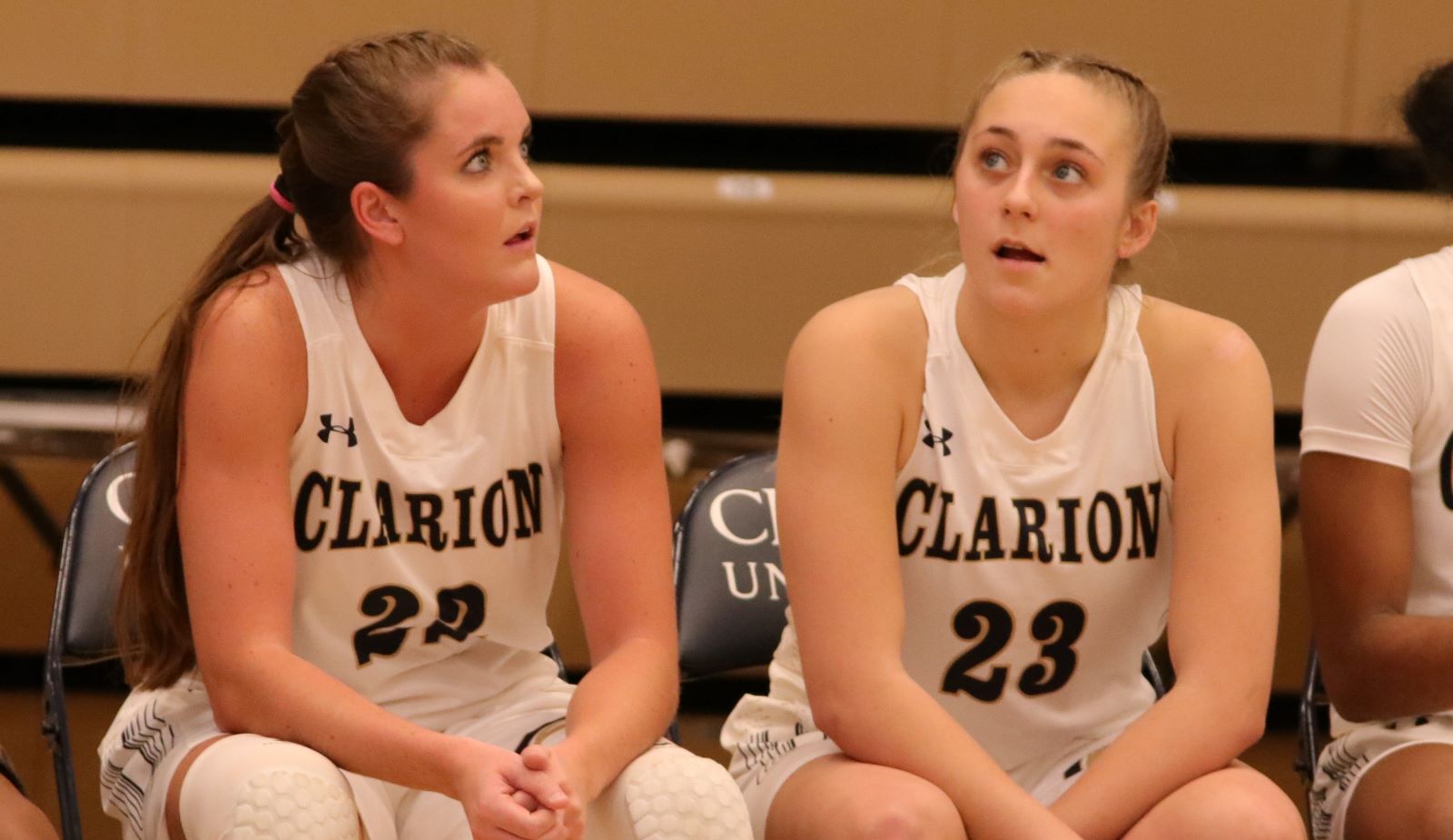 CLARION, Pa. – From on-court rivals to teammates and friends.
(Photo: Emily Hegedus (left) and Olivia Boocks (right) during a recent Clarion University women's basketball game. Photo by Jared Bakaysa of JB Graphics. See more of Bakaysa's work here)
The last time we saw Olivia Boocks and Emily Hegedus on the same basketball court they were going head-to-head against each other as KSAC rivals at A-C Valley and Karns City respectively.
It was Jan. 3, 2018, at A-C Valley, and Hegedus' Lady Gremlins squeaked out a 51-50 overtime victory when the then-senior guard went coast-to-coast for the game-winning layup with just 6.6 seconds to play.
Fast forward nearly two years later, the duo is trying to help the Clarion University women's basketball program get back on track.
Hegedus, a sophomore guard, has earned a starting spot for the Golden Eagles this season, while Boocks, a freshman guard has earned some early playing time.
"It's great that we get to play with each other now," Hegedus said. "Liv is a great player. We were rival the year before last, so it's great to combine our talents and to be able to be teammates and to help each other get better."
Boocks is excited to get to play with Hegedus instead of against her.
"I think we're going to be a good due when we start stepping up," Boocks said.
Speaking of stepping up, Hegedus has stepped her game up from her freshman season when she averaged 5.8 points per game and 2.6 rebounds per contest.
Through six games this season, the 5-foot-9 Hegedus is fourth on the team in scoring with 9.2 points per game while also coming away with a team-leading 14 steals while chipping in 4.2 rebounds per contest. She scored a career-high 22 points at West Liberty Nov. 13 and helped the Golden Eagles to christen the newly-renovated Tippin Gym last Wednesday by scoring 13 points and coming away with five steals in a 90-65 win over Davis & Elkins. She has scored in double figures in three of the six contests.
"I think I didn't have as much confidence in myself freshman year because I was nervous," Hegedus said. "Obviously, it is very different from high school. Everyone's good (at this level), so you have to change up your game a little but. I think now I'm more comfortable with myself and comfortable with the team. I know what my skills are and how to use them."
Clarion head coach Jana Ashley certainly has taken notice of the difference with Hegedus from last year to this year.
"Emily's growth from freshman year to sophomore year has been huge," Ashley said. "She has put in the work in the gym, and her confidence level has gone up. She has turned into one of our best defenders and somebody that we can count on as a big scoring punch as well."
Hegedus said one of the things she has worked on is becoming a more versatile player.
"I have been working on my jump shot," Hegedus said. "If the three is not open, I am making a move and instead of just driving all the way to the hoop where there are more players, I can pull off and do a jump shot."
While Hegedus has gotten more comfortable with the college game, Boocks is just starting to learn what the college game is all about.
Getting some decent playing time in the early going, the 5-foot-7 Boocks averages 11 minutes per game and has scored 12 points in six games while adding seven rebounds and four assists. Her best outing game in the home opener against Davis & Elkins when she scored seven points.
"Everybody's in your face," Boocks said when asked about the biggest adjustment from high school to college. "There is no one who is going to back off, so you have to learn to shoot with at least a hand in your face."
Ashley believes the sky is the limit for Boocks.
"She is a super talented kid," Ashley said. "She can score the ball, she can really shoot it. She can stress defense. She is very aggressive getting to the rim. She is not a one-dimensional player. We know we can depend on her offensively off the bench, just the energy she brings right now."
Ashley believes there is still a learning curve for Boocks.
"She's still kind of learning the speed of the game, and the shot clock and time and score situations," Ashley said. "But that is natural for any freshman to have that learning curve especially this early in the season."
Boocks said the one area she is already she a marked improvement in is her defense.
"I think my defense has improved a lot," Boocks said. "In high school, it wasn't the best. I would say I know I have to be faster and quicker."
Hegedus and Boocks are part of a strong contingent of KSAC players playing the PSAC West currently.
Up at Gannon, Tori Obenrader of North Clarion was named the PSAC West Player of the Week two weeks ago and is averaging a team-leading 20.8 ppg and 7.2 rpg for the Lady Knights. She ranks fourth in the PSAC while leading the PSAC West in scoring.
Over at Slippery Rock, Keystone's Madison Johnson, Redbank Valley's Brooke Hinderliter and Karns City's LeeAnn Gibson, a teammate of Hegedus' in high school, are all starting for the Rock with Hinderliter, a 1,000-point career scorer, leading Slippery Rock in scoring at 17.7 points per game to go with 5.2 rebounds per game, Johnson, a transfer from St. Francis (Pa.) adding 16.5 ppg and 4.8 rpg and Gibson, who missed the first two games of the season, contributing 8.3 ppg and a team-leading 7.0 rpg. Last Wednesday, the duo combined for 61 points (Johnson 28, Hinderliter 19 and Gibson 14) in a 108-105 win over Salem.
Down at IUP, Karns City graduate MacKenzie Craig is seeing some action as well after transferring from Butler County Community College.
Craig, who was teammates at Karns City with both Gibson and Hegedus, has seen action in five of IUP's six games and averages just under four minutes a game. She has scored three points while dishing out two assists and grabbing a rebound for the nationally ranked (16th) Crimson Hawks.
"It's great that there are so many players from the KSAC playing in college," Hegedus said. "It tells us that we worked hard in high school and we didn't just play high schoolers who were just playing to play. We played with a lot of players that are playing in college. It got us ready for this level, and I think its paid off."
Boocks said looking around the conference and seeing so many players she played against or watched play having success gives her confidence that she too will have success.
"It makes me think that it will start to fall for me," Boocks said. "It will."
Boocks said if she had to give advice to a current KSAC or high school player who wants to play the college game, it would be get in the gym.
"Really, just get in the gym," Boocks said.
Hegedus echoed that.
"Hard work pays off," Hegedus said. "Don't give up. A lot of players are just playing high school for an activity. But if you push yourself and practice, then you can just be like one of us."