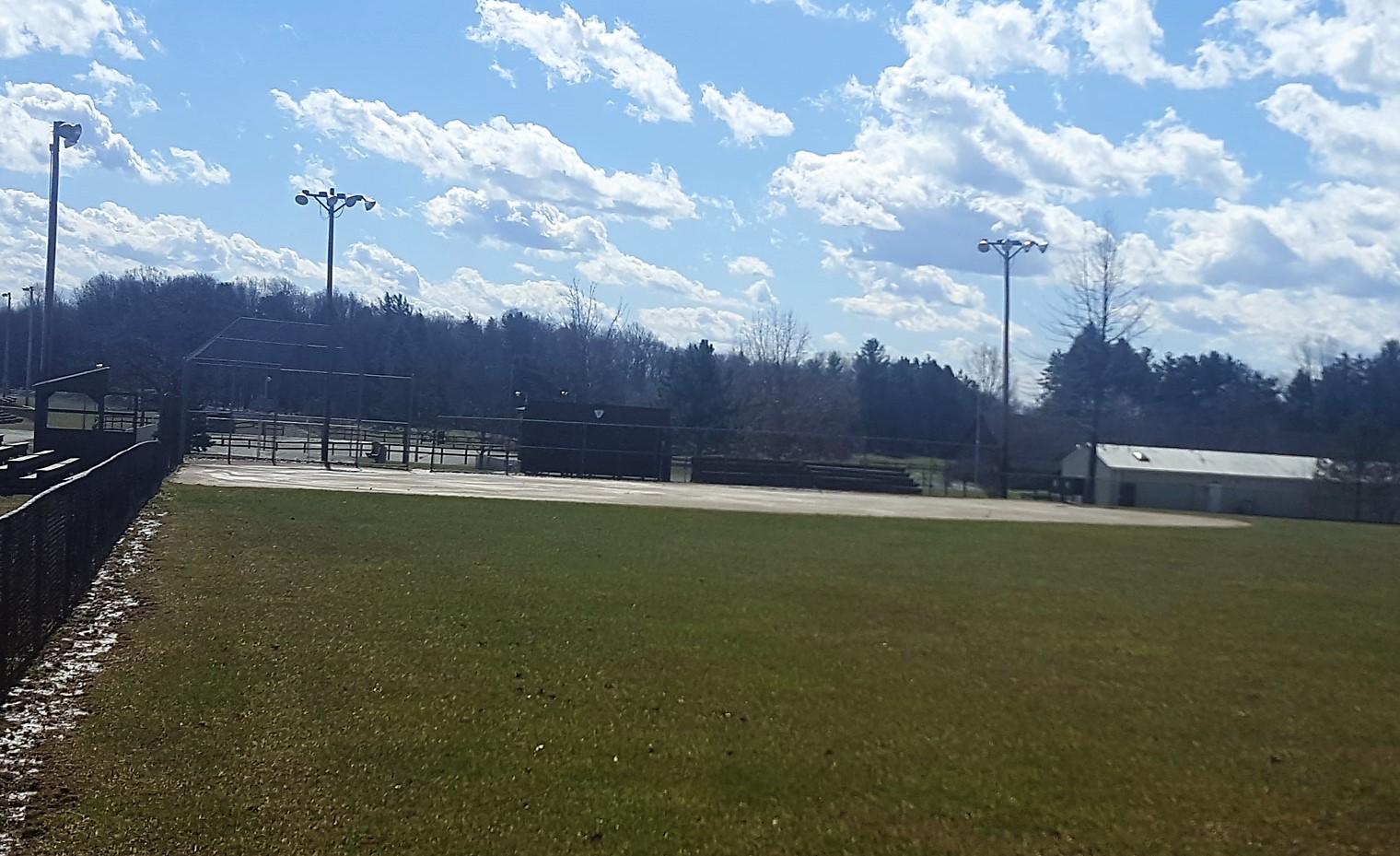 Clearfield Softball topped Tyrone 7-1 on Thursday, while the Clearfield Baseball side fell to Philipsburg-Osceola 11-1.
(This article was provided by our News Partner GantDaily.com.)
Clearfield Softball 7, Tyrone 1
TYRONE, Pa. – The Clearfield Lady Bison softball team traveled to Tyrone Thursday afternoon for a Mountain League matchup with the Golden Eagles. Clearfield was able to come away victorious for their second straight victory by a final of 7-1.
The Lady Bison again got a strong pitching performance from junior Emma Hipps who struck out a season high 19 batters on way to her third win of the season. The team also got clutch hitting from Lauren Ressler who is swinging a hot bat. The junior has collected nine hits out of her last 10 at-bats.
When talking about his ace Emma Hipps, Lady Bison Head Softball Coach Derek Danver had this to say. "The first batter of the game hits a home run but after that, she absolutely dominated this game. 19 strikeouts out of 21 total outs truly speaks for itself."
While the Lady Bison had just six hits in the game, they found plenty of ways to get runners on base and used some small ball tactics to help runners advance to scoring position.
"We got a couple really clutch hits today including a two out and two RBI single from Morgan Cheek," said Danver. "I have also liked what I have seen from Lauren Ressler the last two games at the plate. She is using all fields and has done a great job at hitting the ball where it is pitched."
Clearfield (3-1) wasted little time getting in the scoring column as they had two runners score in the top of the first to take a 2-0 lead. Ruby Singleton walked to begin the ball game and advanced to second on the Lauren Ressler base knock. After Olivia Bender hit into a fielder's choice that advanced Singleton to third, Singleton showed her speed by scoring on a passed ball to make it 1-0 Lady Bison. On the passed ball, Bender advanced to second and was then knocked in on a two out single by Alaina Fedder to make it a 2-0 game.
Tyrone got their lone run in the top of the first on the solo blast from leadoff hitter Maci Brodzina. Brodzina would account for all three of the Lady Eagles' hits in the contest and their lone run.
After a scoreless second inning, Clearfield was able to score four runs in the top of the third to break the game open. After Singleton drew her second walk of the game, Ressler doubled to put two runners in scoring position with none away. Hipps singled to score Singleton and advance Ressler to third.
Hipps was able to move up 60 feet, which meant two more runners in scoring position for Clearfield. After a strikeout, Fedder was intentionally walked to load the bases with one away. Alexis Benton walked next which plated Hipps to make it a 4-1 Lady Bison advantage with the bases still full. After a strikeout, Cheek came through in the clutch to score two for Clearfield and make it a 6-1 lead.
Clearfield added another insurance run in the top half of the sixth as Kylee Hertlein was able to reach on a walk to begin the inning. After she stole second, she advanced to third on an error that put runners at the corners with no outs. Hertlein later in the inning was able to reach home on another Tyrone miscue which proved to be the final run of the ball game.
Hipps struck out five of the last six Lady Eagles she faced to shut the door on Tyrone and help secure a second consecutive win for the Lady Bison. Clearfield returns to action at home on Tuesday, April 13th against Bellefonte. The matchup is slated to begin at 4:30 p.m.
Clearfield – 7
Ruby Singleton (RF) 1200, Lauren Ressler (1B) 4130, Emma Hipps (P) 4111, Olivia Bender (C) 4100, Alaina Fedder (SS) 3111, Alexis Benton (CF) 3001, Alexis Bumbarger (3B) 3000, Morgan Cheek (LF) 3012, Kylee Hertlein (2B) 2100 TOTALS 27 7 6 5.
Batting
2B: Lauren Ressler
TB: Alaina Fedder, Lauren Ressler 4, Emma Hipps, Morgan Cheek
RBI: Alexis Benton, Alaina Fedder, Emma Hipps, Morgan Cheek 2
SAC: Ruby Singleton
ROE: Olivia Bender, Ruby Singleton
FC: Alaina Fedder, Olivia Bender, Emma Hipps
SB: Kylee Hertlein, Emma Hipps, Ruby Singleton
CS: Alexis Bumbarger
Fielding
E: Alexis Bumbarger, Emma Hipps
Tyrone – 1
Maci Brodzina (SS) 3131, Victoria Reese (CF) 3000, Maecy Tuskovich (1B) 3000, Madelyn Rockwell (P) 3000, Ella Pearson (C) 3000, Emma Diebert (3B) 3000, Maci Lingenfelter (RF) 3000, Kaleigh Brodzina (2B) 2000, Tiffanie Tuskavich (DH) 2000 TOTALS 25 1 3 1.
Batting
2B: Maci Brodzina
HR: Maci Brodzina
TB: Maci Brodzina 7
RBI: Maci Brodzina
ROE: Maci Lingenfelter, Ella Pearson
SB: Maci Brodzina
CS: Maci Lingenfelter
Fielding
E: K Diebold, Maecy Tuskovich, Madelyn Rockwell
Score by Innings
Clearfield 2040010
Tyrone 1000000
Pitching
Clearfield
Emma Hipps 7 IP, 3H, 1R, 1 ER, 0 BB, 19 K.
Tyrone
Madelyn Rockwell 7 IP, 6 H, 7 R, 5 ER, 6 BB, 5K.
W – Emma Hipps (3-1). L – Madelyn Rockwell (0-1).
Philipsburg-Osceola Baseball 11, Clearfield 1
PHILIPSBURG, Pa. — A warm day on Thursday welcomed the Clearfield Bison back to the diamond, but it was in the shadow of the Philipsburg-Osceola High School as they were set to face the Mounties for their fourth-consecutive road contest. This day, unfortunately, was a quick one for both squads.
Despite scoring the first run, the Bison faltered, handing out eight errors, as they suffered their third loss on the season, an 11-1 rout that ended after five innings.
Clearfield got on the board first in the second inning. With two outs on the board and a runner on first, Cole Bloom connected on a line drive into left field, which allowed Ryan Gearhardt to motor all the way around for the score. The RBI-single would be the lone hit within the inning. A fielder's choice, a walk, and a strikeout ended the second inning, but Clearfield held the lead.
That lead got erased in the bottom half of the inning, as the miscues began.
The first error of the afternoon for the Bison came by Ty Troxell, allowing Dave Meersand to advance to second. Ryan Whitehead then singled to right field to bring in the first run for the Mounties. P-O took the lead on a sacrifice fly by Jake DeSimone, which brought Whitehead in following the tag up. After one inning it was 2-1.
The bottom of the third inning is when things went off the rails as the Mounties would put six runs on the board.
Nathan Gutsky scored on an error, then Jeremy Whitehead scored on a passed ball, then a fielder's choice let TJ Wildman come home. The 2-1 gap suddenly expanded to 5-1. Three batters later, courtesy of another error by Troxell, two more runs came to the plate. The final run came shortly after when Parker White reached first on yet another error, this one by Karson Rumsky, bringing Gavin Emigh home.
At that point, following another walk, starting pitcher Gearhart was pulled and replaced by Morgen Billotte. Gearhart would get tagged with the loss on the afternoon.
On the opposite side, P-O's Shane Coudriet would go four innings, only giving up the one run, but struck out six in the victory.
The Mounties added a pair of runs in the fourth from an RBI-single by Corey Hahn, followed by an RBI-single by DeSimone. The final run came in the fifth when Ryan Whitehead blasted a hard-grounder to left field, bringing in Jeremy Whitehead. At that point, even with no outs on the board, the Mercy Rule hit and the umpires called the game.
Clearfield (1-3) finally gets to come home and play on their own field on Friday afternoon, a 4:30 p.m. first-pitch against Indiana.
SCORE BY INNING
Clearfield 010 00 – 1 5 8
Philipsburg-Osceola 026 21 – 11 9 3
Clearfield – 1
Nolan Barr 2000, Kyle Elensky 3010, Morgen Billotte 3000, Blake Prestash 2000, Karson Rumsky 2000, Hunter Dixon 3010, Ryan Gearhart 3110, Matt Bailor 3010, Cole Bloom 2011. TOTALS 23 1 5 1.
Philipsburg-Osceola – 11
Jake DeSimone 4012, Parker White 3000, Nathan Gutsky 3110, Jeremy Whitehead 3211, TJ Wildman 3220, Dave Meersand 3111, Oliver Harpster 0000, Ryan Whitehead 3322, Tommy Stephens 2100, Gavin Emigh 1100, Corey Hahn 1011. TOTALS 26 11 9 7.
LOB: 10/8
E: Bloom, Elensky-2, Prestash, Rumsky, Troxell-3/White-2, Emigh
ROE: Elensky, Gearhart/White-2, J. Whitehead, Meersand, R. Whitehead, Stephens, Emigh
2B: Bloom
3B: Wildman
FC: Dixon, Elensky, Rumsky/Wildman
SAC: Emigh
HBP: White
Pitching
Clearfield: Gearhart-3.2 IP, 7 H, 10 R, 5 ER, 4 SO, 4 BB; Billotte-0.1 IP, 1 H, 1 R, 1 ER, 0 SO, 2 BB; Prestash-1 IP, 1 H, 0 R, 0 ER, 0 SO, 0 BB.
Philipsburg-Osceola: Coudriet-4 IP, 4 H, 1 R, 0 ER, 6 SO, 2 BB; Wildman-0 IP, 1 H, 0 R, 0 ER, 0 SO, 1 BB.
W-Coudriet
L-Gearhart