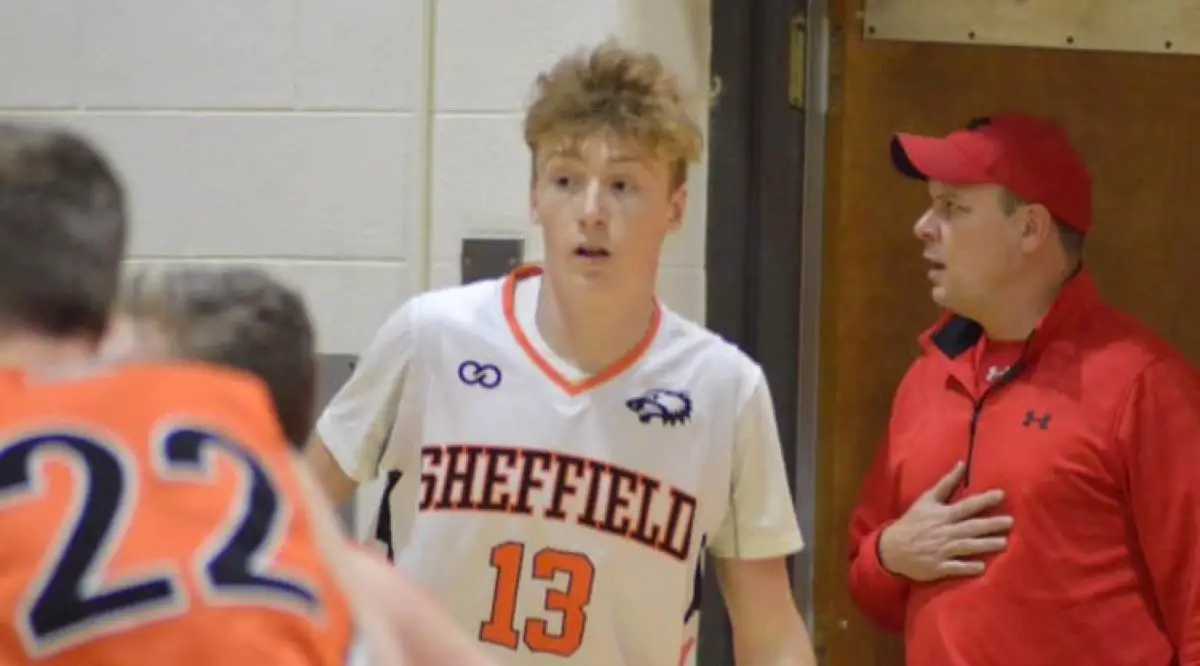 SHEFFIELD, Pa. – The long trip to Sheffield on Monday night for the Curwensville boys basketball team ended in a Wolverine victory, 55-33, that dropped the Golden Tide to 0-2 on the young 2021 season.
(This article was provided by our News Partner GantDaily.com.)
(Photo by: Jenna Albaugh)
Curwensville was still in the game after the first two quarters, trailing at the half 24-14 and not yet playing well on offense.
Any hopes of a Tide victory though disappeared in the third frame as Sheffield outscored Curwensville 16-5 to take a 21 point margin into the final eight minutes, 40-19.
Ty Terry paced the Golden Tide offense with 19 points, which included five three-pointers.
Sheffield had three players in double figures as Tyler Hepinger lead all scorers on the night with 21 tallies followed by Lucas McNeal and Tony Richards each dumping in 11 points.
In the junior varsity game it was Sheffield also winning, by a score of 25-21. Jason Rowles had nine points to lead the Golden Tide.
Curwensville travels to Moshannon Valley on Wednesday night for a Moshannon Valley League game.
The Tide schedule, as of now, has Curwensville playing its first six games on the road, with its first home contest coming on Jan 27 against St. Joe's Catholic Academy.
CURWENSVILLE – 33
Scott Condon 3 1-5 7, Trevor Lansberry 0 4-5 4, Mike Lezzer 0 0-0 0, Ty Terry 6 2-2 19, Danny McGarry 1 1-2 3, Jason Rowles 0 0-0 0, Carson Spencer 0 0-0 0
TOTALS – 10 8-14 33
SHEFFIELD – 55
Tyler Hepinger 10 1-1 21, Tony Richards 5 1-2 11, Lucas McNeal 4 3-6 11, Connor Finch 4 0-0 8,
Nolan Albaugh 1 0-0 2, Mason Silvis 0 0-2 0, Gage Mott-Macalush 1 0-0 2
TOTALS – 25 5-11 55
CURWENSVILLE 7 7 5 14 33
SHEFFIELD 10 14 16 15 55
THREE-POINTERS: CURWENSVILLE – 5 Terry 5 SHEFFIELD – NONE