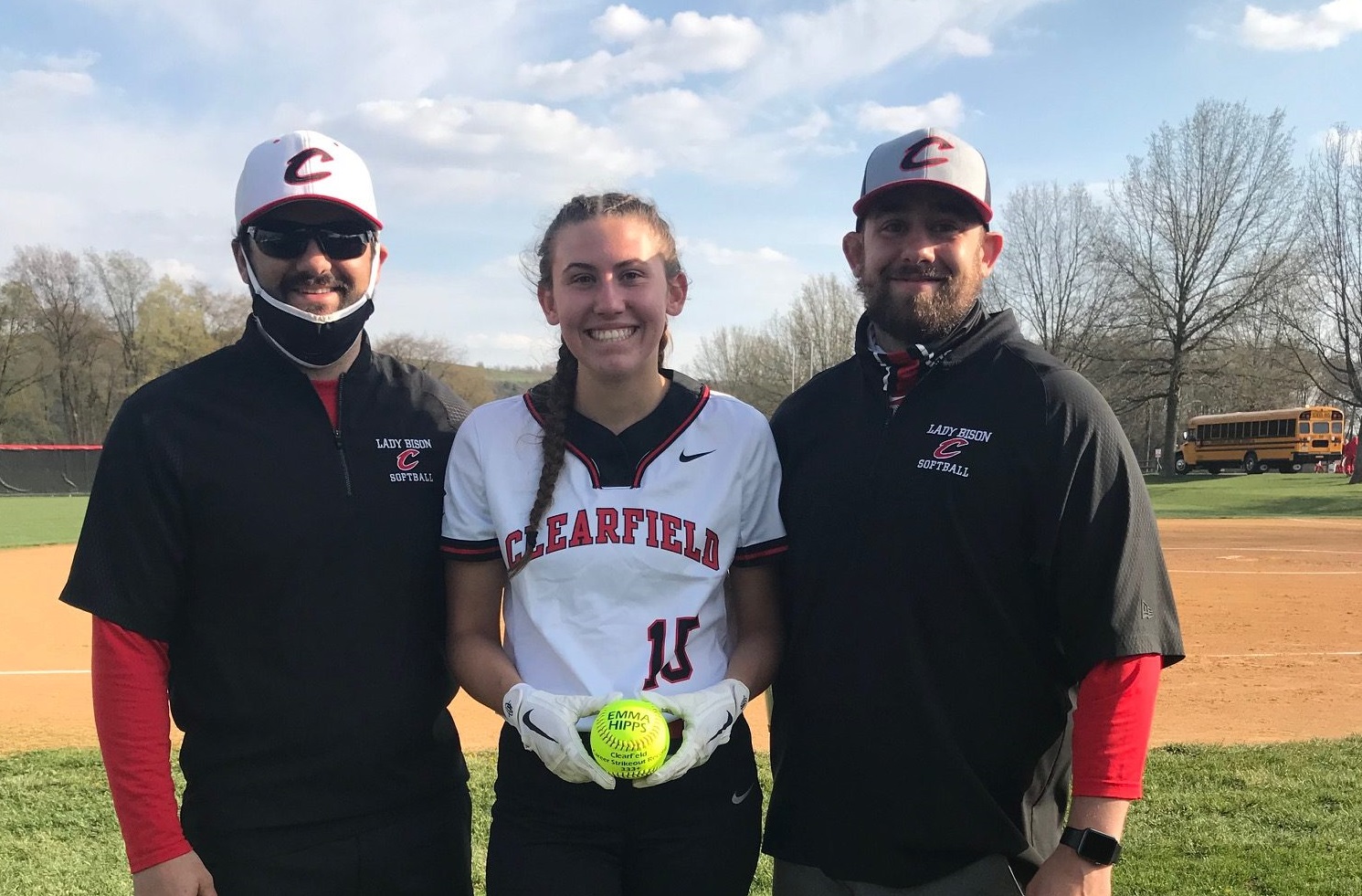 CLEARFIELD, Pa. – The Lady Bison got back on track on Friday afternoon with a 10-0 blowout victory over the visiting Lady Chucks of Punxsutawney.
(This article was provided by our News Partner GantDaily.com.)
Along the way, junior ace Emma Hipps broke Rachel Hoffman's seven-year-old record for career strikeouts with the Lady Bison which stood at 332. Hipps now sits at 336 for her high school career and she has only played in a season and a half so far in her career with Clearfield.
"I am so proud of Emma," said Clearfield Head Softball Coach Derek Danver. "She went out there and did her thing once again and also our offense gave her some run support which went a long way in this win."
She went the distance in a five-inning, one hit, 12 strikeout shutout to secure her fifth win of the campaign. She had the support of a strong defense and an explosive offense to help carry Clearfield to victory.
"We went to the plate with confidence," Danver said. "We used all fields and showcased some power. I am proud of the effort and it really was a great performance from our offense from top to bottom."
The Lady Bison wasted no time getting on the board as they scored four in the bottom of the first. Outfielder Ruby Singleton started Clearfield off by reaching on an error and Emma Hipps was able to make the Lady Chucks pay for the miscue by roping a double to put two runners in scoring position with no outs.
Lauren Ressler was able to deliver for the Lady Bison in a big way by going yard to make it a 3-0 Clearfield lead. The next batter was Olivia Bender and she launched a big fly of her own for back-to-back jacks for the Lady Bison to go ahead 4-0 in the first inning.
The Lady Bison plated three more in the bottom of the second with Singleton leading off with a single. Hipps was able to reach on a fielder's choice which also advanced Singleton up 60 feet. Later in the inning, Singleton was picked off trying to advance to third, but she was replaced on the base paths by Ressler who drew a walk.
It did not take long for Bender to then add another home run as she hit a three run shot to put the Lady Bison ahead 7-0 in just inning number two.
The Clearfield bats went quiet in the bottom of the third, but they would wake back up in the fourth as Hipps belted a home run of her own over the center field fence to make it an 8-0 game.
Hipps would strike out the side in the top half of the fifth and the Lady Bison would plate two in the home half of the fifth to secure the victory. Alaina Fedder led off the fifth with a single and was followed up by a single from Alexis Benton. Alexis Bumbarger then smacked a third consecutive single to center and scored Fedder to make it 9-0 in favor of Clearfield.
Singleton was able to end the contest later in the inning as she reached on an error which allowed Benton to reach home and help the Lady Bison top the Lady Chucks, 10-0. Clearfield featured four players who recorded multiple hit games as Bender, Hipps, Fedder, and Benton accounted for eight of the 11 Lady Bison hits in the ball game.
Danver said this about the victory Friday afternoon over Punxsutawney. "I tell the girls we cannot be perfect, but we can train perfect. Tonight was about as close as we can get. I am proud of this team."
Clearfield (5-3) will be back in action on Tuesday, April 27 as they host Central in a Mountain League rematch. Clearfield was able to defeat Central by an 11-5 score back on April 6. The game is slated for 4:30 p.m.
PUNXSUTAWNEY – 0
Riley Presloid (SS) 2010, Sara Weaver (LF) 2000, Elliott Ferrent (P/1B) 2000, Ciarra Toven (1B/P) 2000, Maddi Shiock (C) 2000, Karli Young (3B) 2000, Sydney Hoffman (2B) 1000, Rachel Houser (2B) 1000, Alli Meko (CF) 1000, Kaylee Guidice (DH) 1000, TOTALS 16 0 1 0.
Batting
TB: Riley Presloid
CLEARFIELD – 10
Ruby Singleton (RF) 4111, Emma Hipps (P) 3321, Lauren Ressler (1B) 2213, Olivia Bender (C) 3224, Alaina Fedder (SS) 3120, Alexis Benton (CF) 3120, Alexis Bumbarger (3B) 3011, Morgan Cheek (LF) 3000, Kylee Hertlein (2B) 2000, TOTALS 26 10 11 10.
Batting
2B: Emma Hipps
HR: Lauren Ressler, Olivia Bender 2, Emma Hipps
TB: Alexis Benton 2, Alaina Fedder 2, Lauren Ressler 4, Alexis Bumbarger, Olivia Bender 8, Emma Hipps 6, Ruby Singleton
RBI: Lauren Ressler 3, Alexis Bumbarger, Olivia Bender 4, Emma Hipps, Ruby Singleton
ROE: Ruby Singleton 2
FC: Alexis Bumbarger, Emma Hipps
SB: Alexis Bumbarger
PIK: Ruby Singleton
Score by Innings
Punxsutawney 0 0 0 0 0
Clearfield 4 3 0 1 2
Pitching
Clearfield Emma Hipps 5 IP, 1 H, 0 R, 0 ER, 0 BB, 10 K.
Punxsutawney Elliott Ferrent 1 1/3 IP, 7 H, 7 R, 6 ER, 1 BB.
Ciarra Toven 3 IP, 4 H, 3 R, 2 ER, 1 BB, 2 K.
W – Emma Hipps (5-3). L – Elliott Ferrent (0-1).