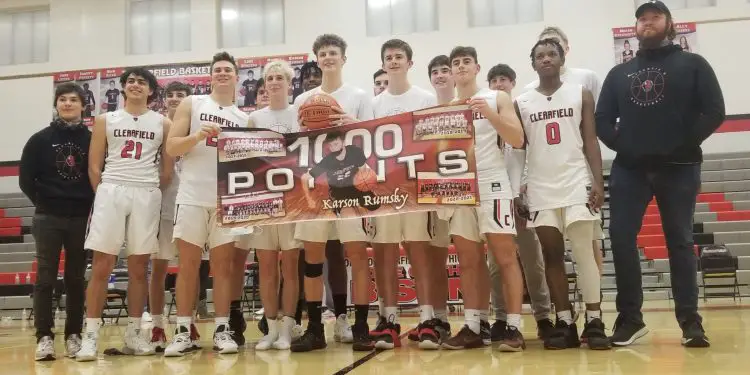 HYDE, Pa. – Senior night for the Bison drew the biggest crowd that could be allowed inside the Bison Gymnasium, as a six-pack of Bison seniors would be honored on the night for all their contributions to the program.
(This article was provided by our News Partner GantDaily.com.)
After showcasing their future plans for college, grad school, or military ambitions, it was time to get down to business as the Punxsutawney Chucks were looking to play spoiler on the night.
But, one Bison senior decided to make sure the home squad would walk away happy. Karson Rumsky was nearing a benchmark for high school sports, and on this night, he would top all scorers, but most of all reached 1000 career points to help the Bison walk away with a 63-26 rout over Punxsutawney.
"It was a total team effort, but I give Karson a lot of credit. He had a mindset of coming out and attacking offensively," head coach Nate Glunt said afterwards. "He knew where he was at (in points), and he came out and played really well."
Clearfield started five seniors on the night, as Curvey Purkett would take the usual spot of Cole Miller at the start of the night, and helped keep the Chucks from penetrating deep into the paint. But, the Chucks were not making it easy early on for the Bison defense, as they were coming from every direction to get some easier buckets, either from in the paint, or from deep range behind the arc. Punxsutawney would push Clearfield hard in the opening eight minutes, and would hold a 16-12 advantage after one quarter.
"Coach Perrin, he's done a great job with his team. They came ready to play, and they really took it to us in the first quarter," Glunt said. "They got any shot they wanted."
That offensive output suddenly came to a stop, as over the remaining 24 minutes of play, the Chucks suddenly found the Bison defense a lot different, and could not capitalize. Clearfield would play a bit of a zone, but also had their stance lower, trying to prevent passes. It made a big difference as Punxsutawney only went 4-for-27 the remainder of the game, after only going 6-for-14 to start the night.
All the while, Rumsky would slowly cut the gap down to get closer to that 1000-point mark.
The third quarter is when he made it happen for himself. His teammates knew what he needed, and wanted, so they went to work helping him get to that mark. In the third quarter, Rumsky would only make three field goals, finding himself still seven points short. But, at the same time, his missed shots were giving him chances for free points at the free-throw line, and with just over half a quarter to go, he only needed one single point to make it happen.
At the 4:33 mark, he stood on the line, bounced the ball a few times, and then looked up to watch the ball leave his finger tips and land right in the net. At that moment, he reached the millennium mark on his career, and the game stopped to allow him to celebrate with his teammates. In an ironic twist, he missed the second shot, but that final basket also capped off his night of scoring, as he finished with a game-high 28 points. Rumsky also made it a double-double on the night as he pulled down 12 rebounds, plus accounted for three assists, three steals, and a block.
"In that situation, that is a lot of pressure, and he came out with the right mindset of getting to the foul line, get some easy buckets, relax and play," Glunt said of his senior.
Rumsky himself knew where he was in scoring, and it was thought that he would make it to 1000 points this season, even with everything causing the season to be more chaotic than his previous ones with the Bison. But, Rumsky even admitted he did not expect to be bucketing the 1000th point from the free throw line.
I actually thought the prior shot was going to fall in, but it was nice to get it," Rumsky said. "I definitely was a little nervous (before the shot), but I just remembered to shoot higher than the backboard, like coach always says, and I made it."
At the same time, Rumsky showed his character when it came to his offensive output, acknowledging his team for getting him there.
"There were a lot of open gaps on the floor, and my teammates set me up well in transition. I really want to thank my teammates and coaches for pushing me, and getting me the ball," he said. "It means a lot."
By the end of the third quarter, Clearfield held a 47-22 advantage over Punxsutawney, and began slowing the game down, but still were able to put up enough baskets to grow their lead to over 30 points, which put the running clock into effect to finish out the night. Many of the regular rotation players for Clearfield would play a limited amount of time in the final quarter, with Cole Miller being one of the final ones to take an exit. Miller was the only other Bison in double figures as he reached 11 points.
Clearfield's rotation would get in some extra playing time in the final minutes, as the main varsity roster got some much needed rest, something that Glunt was able to give them, especially with their increased production and their play improving over the last several weeks.
"Curvey is getting so much better, Nasheed (Thompson) is improving so much, Isakk (Way) is coming around," Glunt said. "We are playing 11 guys, and when you're playing 11 guys in basketball it is hard, but it allows us to keep our guys fresh and play well at the end of games."
Clearfield won the opening junior varsity contest as well, 47-18.
Now at 12-5, the season is drawing to a close, and even with all the setbacks this year with the late start due to state orders, the lack of practice time before the season even began, and the constant shuffling of games, Glunt is extremely pleased to have gotten this far, knowing that at any time they could be forced to stop due to outside factors.
"We are just taking it one day at a time. These kids are doing an excellent job at doing everything we ask them to do," Glunt said. "Now, we'll take a weekend off and get back at it next week."
They won't have to wait long to get back to work as they will be on the road come Monday night, making a very short trip up route 879 to face off with the Curwensville Golden Tide inside Patton Hall. It was back on January 30 when these two first met at the Bison Gym, where Clearfield took the 85-22 victory. Tip-off in Curwensville is set for 7:30 p.m. for varsity action.