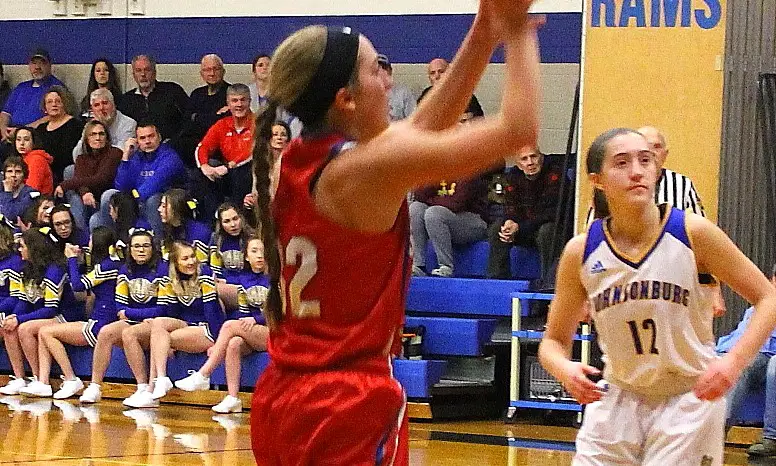 ST. MARYS, Pa. — The long-awaited start to the 2021 playoffs finally had arrived, and for the Lady Bison of Clearfield it meant a road trip. But not just any road trip; it was a road trip for a chance to take home a District championship, something the Lady Bison have not done in several years.
(This article was provided by our News Partner GantDaily.com.)
(Archived Photo by: Rich Quiggle)
To do so, they had to take on the top seeded Lady Dutch of St. Marys, and do so in their gymnasium.
But, the home squad had just as much to gain, and from the start they had no intention of letting it slip away. In a dominant performance, the Lady Dutch captured their first District IX championship since 2012, ending Clearfield's season with a 43-26 final.
The biggest difference on this night was defense, and being aggressive on the boards.
The Lady Dutch controlled the paint all night, holding Clearfield to just 20 rebounds, while they pulled down 45, giving a lot of second chance opportunities on offense.
St. Marys' leading scorer on the night, Samantha Hayes, pulled down a double-double as she had 12 points coupled with 11 rebounds. The entire team fed off of that as they held a 16-9 advantage after one quarter.
The second quarter is when the Dutch defense started showing what they could do, holding Clearfield to a pair of field goals and forcing turnovers. At the half, Clearfield found itself down by a 26-16 gap.
That gap grew as the Dutch defense clutched down in the third quarter, outscoring the Lady Bison, 11-2, taking a lot of life away from the Clearfield squad.
Emma Hipps would be the top scorer for Clearfield as she finished with 12 points. Megan Durandetta, the Lady Bison all-time leading scorer from three-point range, finished with six points behind the final two treys of her career.
St. Marys moves on into the PIAA state bracket, while Clearfield sees its season come to an end with a final record of 10-12.
SCORE BY QUARTER
Clearfield 9 7 2 8 – 26
St. Mary's 16 10 11 6 – 43
CLEARFIELD – 26
Riley Ryen 0 0-0 0, Cayleigh Walker 0 2-2 2, Emma Hipps 3 3-4 12, Paige Rhine 1 0-0 2, Megan Durandetta 0 0-0 6, Alaina Fedder 0 0-0 0, Lauryn Kitchen 0 2-2 2, Alayna Winters 1 0-2 2, Ally Gaines 0 0-0 0. Totals 5 7-10 26.
ST. MARYS – 43
Abigail Erich 1 0-0 2, Jade Lindemuth 1 1-2 3, Isabella Catalone 0 0-0 0, Kyla Johnson 2 2-2 9, Jaysa Snelick 1 2-4 4, Olivia Eckles 0 0-0 3, Maura Caskey 0 1-3 1, Samantha Hayes 4 4-8 12, Isabelle Caskey 2 5-6 9, Emma Gauazzi 0 0-0 0. Totals 11 15-22 43.