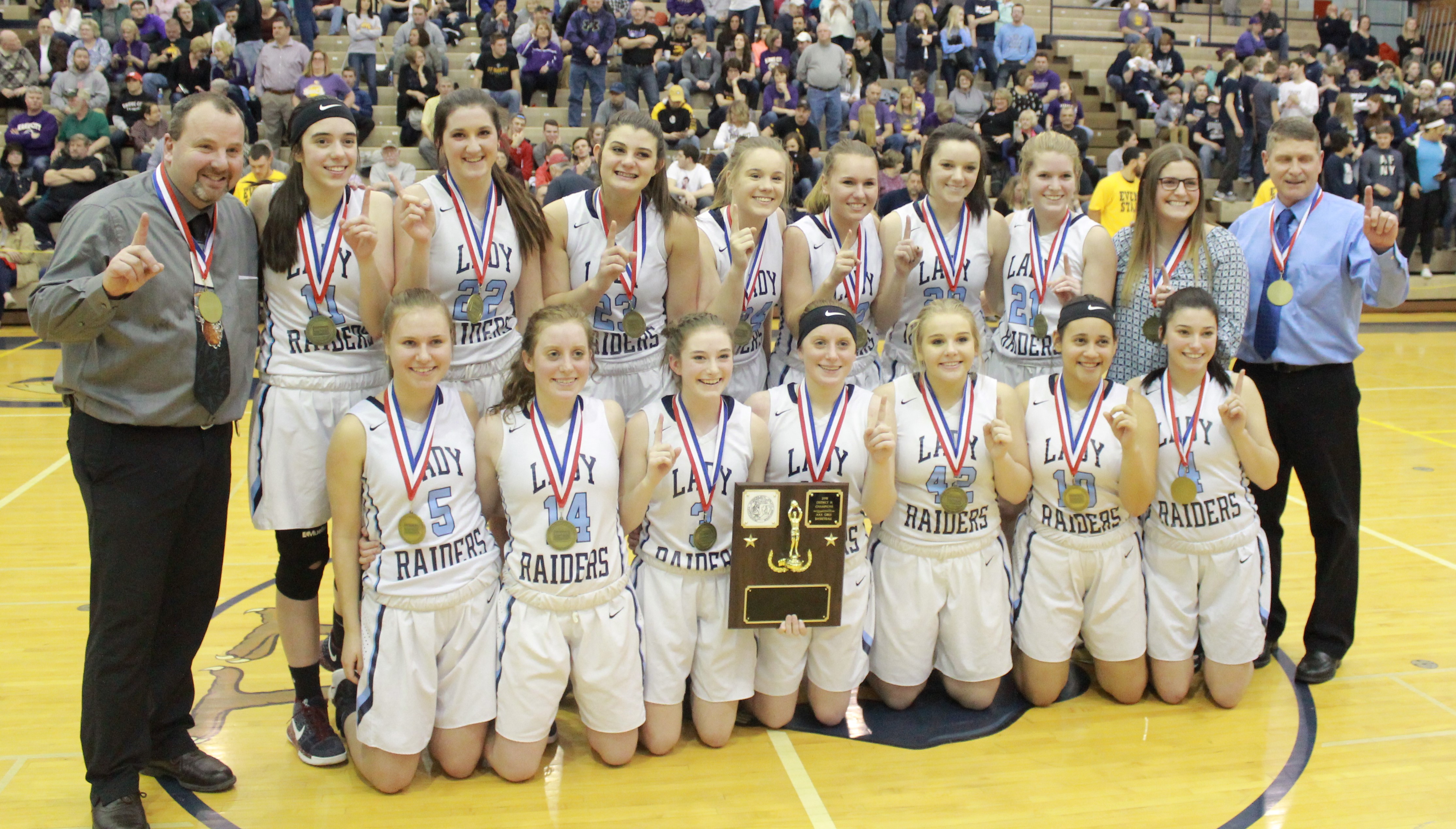 CLARION, Pa. – Using a strong pressure defense, Brookville built a 16-point lead two minutes into the fourth quarter and then held off a furious Karns City comeback to win the District 9 Class 3A girls' basketball championship, 46-39, Friday night at Clarion University's Tippin Gym.
(Photos by Jared Bakaysa of JB Graphics. See more of Bakaysa's work here)
"It's a testament to hard work," Brookville head coach Mark Powell said. "We started this back in mid-November. We asked these kids to work really hard each and every day. It's just a reward for a ton of hard work that these kids put in."
Brookville (18-5), which was 6-16 a year ago, led 42-26 after Morgan Johnson scored off a Karns City turnover with 6:02 to play.
Resliten to the game.
But the Lady Gremlins (12-11), who had won four D9 titles in a row (three in 2A and last year in 3A), rallied behind the play of the school's all-time leading scorer Emily Hegedus.
Hegedus, District 9's leading scorer coming into the game at 25.6 points per game, scored 13 consecutive points to close the gap to five, 44-39, with a basket with 1:48 to play. She was fouled on the bucket but missed the free throw, and Karns City never scored again.
"What happened, was exactly what I was concerned about, Hegedus taking the game over," Powell said. "We knew it could happen, and it did. She just made play after play. Fortunately, the clock ran out when it did. I am just proud of the effort. These kids learned a lot tonight. We haven't been in a lot of games like this, and we grew up some tonight."
Watch more of Powell's post-game interview.
Until Hegedus, who finished the game with 29 points and her stellar Karns City career with 1,735 career points, took over the game in the final 5 ½ minutes, Karns City's offense struggled against Brookville's relentless press.
The Lady Gremlins turned the ball over 20 times in the first half allowing the Lady Raiders to build a 27-14 halftime lead, and Brookville forced 31 turnovers in the game including 19 via steals with sophomore Lauren Hergert leading the way with seven steals.
"In practice, we work hard on defense to make sure we know what we are doing and that we are guarding the right girls that we need to," Hergert, who was named the Hager Paving Player of the Game after adding 10 points and six rebounds to her seven steals, said. "I thought we did a good job of it tonight. It really worked."
Listen to more of what Hergert had to say.
Brookville's defense was only half the story for the Lady Raiders. Offensive rebounding was the other half.
Brookville outrebounded Karns City 42-33 in the game including 27 to eight on the offensive glass.
When you combine the offensive boards with the Lady Gremlins turnovers it allowed the Lady Raiders to take 69 shots to Karns City's 31.
Unfortunately for Brookville, only 19 of those shots found a home through the basket with Brookville shooting 27.5 percent compared to Karns City's 35.4 percent (11 of 31).
"We had a lot of missed opportunities that first half where I thought we could have stretched it out a little bit more too," Powell said.
Brookville led 12-4 at the end of a quarter after holding Karns City to just a single free throw in the first 5:30 of the game while taking a 12-1 lead.
The Lady Raiders then stretched that lead to 13, 27-14, at halftime thanks to six points from Hergert in the second quarter.
But Brookville started the second half 0 of 9 from the field, and Karns City took advantage to claw back within 10, 33-23, on a bucket by Hegedus with 1:39 to play in the third quarter.
What happened next might have changed the entire complexion of the game.
Karns City got a stop, and Hegedus got an open look from beyond the arc that wouldn't fall. Morgan Johnson then buried a 3-point at the other end, and instead of Brookville's lead shrinking to seven, it was now 13, 36-23, and the Lady Raiders made it 15, 38-23, at the end of the quarter.
That swing may have just given Brookville, which got 12 points from Morgan Johnson and 10 more from Marcy Schindler in the game, the cushion it needed to survive the onslaught of Hegedus in the fourth quarter.
Brookville moves into the PIAA playoffs where the Lady Raiders will face the District 10 runner-up, either Northwestern or Seneca. The District 10 title game is at 1 p.m. Saturday at Mercyhurst University.
BROOKVILLE 46, KARNS CITY 39
Score by Quarters
Karns City 4 10 9 16 – 39
Brookville 12 15 11 8 – 46
KARNS CITY – 39
Alyssa Stitt 1 0-0 3, Madison Kelly 0 0-0 0, Emma Clark 0 0-0 0, Emily Hegedus 9 11-16 29, Olivia Mourer 1 0-0 2, Sara Knox 0 0-1 0, Livia Andreassi 0 5-5 5, Maura King 0 0-0 0. Totals 11 16-22 39.
BROOKVILLE – 46
Madison McAninch 0 0-0 0, Leah Kammerdeiner 0 0-0 0, Marcy Schindler 3 4-5 10, Morgan Johnson 5 0-0 12, Madison Johnson 3 0-3 6, Jenna Grant 0 0-0 0, Jillian Taylor 0 0-0 0, Lauren Hergert 4 2-3 10, Lexis Hatzinikolas 2 0-0 4, Kira Powell 2 0-0 4. Totals 19 6-11 46.
Three-pointers: Karns City 1 (Stitt). Brookville 2 (Morgan Johnson 2).
Rebounds: Karns City 8 offensive, 25 defensive, 33 total (Team 8, Hegedus 7). Brookville 27 offensive, 15 defensive, 42 total (Hatzinikolas 9, Schindler 7, Hergert 6, Powell 6, Morgan Johnson 5, Team 5).