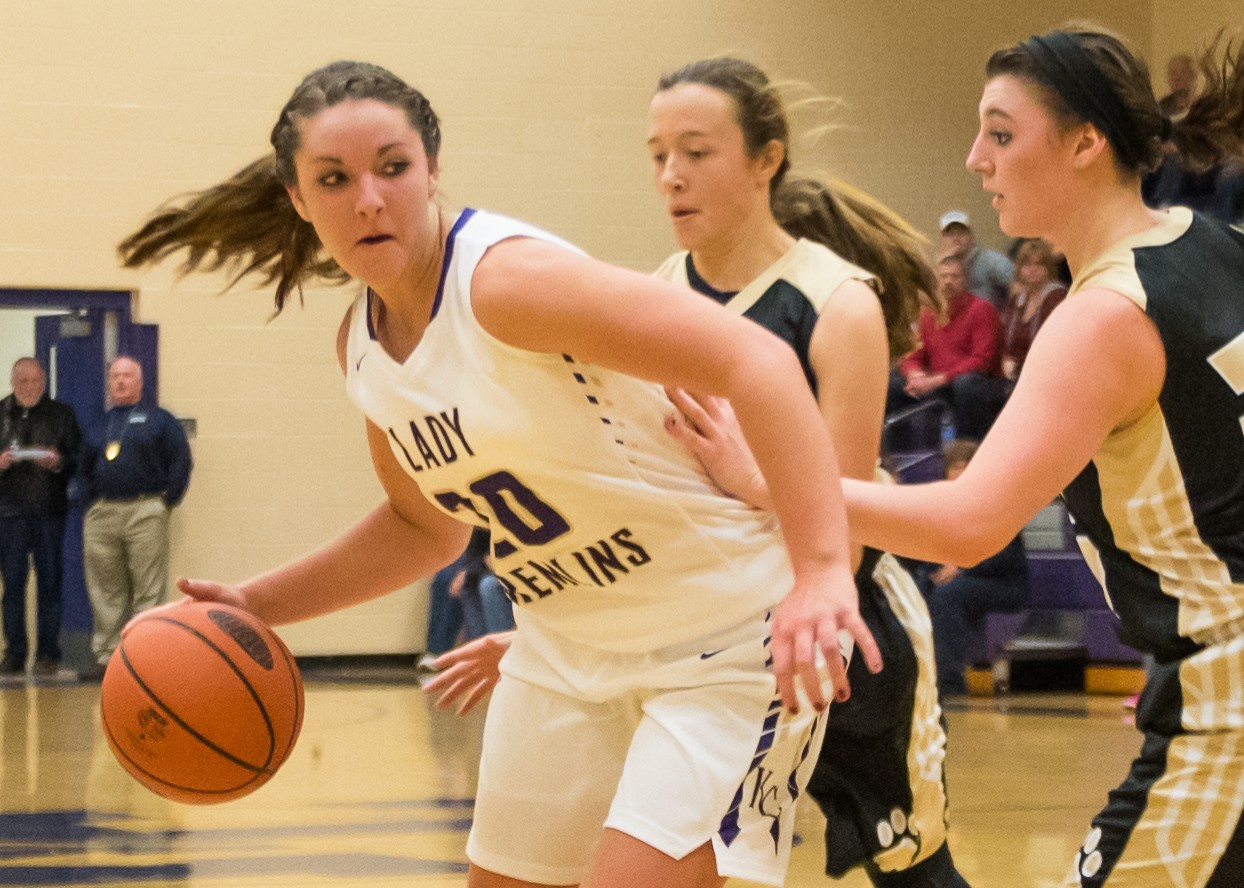 CLARION, Pa. – Behind a double-double of 26 points and 14 rebounds from LeeAnn Gibson, Karns City pulled away from Carlynton to grab a 59-37 win in the opening round of the PIAA Class AA girls' basketball playoffs Friday night at Clarion University's Tippin Gym.
Gibson was solid throughout the night scoring at least six points in each quarters, which never trailed after falling behind 7-6 midway through the first quarter.
Up by just two, 17-15, early in the second quarter it was back-to-back baskets by Emily Hegedus that started a half-ending 10-5 run that gave the Lady Gremlins a 27-20 halftime lead. Gibson scored six of the final eight points of the run.  
Listen to Gibson's thoughts on the game.
Leading by seven at the break, Karns City quickly got the lead to double digits, 33-22, on a Hegedus basket off a Carlynton turnover with 4:32 to go.
The Lady Cougars answered with a mini 5-0 spurt that included a 3-pointer from Ashleigh Wilson, her only basket of the game, and bucket by Abigail Greiner, who had a team-high 14 points. That spurt got Carlynton back within six, 33-27, with 2:29 left in the third quarter.
But four straight points from Gibson and a 3-pointer from Brooke Moore keyed a 7-0 run that gave the Lady Gremlins a 41-29 lead at the end of three quarters.
Here is head coach Dave Kerschbaumer talking about the game.
Karns City then maintained the lead between 11 and 13 points for most of the fourth quarter before the Carlynton bench became unhinged late in the contest.
After a pair of Gibson free throws moved the advantage to 50-37 with 1:32 to play, Gibson was fouled with 1:15 left.
Carlynton head coach Tim Bonner believed Gibson had swung an elbow and basically lost it on the officials, who after giving him plenty of rope finally issued a technical foul.
Gibson proceeded to hit 3 of 4 free throws to push the lead to 53-37, and the Lady Gremlins didn't allow the Cougars to score the rest of the way this despite Carlynton pressing with its starters even after Karns City's junior varsity team entered the game in the final 45 seconds.
Karns City will now take on North Star in the second round at a site and time to be determined Tuesday.
NOTES – After the game, as the teams were going through the handshake line, one of the Carlynton coaches went through the postgame handshake line telling the Karns City players and coaches that "Canevin is coming for you" in reference to WPIAL champion Bishop Canevin.
KARNS CITY 59, CARLYNTON 37
Score by Quarters
Carlynton 11 9 9 8 – 37
Karns City 15 12 14 18 – 59
CARLYNTON – 37
Diamond Thomas 4 3-4 11, Ashleigh Wilson 1 0-0 3, Summer Nicholls 0 1-2 1, Britney Kowal 0 0-0 0, Lexi Kowal 1 3-4 6, Abigail Greiner 7 0-1 14, Denis Griffin 1 0-1 2. Totals 14 7-12 37.
KARNS CITY – 59
Alyssa Gibson 1 2-2 5, Abby Wolfe 1 5-6 7, Alyssa Stitt 0 0-0 0, Emily Wolfe 1 0-0 2, LeeAnn Gibson 7 12-16 26, Emily Hegedus 6 2-4 14, Brooke Moore 1 0-1 3, Olivia Mourer 0 0-0 0, Mackenzie Craig 0 2-2 2, Livia Andreassi 0 0-0 0. Totals 17 23-31 59.
THREE-POINTERS – Carlynton 2 (L. Kowal, Wilson). Karns City 2 (A. Gibson, Moore).