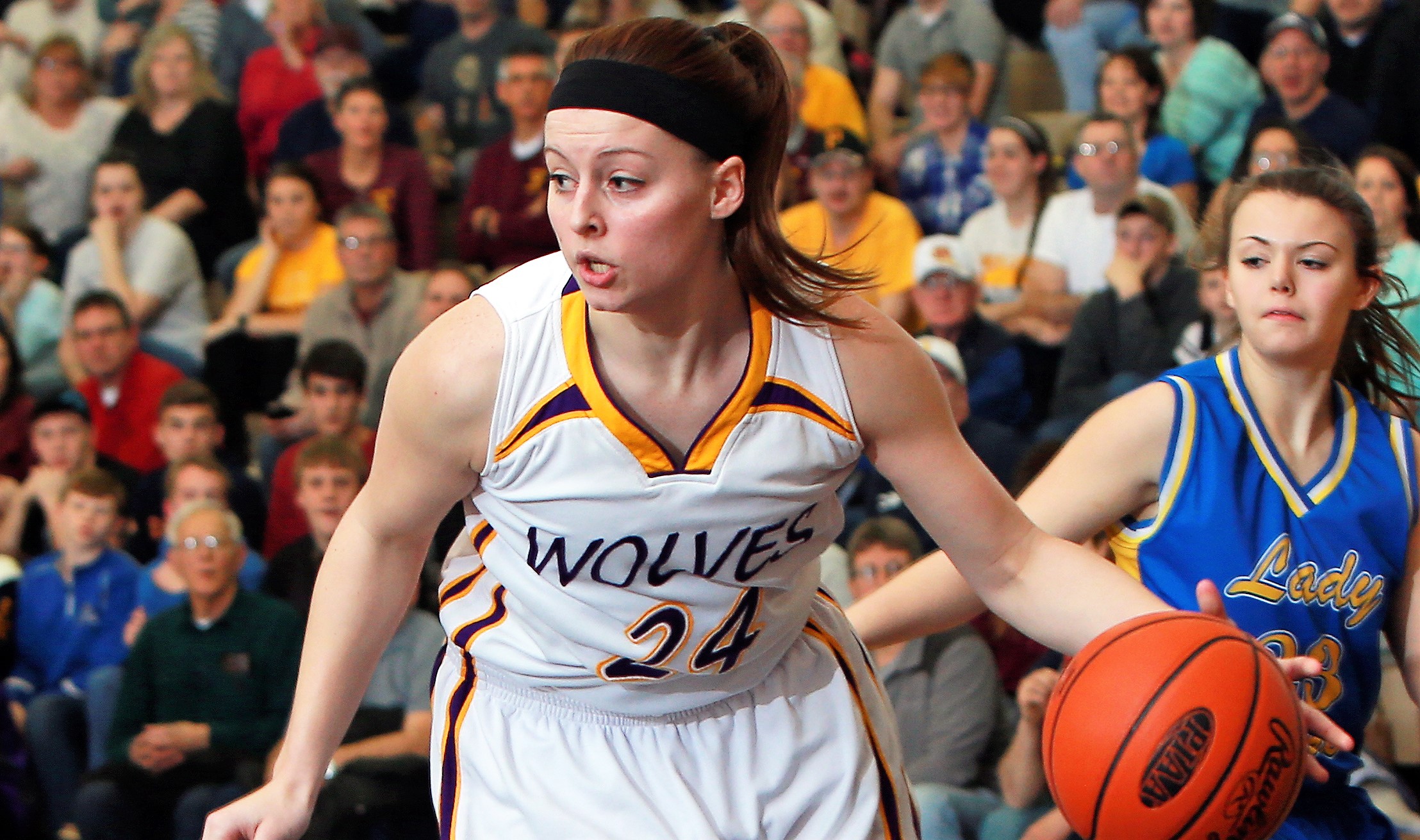 After a two-day weather delay, four District 9 girls' basketball teams head into action in the second round of the PIAA playoffs Thursday.
(Photo of North Clarion's Tori Obenrader. Photo by Paul Burdick. Check out more of Burdick's work here)
In Class 1A, District 9 champion North Clarion will face WPIAL runner-up Cornell at Slippery Rock University, while District 9 runner-up Otto-Eldred takes on District 10 champion Kennedy Catholic at DuBois High School.
Karns City, the D9 Class 3A champion, faces WPIAL runner-up Neshannock at Slippery Rock University, and in Class 4A, D9 champion Punxsutawney, takes on WPIAL champion and last year's Class 1A PIAA champ Cardinal Wuerl North Catholic at Armstrong High School in Kittanning.
Here is a game-by-game breakdown.
CLASS 1A
9-1 NORTH CLARION SHE-WOLVES (25-2) vs. 7-2 CORNELL LADY RAIDERS (21-5); 6 p.m. at Slippery Rock University
North Clarion won its first-ever PIAA playoff game beating Sewickley Academy 57-38 in a game that wasn't that close with the She-Wolves grabbing a 20-0 lead right out of the gate and playing all 17 players on their roster. It was the 13th straight win for North Clarion, which hasn't lost since dropping back-to-back games Jan, 18 to Moniteau and Jan. 20 at A-C Valley.
The She-Wolves are paced by Tori Obenrader, arguably one of the top Class 1A players in the state. Obenrader averages a District 9-best 23.1 ppg while ranking second in D9 in rebounding at 15.6 rpg. In five postseason contests, she is averaging 25.6 ppg and 15.2 rpg and has recorded a double-double in 26 of North Clarion's 27 contests on the year.
Seniors Cassie Wagner (8.1 ppg), Michaela Higgins (7.1 ppg) and Ally Carll (5.1 ppg) and freshman Abby Gatesman (5.5 ppg) round out the starting five for North Clarion.
Cornell, which lost in the WPIAL title game to Winchester Thurston, 52-41, rebounded to beat Farrell, 61-49, in the opening round of the PIAA playoffs.
The Lady Raiders are a guard-centered team led by the aptly named Daeja Quick, a 5-foot-5 senior guard who averages 22.8 points per game. Nysia Miles, a 5-foot-6 senior guard, adds right around 12.5 ppg. Cornell's tallest starter is 5-foot-10 junior forward Jaelah Smith.
The winner plays the winner of the game between District 6 champion Bishop Carroll and District 5 champion Berlin Brothersvalley Saturday at a site and time to be determined.
9-2 OTTO-ELDRED LADY TERRORS (18-8) vs. 10-1 KENNEDY CATHOLIC LADY EAGLES (23-1), 6 p.m. at DuBois High School
Otto-Eldred is riding high after a 61-57 win over West Greene in the opening round of the PIAA playoffs, a game that saw the Lady Terrors rally from a 12-point deficit after one quarter. It was Otto-Eldred's eighth win in nine tries on the heels of losing three in a row and four of five in late January.
Junior forward Camryn Thomas is one of the top big girls in District 9 averaging a season double-double of 16.1 ppg and 10.0 rpg. She has 69 points and 30 rebounds in her last three postseason games including 26 points and 13 rebounds in the win over West Greene.
Ali Cousins adds 9.7 ppg, and it was her injury that coincided with the slowdown for the Lady Terrors in January, while Tiffany Bair chips in 7.6 ppg.
Kennedy Catholic knocked off Williamsburg, 56-31, in the opening round of the PIAA postseason, the ninth straight win for the Lady Eagles, whose lone loss was a 52-48 defeat against West Middlesex Jan. 23.
Gillian Fisher, a six-foot sophomore guard leads the way for Kennedy Catholic averaging 12.1 ppg. She is the lone Lady Eagle player in double digits, but Kennedy, which beat Karns City 50-27 Dec. 28 at the Oil City Tournament, does have four additional players averaging at least 7.9 ppg.
Makayla Shannonhouse is next in scoring at 8.8 ppg followed by freshman Malia Magestro and 6-0 junior Sophia Berardi at 8.0 ppg each. Neely Whitehead chips in 7.9 ppg.
The winner plays the winner between WPIAL champion Winchester Thurston and District 6 runner-up Juniata Valley at a site and time to be determined.
CLASS 3A
9-1 KARNS CITY LADY GREMLINS (19-5) vs. 7-2 NESHANNOCK LADY LANCER (24-2), 7:30 p.m. at Slippery Rock University
At one point in mid-January, Karns City was 6-5 and its season was teetering on the brink. But the Lady Gremlins have won 13 in a row including a 61-49 win over Seneca in the opening round of the PIAA playoffs Saturday.
Emily Hegedus, a junior guard and one of the top and quickest guards in District 9, leads the way for Karns City averaging 17.1 ppg while scoring at least 17 points in six of her last seven games.
Senior swing player Mackenzie Craig chips in 14.8 ppg and is coming off a 22-point performance in the win over Seneca, a game that saw the Lady Gremlins starting five play the entire game without a break.
Another senior, Alyssa Gibson, chips in 9.8 ppg.
Neshannock, whose only two losses have come against WPIAL Class 1A runner-up Cornell, 35-32, and WPIAL champion Bishop Canevin, 65-36, in the WPIAL title game, rebounded from the loss to BC, which snapped a 16-game losing streak, to knock off Everett, 49-44, in the opening round.
The Lady Lancers own the No. 2 scoring defense in the WPIAL allowing 30.5 ppg. They are led by Carmie Matarzzo and Bella Burrelli, who both average around 13 points per game. Burrelli is coming off a 20-point, 10-rebounds, 3-block performance in the win over Everett.
The winner plays the winner of the game between District 6 champion West Shamokin and District 3 runner-up Delone Catholic Saturday at a site and time to be determined.
CLASS 4A
9-1 PUNXSUTAWNEY LADY CHUCKS (19-4) vs. 7-1 CARDINAL WUERL NORTH CATHOLIC LADY TROJANS (24-2)
Punxsutawney, winners of seven straight and 17 of 18, will have its hands full against the WPIAL champions, who won the Class 1A PIAA title last year before moving up to 4A this season.
Cardinal Wuerl North Catholic enters the game on an 11-game win streak including a 53-38 victory over Keystone Oaks in the opening round.
The Lady Trojans, who beat Keystone in the second round in Class 1A last year, have arguably the top post player in the WPIAL in 6-foot-1 senior Sam Breen, who is headed to Dayton. Breen averages 22.6 points and 10.6 rebounds per game and has scored over 2,400 career points to go with over 1,130 career rebounds.
If that wasn't enough inside for CWNC, 6-foot-2 Kylie Huffman and 6-foot-1 Dani Short as well as 5-foot-10 freshman guard Tess Myers. Huffman is second on the team in scoring at 11.5 ppg.
Punxsutawney is paced by a pretty good big girl of its own in junior Leah Miller. Miller averages 16.7 points and 15.2 rebounds per game.
Additional key players for the Lady Chucks include sophomore guard Kate Horner, who averages 13.2 ppg, as well as Morgan VanLeer (7.6 ppg) and Alli Lunger (7.2 ppg).
The winner plays the winner of the game between District 10 champion Villa Maria and WPIAL runner-up Blackhawk Saturday at a site and time to be determined.