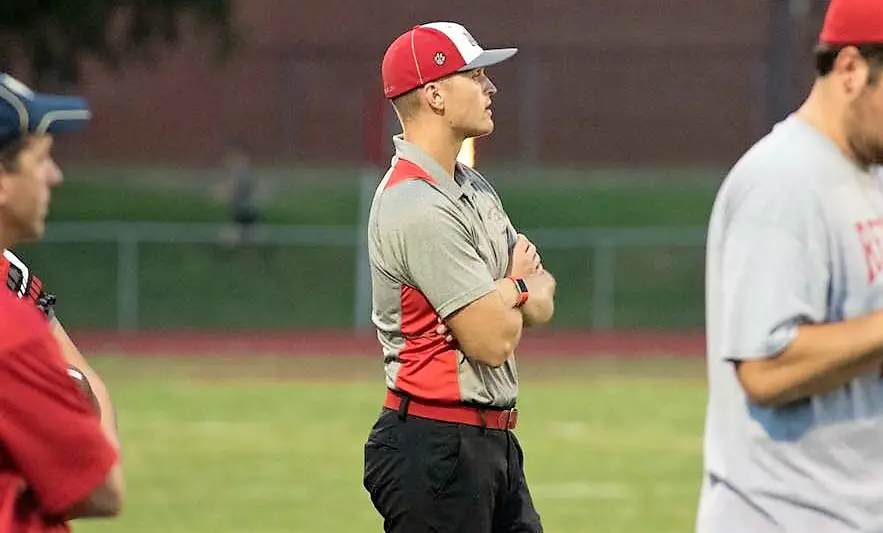 NEW BETHLEHEM, Pa. – Redbank Valley has hired Blane Gold to be its new football coach.
(Submitted photo)
Gold replaces Ed Wasilowski, who retired for a second time following the 2018 season.
"I'm humbled and honored to have been given the opportunity to lead these young men by the Redbank Valley administration and school board," Gold said. "Growing up, I had the same dream as many other kids that play sports and that was to become a professional athlete. Having the unique opportunity to be a teammate of a future NFL draft pick while at Franklin, I realized, as I entered high school, I would be going pro at something other than football. Since that realization, it has been my dream to teach, live, and serve as a head coach in the same school district. It's truly a blessing to say that I'm living my dream at the age of 29. My wife and I could not be more thankful for the opportunities that have been presented to us by the Redbank Valley School District and New Bethlehem community."
Gold, a 2007 Franklin Area High School graduate, has been an assistant coach with the Bulldogs since 2014, coaching the offensive and defensive lines. He also spent two years (2011-12) as the offensive/defensive line and special teams coach at Oil City and a season (2013) at his alma mater Franklin as the offensive/defensive line and special teams coach.
"Our mission is to honor our families and community by relentlessly chasing excellence in the classroom, the community, and on the field while becoming men of integrity in pursuit of District 9 championships," said Gold, who teaches at the school.
Gold, who played college football at Grove City from 2007-10 earning three letters as a defensive end and long snapper before graduating from the school in 2012, said he believes his mission is to create good men, not just football players.
"Every student that comes through the Redbank Valley football program will go pro at something other than football," Gold said. "My belief is that the true measurement of success is to look at what these young men are doing five, 10 and 15 years after they graduate. Are they living productive lives? What kind of husbands are they? What kind of fathers are they? The number one goal for me is to help develop men of integrity that are willing to do the right thing when nobody's watching. If I have a group of young men who are striving to be men of strong character, the winning will take care of itself."
Redbank Valley is coming off a 7-4 season that ended in a disappointing first-round District 9 Class 1A playoff loss to Coudersport, a team the Bulldogs beat earlier in the season.
"On the field, we are going to approach this season with a sense of urgency," Gold said. "We have won two conference championships in the last four years. We've won playoff games. We're six years removed from playing in a District 9 championship game. There is one major obstacle standing in our way of taking our program to the next level and that's a district championship that has eluded this program since 1996. We feel good about the amount of talent coming back in pursuit of that goal."
Gold said Jason Kundick and Mike Kundick, who were both assistant coaches with Gold under Wasilowski, will return to the staff and Craig Hibell, the baseball coach at Redbank Valley and a Redbank Valley graduate, will also be joining the staff as an offensive assistant coach.
"I'm currently in discussion with other coaches to fill the final two spots on the staff," Gold said.
In addition to teaching at Redbank Valley, Gold also is a freelance writer for EYT Media, the parent company of D9Sports.com.