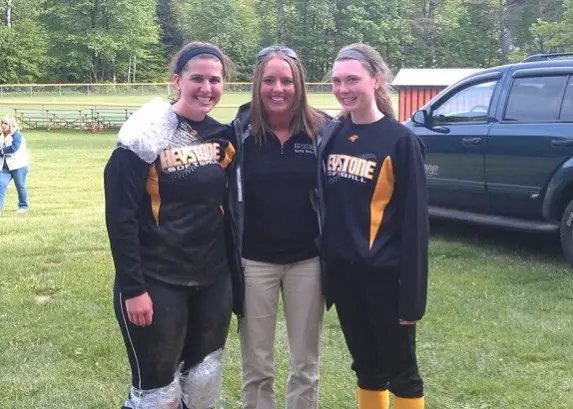 KNOX, Pa. – Kari Goughler is the new girls' volleyball coach at Keystone, but she is anything but new to the school.
A 2006 Keystone graduate, Goughler is currently the certified athletic trainer for the school – she is contracted to Keystone through Clarion Rehabilitation Services and its Clarion Hospital Athletic Medicine Program (C.H.A.M.P.).
She replaces Halee McCance, who had been at the helm of the Lady Panthers for the last six years.
"I was a volleyball player for Keystone when I was in high school," Goughler said. "I always dreamed of wanting to play at a higher level, but due to injury was unable to. As an athletic trainer, I have had a lot of opportunities to work with different volleyball teams at both the high school and college level, and coaching has always been something I've been passionate about pursuing. I got my Master's degree in Sports Coaching with a concentration on volleyball in hopes this opportunity would come."
Goughler is making a big sacrifice to become the new Lady Panthers mentor giving up her athletic training job, which is a full-time position, to become the part-time head coach.
"Choosing to step down at Keystone's Athletic Trainer to accept this position was not an easy decision at all," Goughler said. "I actually didn't apply the first time I saw the posting. But the more I thought about it and discussed it with the important people in my life, the more I wanted it. I spent a lot of time talking to my family and boyfriend as well as having discussions with Brad Wagner (Keystone's principal), Shawn Algoe (Keystone's superintendent) and Angie Snowberger (Director of Sports Medicine at Clarion Rehabilitation Services) about the impact applying would have. All were very supportive of me doing what makes me happy. Clarion Rehabilitation and Keystone's administration has been amazing to work with and for. They've been some of the most supportive people bringing me back home to be the athletic trainer for the past two years at Keystone and then being 100 percent supportive in this decision."
Goughler loves being an Athletic Trainer but also believes it was time to give coaching a try.
"I love being an Athletic Trainer and working with our athletes," Goughler said. "But, it is also a very time-consuming and stressful position. Athletic Training allows little time for a personal life and pursuing other dreams such as coaching or my doctorate. While choosing financially to take this leap of faith was difficult not knowing at this time job wise what I'll do next year, I'm excited to be able to use my other degree."
Goughler knew the day might come where she would have to choose between coaching and being an Athletic Trainer.
"When I chose my degrees, I chose two you can't really use together," Goughler said. "For now, I'm not giving up being a Certified Athletic Trainer. I will never let my certification drop. I've worked hard to get it. I'm just putting it on the back burner and putting my other degree to use. Ideally, my goal is to be a professor at the college level teaching athletic training or other sport-related classes."
Goughler doesn't have your typical coaching resume having not been a coach at the junior-high or high-school level.
"My only level of coaching experience prior to this is at the recreation league for grades three through six for Indiana Recreation and Parks when I was in college," Goughler said. "I also kept score and "refed" for their adult league, which basically meant if there was conflict on a call in a call-it-yourself type of league I stepped in."
While Goughler hasn't coached volleyball, she has been around the game since she was little and has spent plenty of time as an Athletic Trainer at high levels including at IUP, an NCAA Division II program that is a member of the highly competitive PSAC West.
"I had the opportunity to work with IUP volleyball team when I was an athletic training student under coach Zach Shaver," Goughler said. "I always watched him in practice. The drills he ran and the way he led his team in game situations. At this point was when I determined that I wanted to pursue a degree in coaching to hopefully someday have the opportunity to coach and share my passion for the game with up-and-coming athletes."
Goughler's passion for volleyball started with her mom and aunt, who were both volleyball players at Keystone.
"My mom was a Keystone volleyball player, and my aunt was on the only District 9 volleyball championship team at Keystone (1978)," Goughler said. "Volleyball has been in my life since I was little. My first memories of volleyball and the love I have for it came from playing in the back yard or driveway with my mom and dad."
Goughler credits former Keystone head coach Kim Swartzfager for growing that love.
"My love for the game was strongly built upon in junior high by Kim Swartzfager," Goughler said. "I remember being this tiny seventh-grade girl who maybe weighed 70 pounds if I was lucky. I had no upper body strength and was lucky if serving overhand I could get the ball halfway to the net. She allowed me to serve underhand because I was highly successful in that sense. She told me she didn't care how I got the ball over the net, as long as I was getting it over. You can't win games if you don't score. She would always continue to work on over hand as I grew. Also, my legs weren't big enough to even hold my knee pads up. During a summer-league game Kim even once went and found duct tape and she taped them on for me so I could play without them falling to my ankles."
Goughler said her size was part of the reason she was cut from the seventh-grade basketball team, but that Swartzfager saw something in her.
"Kim saw a potential even in the smallest person on the team," Goughler said. "That drove me to want to work hard and be the best player I could be. Going up through the program, Laurie Barrett was always a mentor as well giving support and guidance. She strived to make me the best setter I could be. Even through multiple injuries she always helped get me back on track."
Goughler believes there is a lot of potential with the current Keystone squad.
"Halee McCance did an awesome job with this program over the past six years," Gougher said. "I'm excited to step in and take over the program she has built. I've had the opportunity to watch these girls over the past two years and work with them in a different capacity. I know the talent is there for them to be highly successful."
Keeping the players in a comfort zone will be a key to success for the Lady Panthers.
"A number of these girls have played together for years," Goughler said. "Keeping them in their comfort zone of type of play is important to me. I'm sure we will have some trial-and-error periods this year and changes will be made as needed. I have a great group of returning players and together we learn from each other. They are used to playing at a high level, and I expect that we will continue to do that."
Goughler understands she will need to learn right alongside her players.
"Some areas of volleyball has changed since I've played," Goughler said. "This will be an adjustment for me as a coach to learn."
After graduating from Keystone, Goughler went to IUP where she earned a Bachelors in Science in Athletic Training in 2010. She then completed her Masters In Sports Coaching online from the United States Sports Academy (USSA) in Daphne, Ala., in October 2012.
While working on her Master's, she worked at Central Cambria High School for Western PA Sports Medicine and Rehabilitation from August 2011 to August 2012 then moved on to Farrell High School with Sharon Regional Health Systems for two years before coming back home to work for C.H.A.M.P., a division of Clarion Rehabilitation Services in August 2014.
Goughler is currently pursuing a Doctorate in Athletic Training online through A.T. Still University in Mesa, Arz., with a tentative graduation date of October 2018.