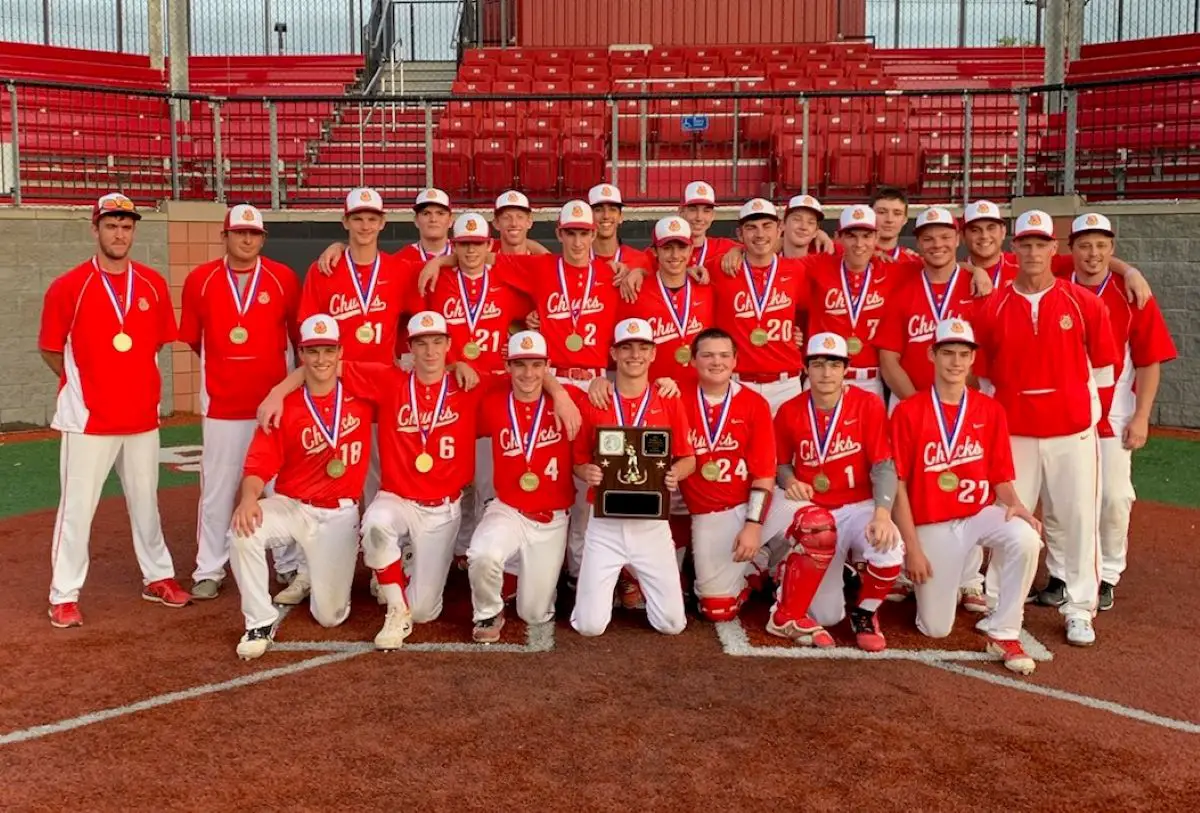 DUBOIS, Pa. – Staked to a 4-0 lead after two innings, junior pitcher Alec Greenblatt went the distance on a three-hitter as No. 1 seed Punxsutawney turned back Clearfield 5-3 in the District 9 Class 4A championship game at Showers Field in DuBois Wednesday evening.
A .500 team during the regular season, the Chucks made the most of their seven hits off two Bison hurlers to secure the program's 17th district title, the first since 2016.
"I told them in the huddle, of the seven I've gotten, this might be the sweetest one, because nobody expected this," Punxsutawney manager Mike Dickey said. "These guys hung together. We've had some tough losses, but they kept believing, and we can be a pretty quality team when we put it together."
Helped by Clearfield's impatience at the plate, Greenblatt finished well under the 105-pitch limit for the complete game as he totaled only 10 offerings in retiring the side in order in the fourth and sixth innings.
The right-hander struck out seven and walked three, with all of the Bison runs unearned.
"He did exactly what we need him to do," Dickey said. "He was in championship form. That was a gutty effort.
"That's a good team over there. A lot of bats we were very worried about. We had a plan going in with certain guys, and he spotted up and executed that plan to perfection. He was great."
The Bison did have the tying runs in scoring position in the seventh inning on Kyle Elensky's sacrifice bunt after Cade Walker and pinch-hitter Nolan Barr drew walks.
However, Greenblatt closed it out by locking up Caullin Reed with a strike-three curve and inducing a groundout.
"It was, obviously, tense in the last inning," Dickey said. "The first two hitters, he was feeling nervous, and he might have been aiming a little bit. But he almost calmed down when he knew he had to go to work. So, he reached down deep and did the job. Awesome."
Greenblatt also figured in the Chucks fast start against Eli Glass.
With one out in the bottom of the first inning, he drilled a single through the middle and stole second while Daren Byers was working out a full-count walk. After Dylan Ishman reached base on the lone Bison error, Andrew Britton and Dakota Long drove in runs with a groundout and single, respectively.
The Chucks were back in business in the second when Aiden Johnston was hit by a pitch, moved up on a wild pitch and scooted to third on Adison Neal's single to deep short. Neal stole second before Greenblatt registered an RBI on a groundout and Byers followed with a perfect two-out bunt to make it 4-0.
Three errors, one on Reed's single, gave the Bison a run in the third inning, and Glass drove in Reed with a sacrifice fly.
Reed doubled to right center and came around when Nate Barr's grounder was thrown away at first base to make it 4-3 in the top of the fifth.
Back-to-back doubles by Ishman of the center field wall and Britton on a flare down the right-field line got that run back in the lower half to set the final score.
Glass was charged with the loss, allowing four hits and four runs, two earned, with one strikeout and one walk.
Walker came on in the third and fanned seven in a solid four-inning relief stint. He surrendered three hits and one run.
Clearfield finished 12-10, while Punxsutawney will take an 11-9 record into the PIAA Class 4A first round against District 7 (WPIAL) champion, either Blackhawk or Beaver, on Monday at a site and time to be announced.
PUNXSUTAWNEY 5, CLEARFIELD 3
Score by Innings
Clearfield 002 010 0 – 3 3 1
Punxsutawney 220 010 x – 5 3 4
CLEARFIELD – 3
Caullin Reed ss 4220, Nate Barr cf 4001, Eli Glass p-lf 2001, Hayden Williams 3b 2000, Allan Myers c 3000, Harrison Peacock rf 3000, Cade Walker lf-p 2000, Karson Rumsky 1b 1000, Nick Domico ph 1000, Nolan Barr ph 0000, Kyle Elensky 2b 2100. TOTALS: 24-3-3-2.
PUNXSUTAWNEY – 5
Adison Neal ss 4120, Alec Greenblatt p 3111, Daren Byers 1b 2111, Dylan Ishman 3b 3010, Owen Smith pr 0100, Andrew Britton 2b 3012, Jackson Fezell lf 0000, Dakota Long dh 3011, Sheldon Young rf 3000, Ashton Stonebraker c 3000, Aiden Johnston cf 2100. TOTALS: 26-5-7-2
LOB: Clearfield 5. Punxsutawney 5. Errors: Clearfield 1. Punxsutawney 4. 2B – Reed, Ishman, Britton. Sac – Elensky. SF – Glass. DP – Punxsutawney 1 (Stonebraker and Britton). HBP: Johnston by Glass.
PITCHING
Clearfield
Eli Glass 2 IP, 4 H, 4 R, 2 ER, 1 BB, 1 K, 1 HBP
Cade Walker 4 IP, 3 H, 1 R, 1 ER, 0 BB, 7 K, 0 HBP
TOTALS: 6 IP, 7 H, 5 R, 3 ER, 1 BB, 8 K, 1 HBP
Punxsutawney
Alec Greenblatt 7 IP, 3 H, 3 R, 0 ER, 3 BB, 7 K
Winning pitcher: Alec Greenblatt
Losing pitcher: Eli Glass