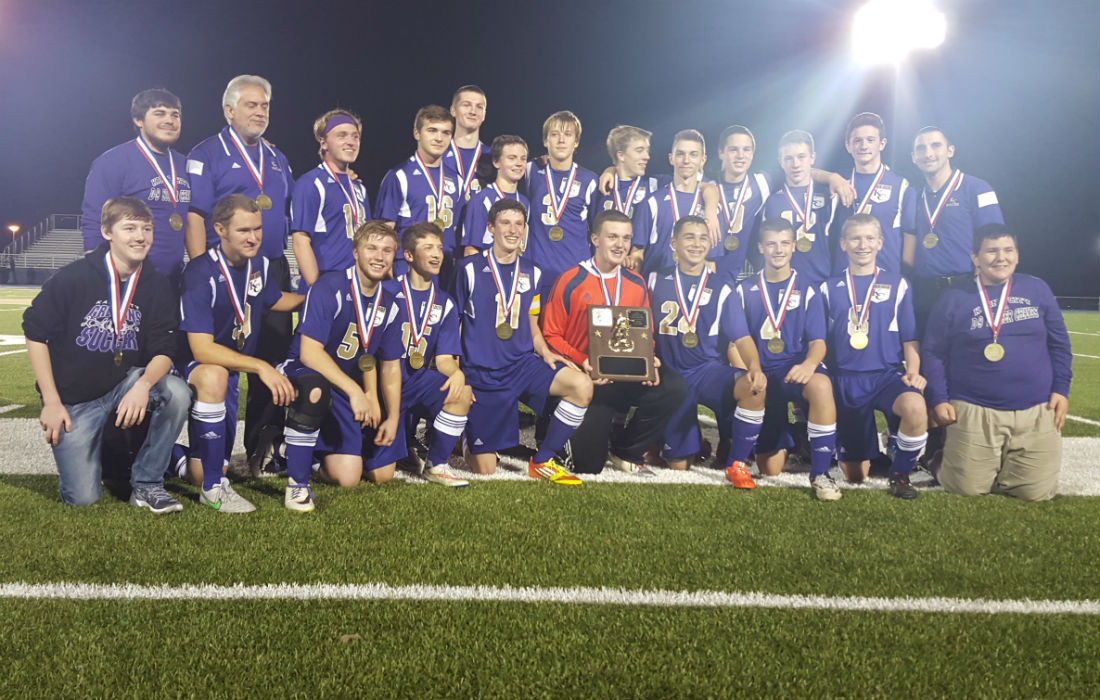 By Chris Ros
setti
CLARION, Pa. – Noah Pollock's header off a free kick from Spenser Myers in the 69th minute gave Karns City its second straight District 9 Class A boys' soccer championship with a 1-0 win over top-seeded and previously unbeaten Brockway Thursday night at Clarion University's Memorial Stadium.
"When we got the free kick, I wanted to catch the defense off guard," Pollock said. "So, I ran as fast as I could to the 18. As soon as it was coming, I just knew it had to be. It was our time to win. After I fell, I turned my head back and saw it slowly dribbling into the net, that's about it. This is definitely the biggest goal of my career."
Pollock got his head on the ball just fractions of a second before Brockway keeper Austin Moore got to it, and the ball slid into the empty net as Pollock rolled on the ground.
"We got a great service by Spenser to the shortest guy on the field at the time, and he heads it in," Karns City head coach Jim Grenninger said. "Sometimes the gods are looking in. I really thought we played extremely well, and for the most part of the game I thought we controlled it."
Up 1-nil with 10:12 to play, Karns City had to withstand a strong late charge from Brockway.
Just two minutes after the Pollock goal, Jarrett Esposito had a strong look at the net but saw his shot go high. Then with 5:10 to play, the Rovers had a couple of chances inside the box but the Karns City defense was able to clear it away.
Then, after Moore made a diving stop to keep it a one goal game with four minutes to play, Brockway thought it might get a penalty kick when a pass from Carter Adams was just a bit far for Esposito and ended up in the hands of Karns City keeper Nick Dodds. Esposito pleaded, to no avail, that a Karns City player had kicked the ball to Dodds which would have made it illegal for Dodds to pick up the ball.  
Even after that the Rovers had one final chance when an Adams shot from out in front was saved just off the net by Dodds with 1:01 left.
"We talked about bringing another guy back in the midfield (after we went up 1-0)," Grenninger said. "The problem was everyone came back and we lost the midfield. It worked out in the end."
Karns City had a pair of chances late in the first half – one from Myers and one from Jace Ebbitt – that were denied by Moore to keep the game scoreless at halftime.
"At halftime, coach said it was going to be a one-goal game," Pollock said. "And he was right. We knew we had to get the seniors one more game. We didn't want them to go out with a D9 loss. It was so important us, the whole team."
Both teams had some golden opportunities after halftime before Pollock broke the ice.
Just five minutes into the second half, Mason Lindenmuth was stopped by Dodds.
About 10 minutes later, Myers had a shot from about 25 yards out go ahead, and three minutes after that Esposito couldn't muster much on a crossing pass from Lindenmuth,
Moore than made a key save on a Myers shot with 14:06 to play that led to a corner kick for the Gremlins that Moore again denied, and then Pollock had a shot from right in front with 12:20 to play that Moore stopped again.   
Finally, moments before Pollock scored, Zane Puhala had a free kick after yellow card to Karns City's Noah Claypoole, but the Rovers weren't able to generate a scoring chance out of it.
"Basically, I was very happy with what we did," Grenninger said. "We had better chances during the first half. But Rich (Esposito) does a great job with that team. Playing them for what I think was our fourth time in five years we knew they would play the ball up and over long. We told our guys to be patient and keep playing defense the way they were, and whoever scored first was probably going to win it."
Karns City moves into the PIAA playoffs where it will take on WPIAL third-place finisher Sewickley Academy in the opening round Tuesday at a site and time to be announced.
BOX SCORE
Karns City 1, Brockway 0
Score by Halves
Karns City 0 1 – 1
Brockway 0 0 – 0
Scoring Summary
Second Half
KC – Noah Pollack (Assist Spenser Myers), 10:12