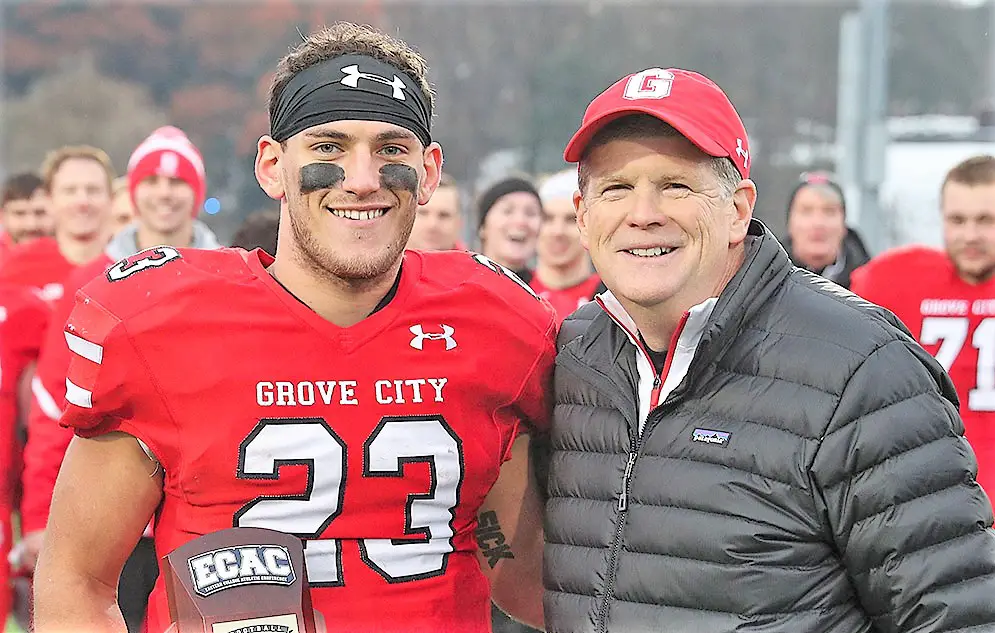 GROVE CITY, Pa. – The Grove City College football team earned the first postseason victory in the 124-year history of the program Saturday afternoon by earning a 56-48 win over visiting Morrisville State in the 2018 Eastern College Athletic Conference (ECAC) Division III James Lynah Bowl at Robert E. Thorn Field.
(Photo: Wesley Schools of Grove City rushed for 359 yards and five touchdowns in the win and was named MVP. Photo courtesy of Grove City Athletics)
The Wolverines conclude the season 8-3 overall, having won each of their final seven games this season.
Junior running back Wesley Schools (Port Jervis, N.Y./Port Jervis) earned the game's Most Valuable Player award after charging through the Morrisville State defense on a Grove City single-game record 359 rushing yards and five touchdowns. He carried the ball 58 times, which is one attempt shy of the NCAA Division III single-game record.
Overall, the Wolverines ran for 420 yards and finished with 610 yards of total offense. Freshman quarterback Josh Ehst (Douglassville, Pa./Daniel Boone) completed 11 of 15 passes for 190 yards and two touchdowns.
Sophomore wide receiver Cameron Drake (Monaca, Pa./Central Valley) caught both touchdown passes and finished the game with 48 yards on four receptions. Sophomore Cody Gustafson (Shippensburg, Pa./Shippensburg) hauled in seven passes for 142 yards. He finishes the season with 76 receptions, setting Grove City's single-season record.
Grove City executed 80 offensive plays and held possession for 37 minutes, 58 seconds. The Wolverines went 9 for 11 on third down and finished with 32 first downs.
The Wolverines opened the scoring with 3:20 left in the first quarter when Schools scored on a three-yard touchdown run. His score capped a 15-play, 75-yard drive that used 7:59. Freshman kicker Nick Morrow (Moon Township, Pa./Moon) kicked the first of his eight extra points.
Morrisville State (6-5) had a chance to break through in the closing minute of the first quarter when Nick Edmond threw a 36-yard halfback option pass to Raffaele Bradshaw. However, junior cornerback Jacob Ross (Murrysville, Pa./Franklin Regional) punched away the ball from Bradshaw at the Grove City 5 and sophomore safety Patrick Mark (Palm Beach Gardens, Fla./Wellington) recovered in the end zone for a touchback.
Grove City doubled the lead on the subsequent possession when Ehst threw a 21-yard touchdown pass to Drake with 11:47 left in the half. A 27-yard strike to Gustafson on third-and-7 kept alive the drive.
Morrisville State answered with a 10-play, 65-yard drive that ended with Brandon Gwinner's five-yard touchdown pass to Jermaine Cooper. The extra point failed.
Seven plays later for Grove City, Schools scored on a 10-yard run with 3:56 left in the second quarter. However, Morrisville cut the lead to 21-12 when Gwinner scored on an eight-yard scramble with 1:28 left in the half.
Grove City needed only four plays to answer. Ehst opened the drive with a 10-yard scramble, then threw a 35-yard pass to Gustafson. Schools moved the ball to the Mustangs' 15 with a 10-yard run. Ehst then lofted a 15-yard touchdown pass to Drake with 29 seconds left in the half, giving Grove City a 28-12 halftime lead.
Each team scored twice in the third quarter. Schools rumbled 55 yards on the fourth play of the third quarter, giving Grove City goal to go at the 3. He then blasted in from three yards out, extending the lead to 35-12.
Edmond scored on a one-yard run with 9:37 remaining in the third quarter and Cooper caught the two-point conversion, bringing the Mustangs to within 35-20.
Grove City needed only eight plays to claim a three-touchdown lead as freshman running back Zach Trusky (Pittsburgh, Pa./Bishop Canevin) scored on a 10-yard run, his first collegiate touchdown play. One play prior, Trusky rumbled 42 yards to the 10, setting up his touchdown.
Cooper caught a 31-yard touchdown pass with 4:22 left in the third quarter but Grove City answered with an 11-play, 68-yard drive that used 5:55. Schools scored his fourth touchdown of the afternoon on a two-yard burst.
Morrisville State needed only 86 seconds to answer as Cooper caught a 28-yard touchdown pass from Gwinner. Gwinner then threw a two-pointer to Toure Hall. After Grove City's only punt of the afternoon, Morrisville State pulled to within 49-41 when Gwinner threw a 13-yard touchdown pass to Petrit Boga with 7:28 remaining.
However, Grove City reclaimed a 15-point lead with a nine-play, 77-yard drive that used 5:03. Schools carried the ball on all nine plays and capped the drive with a five-yard touchdown run with 2:26 to go.
Another Gwinner-to-Cooper touchdown pass, an eight-yarder with 49 seconds left, closed the scoring. Drake recovered an onside kick and Schools' 58th and final carry of the game clinched the win as he gained four yards on third-and-3.
Gwinner completed 21 of 36 passes for 347 yards and five touchdowns. He also ran for 120 yards and a score on 13 carries. Edmond had 97 rushing yards. Cooper caught eight passes for 140 yards and four touchdowns. Morrisville State finished the game with 605 yards and 30 first downs.
Ross led the defense with 12 tackles while Mark and senior linebacker Ethan Conto (Bruin, Pa./Karns City) both had eight tackles.
Schools finished the season with 1,741 yards and 20 touchdowns. Gustafson also set single-season records with 1,201 receiving yards and 15 touchdown catches this season.
Grove City's eight wins are the most for the Wolverines since the 1997 team finished 9-2. That team fell to Kings Point in the ECAC Southwest Bowl. It's the sixth time in program history that Grove City has won eight or more games in a season, joining 1895 (8-2), 1896 (8-1), 1911 (8-0-1), 1966 (8-0-1) and 1997 (9-2).
Westminster Falls to Wesley in ECAC Clayton Chapman Bowl
NEW WILMINGTON, Pa. – The Westminster College football team fell to non-conference opponent Wesley College, 42-34, at home in the Eastern College Athletic Conference (ECAC) Clayton Chapman Bowl on Saturday afternoon.
Wesley ended its season with a 7-4 overall record. The Titans also ended their season 7-4 overall.
After a three-and-out by the Titans on the first possession of the game, Wesley orchestrated a 10 play, 60-yard drive that resulted in an eight-yard rushing touchdown from quarterback Khaaliq Burroughs to put the Wolverines up 7-0. Westminster answered with a touchdown on its next possession, as freshman quarterback Cole Konieczka (Coraopolis, PA / Moon Area) found junior wide receiver Joey Joy (Gibsonia, PA / Pine-Richland) for a six-yard catch and score. Sophomore John Cybak's (Massillon, OH / Tuslaw) extra point was successful and the game was tied at seven. Early in the second quarter at the 13:13 mark, junior Tyler Greene (Carlisle, PA / Carlisle) rushed in a three-yard score to give the Titans a 14-7 advantage (Cybak kick was good). With time winding down in the first half, Wesley's E.J. Lee punched in a three-yard rushing touchdown with just eight seconds remaining, tying the game at 14 (Nick Bruhn kick successful). The score would stay the same at halftime.
In the first drive of the second half, senior Bill Madeja (Pittsburgh, PA / Brentwood) picked off Burroughs at the Wesley 46-yard line and returned it 31 yards to the Westminster 15. In the next possession for the Titans, freshman Isiah Canton (Pittsburgh, PA / Carlynton) converted a one-yard rushing touchdown to give Westminster a 21-14 lead (Cybak kick was good). Westminster held the Wolverines to a three-and-out on its next possession, however, Wesley's Vincent Ebron picked off Konieczka and returned it 39 yards to the Westminster six. Two plays later, Burroughs ran in a one-yard touchdown to tie the game at 21 (Bruhn PAT successful). On the Titans next possession, Wesley's Cappadonna Miller recovered a fumble at the Westminster 34-yard line. Burroughs found Alex Kemp for a 68-yard score two plays later and Wesley went ahead, 28-21 (Bruhn kick good). Facing a third and five with five and a half minutes to play in the third, Konieczka connected with sophomore Nick Henderson (Conway, PA / Freedom Area) for 68 yards and a touchdown. Cybak's point after attempt was unsuccessful and the Titans trailed 28-27 with 5:19 to play in the third. Wesley answered on its next possession with a Burroughs 17-yard rushing touchdown, putting the Wolverines ahead 35-27 (Bruhn kick good). On the Titans next possession, Wesley's Coray Williams picked off Konieczka and returned it 27-yards to the Westminster seven, setting up first and goal for the Wolverines. Two plays later, Burroughs found Corterris Simpson for a 13-yard catch-and-score, putting Wesley ahead 42-27 (Bruhn kick was successful).
The third quarter ended with both teams combining for 41 points, with Wesley scoring 28 points and Westminster scoring 13.
Westminster found the end zone with 5:36 to play in the fourth quarter, as Coniezcka connected with senior Brsyson Paulinellie (DuBois, PA / Dubois Area) for a 17-yard score, making the score 42-34 (Cybak kick good). Wesley ran 10 plays and took 5:07 off the clock on its next possession, giving the Titans just 26 seconds to work with to score after the Titans stopped the Wolverines on fourth down. With one second remaining, senior quarterback Shamon Walker's (Pittsburgh, PA / Milton Hershey) hail-mary attempt was unsuccessful and Wesley won, 42-34.
Konieczka finished the game with a game-and career-high 293 yards passing on 22 of 39 passing and three touchdowns. Junior Bryce Hill (Boynton Beach, FL / Boca Raton Community) led the team on the ground with 57 yards. Walker added 33 yards on the ground, including a long of 17. Paulinellie totaled a game-and career-high nine catches for a game-and career-high 129 yards and a score. Henderson tallied two catches for 76 yards and a touchdown, while junior Connor Cox (Ridge, MD / Leonardtown) also registered 76 yards on five catches. On the defensive side, freshman Ian Barr (State College, PA / State College Area) finished with a team- and career-high 13 tackles (four solo) and had one forced fumble. Senior Miguel Luis (Hollywood, FL / Mater Academy) recorded 12 tackles (five solo) and recovered a fumble. Junior Paul Gonzalez (Miami, FL / Florida Christian) had 11 tackles (four solo) and 1.5 tackles for loss (six yards). Freshman Bryce Thomas (Saint Marys, GA / Camden County) recorded 10 tackles, tied a game-high seven solo tackles, and had a half-sack for a three-yard loss. Madeja totaled eight tackles (five solo), one interception, one QB hit, and 1.5 tackles for loss (three yards).
No. 24 Centre bounces No. 14 W&J from Division III postseason
DANVILLE, Ky. – The No. 14 Washington & Jefferson football team saw its 2018 season come to a close with a 54-13 loss at No. 24 Centre (Ky.) in the opening round of the NCAA Division III Football Championship.
The Presidents end the season with a 9-2 overall record after making their 26th appearance in the NCAA playoffs and winning their 26th overall Presidents' Athletic Conference championship.
After falling behind by a 17-0 mark through the first 15 minutes, W&J got on the board early in the second quarter (17-7) when sophomore running back EJ Thompson (La Plata, Md./Thomas Stone) plunged in from one-yard out with 13:56 remaining in the first half to cap a 16-play, 65-yard scoring drive that took 4:58.
Centre responded with 10-straight points to push the lead out to 27-7, but an interception by junior linebacker Nick Getz (Tyrone, Pa./Tyrone) gave W&J the ball back at midfield with 1:24 to play. After a 10-yard defensive holding penalty and a pair of rushes by Thompson picked up another first down, junior quarterback Jacobs Adams (Louisville, Ohio/Louisville) connected with sophomore wide receiver Josh Burns (Coraopolis, Pa./Moon) on a short slant play that Burns then took the distance for a 30-yard touchdown. The point-after was blocked and W&J went into the locker room trailing by a 27-13 margin.
The second half saw the Colonels outscore W&J by a 27-0 margin to pull away with the 54-13 win.
Adams finished the game 13-of-34 for 130 yards with one touchdown and one interception. Thompson rushed 24 times for 93 yards and TD, while senior wide receiver Tim Swoope's (Venetia, Pa./Peters Township) five catches led Presidents, as did Burns' 48 yards.
Defensively, sophomore linebacker Max Garda (Lower Burrell, Pa./Burrell) and Getz led W&J with nine tackles apiece. Garda also had a sack. Senior safety Zac Quattrone (White Oak, Pa./Serra Catholic) added eight stops.