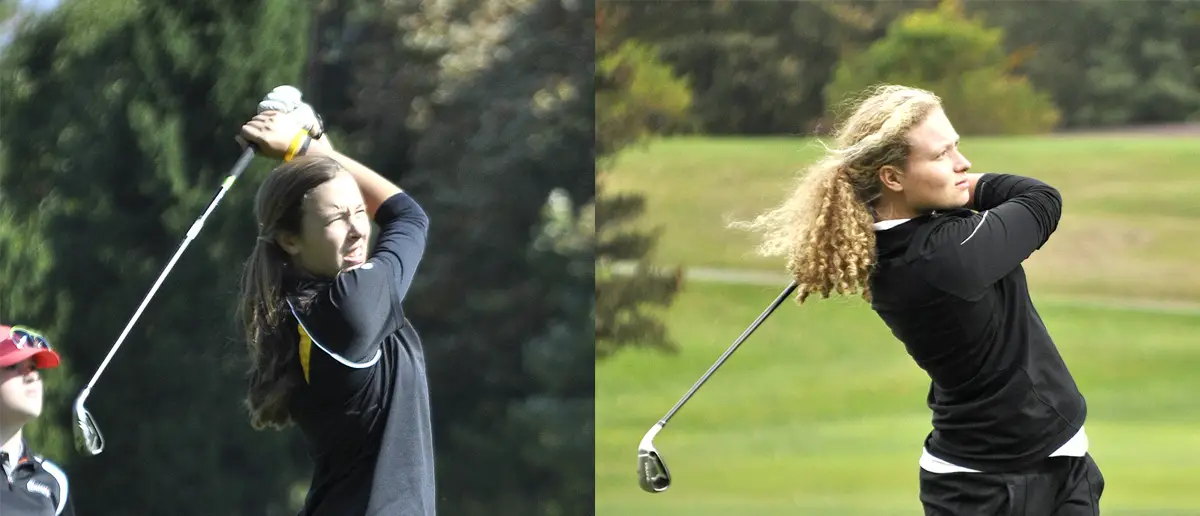 Above: DuBois (Class AAA) and Punxsutawney (Class AA) team champions
BROOKVILLE — Keystone's Amber Hess and Bradford's Erin Pecora stayed atop the girls' golf pedestals by winning once again at the District 9 Tournament held at Pinecrest Country Club Monday afternoon.
Hess won her third straight Class AA title by shooting a 5-over-par 77 for a 14-stroke win while Pecora won by nine strokes by shooting a 101 to win the Class AAA title. Since golfers must shoot under a 100 to advance to the PIAA Western Regional Tournament at Tom's Run Golf Course in Blairsville Oct. 14, the only other regional qualifier was Class AA runner-up Elaina Powell of Brookville. Like last year, she was second to Hess with a 91.
Team titles went to Punxsutawney in Class AA and DuBois in Class AAA. The Lady Chucks, who moved down to Class AA this year, beat Smethport by four strokes with a four-player score of 452. DuBois beat Bradford by nine strokes, 481-490.
Here are the results of the District 9 Girls Golf Tournament held Monday at the par-72 Pinecrest Country Club.
CLASS AA
Team Standings
1. Punxsutawney (452): Morgan VanLeer 106, Lauren McGee 113, Samantha Satterlee 115, Morgan McFarland 118.
2. Smethport (456): Laura Alfieri 106, Autumn Haney 114, Baylee Brien 117, Abbey Wodard 119.
3. Clarion (462): Claire Saylor 106, Julie Kenneson 116, Carina Burns 119, Tylin Connor 121.
4. Cameron County (503): Madi Guisto 120, Tess Dubler 123, Susie Guisto 128, Kendyl Guisto 132.
5. A-C Valley (510): Allison Sherman 112, Ellie Thompson 125, Lydia Thompson 136, Sam Brison 137.
Individual
Amber Hess, Keystone 77
Elaina Powell, Brookville 91
**Claire Saylor, Clarion 106
**Laura Alfieri, Smethport 106
Morgan VanLeer, Punxsy 106
Haley Whitman, Cranberry 107
Erin Paulson, Kane 111
Heather Thorp, Curwensville 112
Stephanie Fry, Coudy 117
Morgan McFarland, Punxsy 118
Carina Burns, Clarion 119
Abbey Woodard, Smethport 119
Hannah hoover, Curwensville 123
Ellie Thompson, A-C Valley 125
Mary-Kate Elenchin, Coudy 125
Susie Guisto, Cam. Co. 128
Katie Thompson, Ridgway 128
Alyssa Holden, Cranberry 131
Kendyl Guisto, Cam. Co. 132
Lydia Thompson, A-C Valley 136
Cassidy Shaffer, Brockway 136
Ashley Moore, Brockway 139
Alexis Stephenson, Clearfield 144
Summer Stephenson, Clearfield 144
Shania Reitz, Ridgway 167
Bold: Regional Qualifiers. Top-four finish advances to regional tournament IF the score is under 100.
** Tied for third place after a one-hole playoff. Took the top two spots in a three-way playoff for the final two spots in a four-place medal finish.
CLASS AAA
Team Standings
1. DuBois (481): Kelly Nowak 110, Rebecca Defazio 110, Kierston Pearce 124, Sarah Snyder 137.
2. Bradford (490): Erin Pecora 101, Bri Wells 126, Maykayla Belser 129, Sam Williams 134.
Individual
1. Erin Pecora, Bradford 101
2. Kelly Nowak, DuBois 110
3. Kierston Pearce, DuBois 124
4. Maykayla Belser, Bradford 129