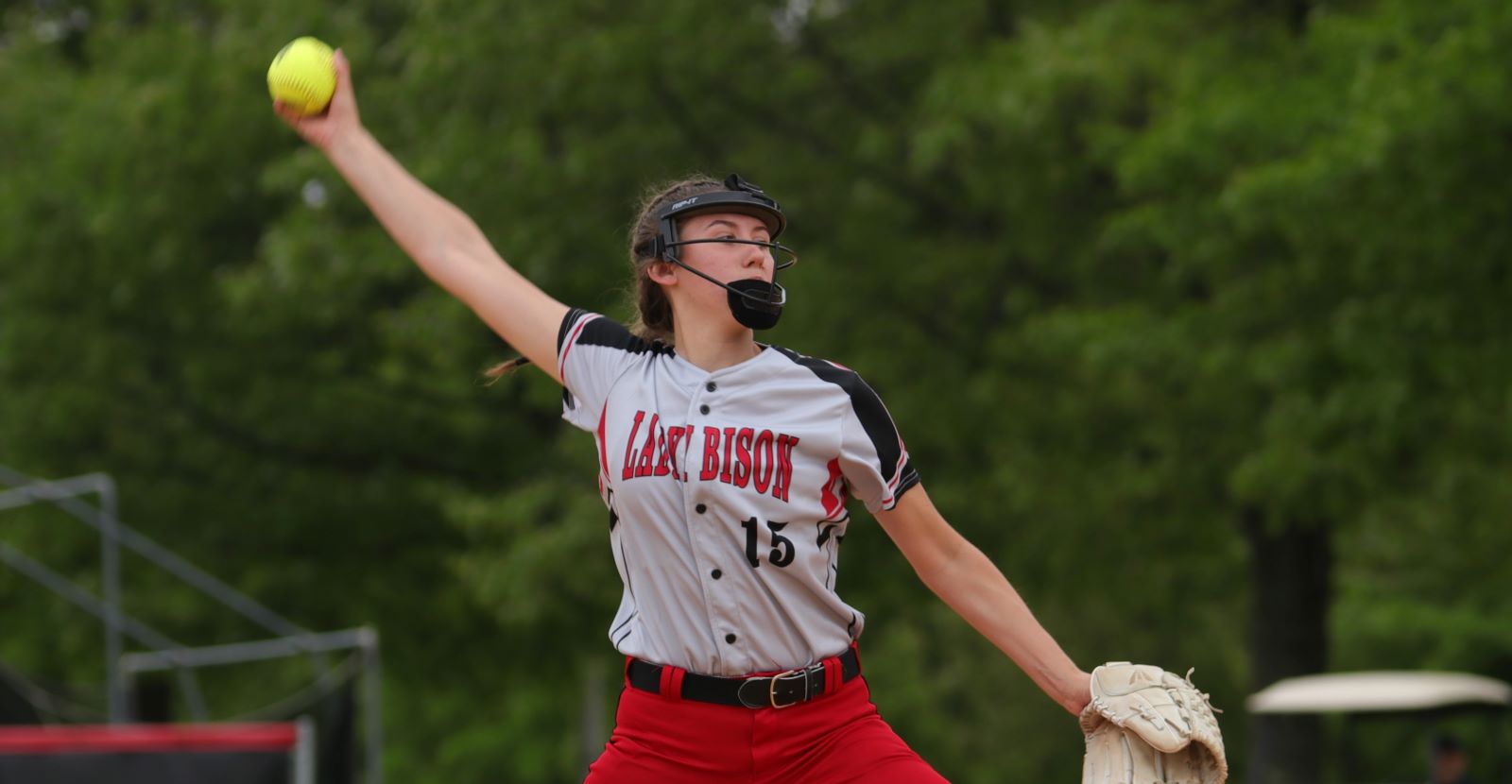 CRESSON, Pa. – A scintillating pitching performance by Clearfield freshman Emma Hipps went for naught when Mara Hockenberry scored on a two-out single by Maddy Perry in the bottom of the seventh inning to give Bald Eagle Area a 1-0 victory in a PIAA Class 3A semifinal classic at the Ray and Louise Walker Complex on the Mount Aloysius campus Tuesday afternoon.
(Photo of Clearfield's Emma Hipps, who threw 68 strikes and just five balls in the 1-0 loss Tuesday. Photo by Jared Bakaysa of JB Graphics. See more of Bakaysa's work here)
Hipps was so spectacular only one of her first 54 pitches was called a ball, an amazing feat. She finished with just five balls in 73 pitches, striking out 13.
"She's been great all year," Clearfield manager Derek Danver said. "She went above and beyond what she's been doing. Unfortunately, we couldn't push a run across for her."
The first five Lady Eagles and eight of the first nine went down on strikes, and Hipps was still working on a perfect game with two outs in the sixth inning, when BEA's fourth bunt attempt for a hit was misplayed, allowing Madison Eckley to reach base.
In the seventh, the speedy Hockenberry beat out a perfectly-placed bunt down the third-base line and was immediately sacrificed to second by Maralee Caldana.
After Hipps got winning pitcher Maddie Peters to pop up, Maegan King was intentionally walked. Hockenberry and King then executed a double steal, so Autumn Tobias also was given an intentional walk to set up a force at every base.
Perry foiled that strategy with a fly ball behind shortstop that landed between three Lady Bison for the game-winning RBI.
Peters matched Hipps' two-hitter and kept the Lady Bison off balance with a variety of pitches, including a riser that was most effective in many of her 16 strikeouts. The Lady Eagle sophomore, now 30-4 for her brief career, issued three walks.
Karly Rumsky had both hits for Clearfield, which posed its biggest threat in the sixth inning after she led off with a single.
Hipps was given an intentional free pass after Morgan Cheek laid down a sacrifice bunt, but Peters preserved her shutout with two strikeouts.
The heart-breaking defeat ended a four-win postseason run by the District 9 champion Lady Bison as they finished 14-10, the most wins since the 2006 team posted a 15-6 record.
District 6 champion Bald Eagle Area (22-3), which had outscored Clearfield 26-2 in two early-season Mountain League wins, will go for the PIAA gold Friday against Pine Grove at Penn State's Beard Field. The District 11 titlists are 27-0 after thumping Bloomsburg 17-0 in four innings Tuesday.
BALD EAGLE AREA 1, CLEARFIELD 0
Score by Innings
Clearfield 000 000 0 – 0
Bald Eagle Area 000 000 1 – 1
CLEARFIELD – 0
Karly Rumsky cf 3020, Morgan Cheek lf 2000, Emma Hipps p 2000, Olivia Bender c 3000, Lauren Ressler 1b 2000, Kyra Mollura ss 3000, Casey English 3b 2000, Alexis Benton rf 3000, Kylee Hertlein 2b 2000. TOTALS: 22-0-2-0.
BALD EAGLE AREA – 1
Makena Baney lf 3000, Mara Hockenberry cf 3110, Maralee Caldana c-dp 2000, Maddie Peters p 3000, Maegan King dp-c 2000, Autumn Tobias 3b 2000, Maddy Perry ss 3011, Kaleigh Kinley 2b 2000, Madison Eckley rf 2000, Lauren Fisher 1b (flex) 0000. 22-1-2-1.
E – Bender. LOB – Clearfield 4; Bald Eagle Area 5. Sac – Cheek; Caldana. SB – Hockenberry, King, Eckley.
PITCHING
Clearfield
Hipps 6-2/3 IP, 2 H, 1 R, 1 ER, 2 BB, 13 K.
Bald Eagle Area
Peters 7 IP, 2 H, 0 R, 0 ER, 3 BB, 16 K.
Winning pitcher: Peters
Losing pitcher: Hipps