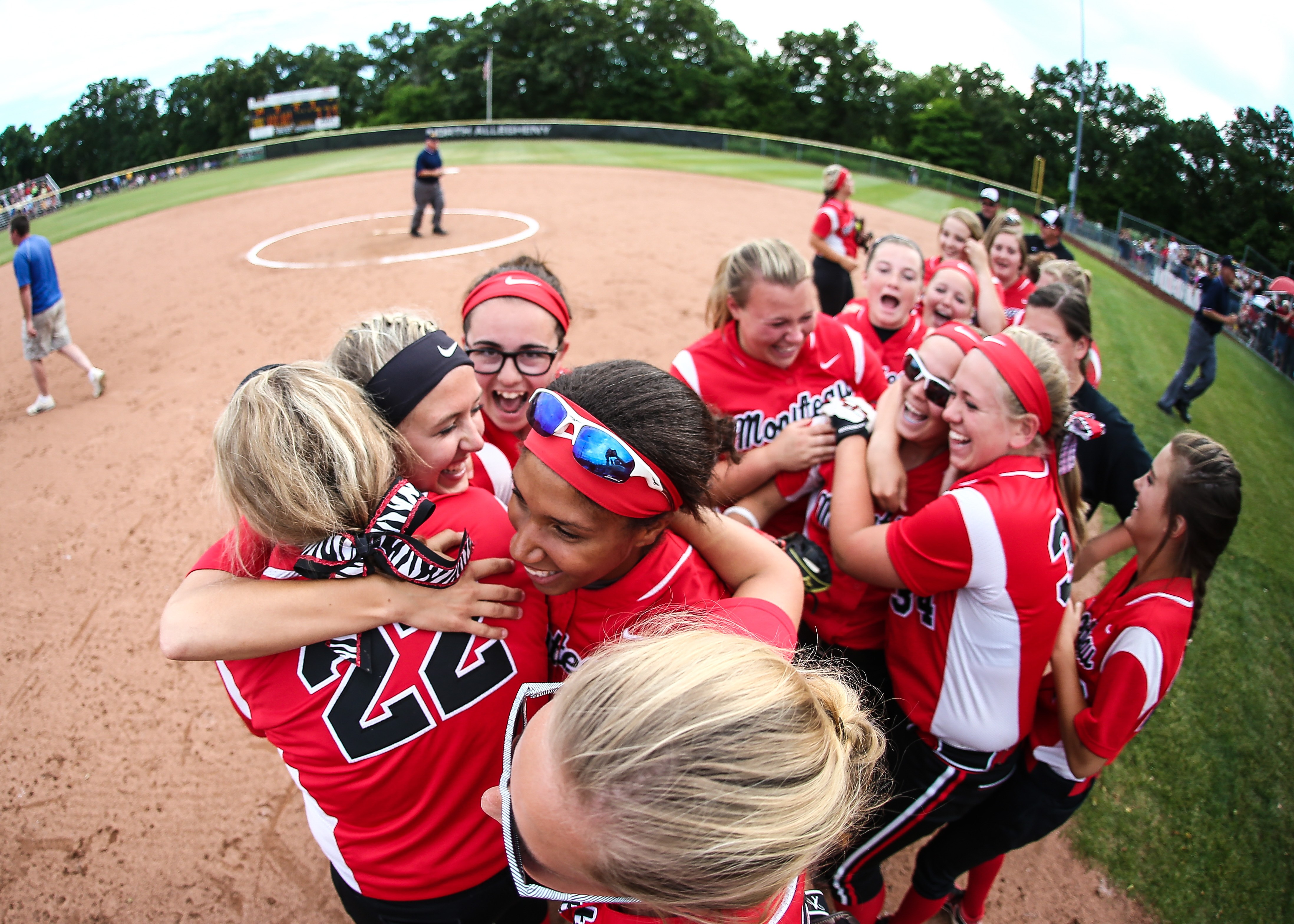 WEXFORD, Pa. – There are so many things that could be said about the Moniteau softball team's 3-0 win over South Park in the PIAA Class AA semifinals at North Allegheny High School Monday.
(Photos by Mike Schnelle. To see more of Schnelle's work or to buy photos click here)
Watch the last out of the game.
But Lady Warriors manager Dan Beebe summed it up pretty well when he said: "If the other team can't score, they can't win."
That's been the recipe for nearly a month and a half now for Moniteau, which hasn't given up a run since losing its only game of the year, 5-4, at Philipsburg-Osceola April 30.
Our dream is now a reality. PSU here we come! ❤️?? pic.twitter.com/4F7CCrOpom

— Bailey (@Bails_44) June 14, 2016
Since that loss, the Lady Warriors (24-1) have seen pitcher Kennedy DeMatteis throw 11 consecutive shutouts including five in the playoffs to lower her ERA to 0.75. On the year, the junior has allowed just 14 runs while tossing 18 shutouts in 23 appearances.
"That team (South Park) scored 16 runs in each of the last two games in state playoff games," Beebe said. "To come out here and to shut them down with another shutout, I'm at a loss for words as to what to say about her. "She's been phenomenal and amazing all season long."
South Park, with its four NCAA Division I commits, tried its best to break DeMatteis rhythm with Eagles manager Larry Mercurio seeming to spend every other batter in discussions with the home-plate umpire over a perceived illegal pitch being thrown by DeMatteis.
"I talked with the umpire, and he said he (Mercurio) was asking about an illegal pitch," Beebe said. "But the umpire said she wasn't doing anything wrong. I'm not going to change it if the umpire says she isn't doing anything wrong. She likes to go fast. When teams try to slow her down and stop her, that doesn't work either because she just gets angry, and she's just going to throw it harder.
"Maybe that was part of their strategy to slow us down a bit, slow the game down and take us out of rhythm. Maybe that's something they were trying to do. I'm not real sure. Kennedy was just locked in. From the bus ride over there wasn't anything that was going to rattle her, whether slowing down or keeping the game going. She's been ready for this game all weekend."
South Park, who was averaging over 11 runs a game in postseason play, only threatened twice against DeMatteis, who allowed three hits and two walks while striking out eight.
In the first inning, the Eagles got a leadoff single from Bre Nugent to right, and Nugent went to second when rightfielder Gabby Stewart threw wild to first for Moniteau's first error in eight games.
But DeMatteis got a foul out, a strikeout and then a runner's interference on a grounder to shortstop Cortney Claypoole to get out of the jam.
Then in the sixth, with the Lady Warriors leading 2-0, Kaitlyn Morrison led off with a triple bringing up the heart of the South Park lineup.
But DeMatteis struck out Katlyn Pavlick, a sophomore who is committed to Pitt, got Katie Isenberg, a senior who is headed to Robert Morris, to foul out to her twin sister and catcher, Kristina, and then struck out Justin Dean.
"She did a great job, especially in the sixth inning after the leadoff triple," Beebe said. "She went after their two big sticks and got them out. She's just mean."
Moniteau's offense, meanwhile, struggled with Dean, who interestingly didn't start the game but entered after Angela Shine, who started, gave up a leadoff triple to Stewart, in the first inning – Stewart ended up being the second out of an unconventional 5-3-2 double play.
Dean gave up just five hits while not walking a batter and striking out six.
But three of those hits came in succession with two outs in the third inning and led to a pair of Moniteau runs.
Stewart got the party started with a base hit to left and scored when Claypoole singled down the line and left and leftfielder Jessica Dean let the ball get past her for a two-base error that put Claypoole at third. Kennedy DeMatteis then doubled to center making it 2-0 Lady Warriors.
Stewart and Claypoole talked about their contributions, the win and their ace pitcher after the game.
Moniteau then added an insurance run in the sixth when Kennedy DeMatteis led off with a single and was bunted to second by sister Kristina.
After Sara Hull reached on an error with Kennedy DeMatteis holding at second, Megan Hepler also got found her way on with an error to load the bases for Alyssa Dailey, who hit a fly ball to right that turned into a sacrifice fly when DeMatteis avoided the tag at home plate with a great slide.
"When you get to this stage, it's not going to be 11-0 like it was against Ellwood City (in the quarterfinals)," Beebe said. "To get the timing and the key hits was important. We tried our best to play a clean game."
Moniteau will face defending PIAA Class AA champion Holy Redeemer, the District 2 champion, in the title game at Beard Field on the campus of Penn State University at 3 p.m. Thursday.
"It's the first time anyone from the school has been to a state final," Beebe said. "It hasn't been easy. You look at our team and you roll the ball out and let them take over. Anytime you go through a run like this, there is going to be adversity, challenges through the year. We've been able to overcome them. Every game we play, we always bring out the best in everyone. The way we've been playing, there is always pressure to win."
Extra Bases
Beebe used a part of his postgame media scrum to lobby for some of his players to start getting college looks. "They've (South Park) four D1 commits over there and we don't have any commits over here. We've got Alyssa Dailey going to Mercyhurst North East. I think we've got just as good of players on this team. Hopefully, that (the win) will awaken some eyes of some colleges coaches and get some looks for some of these girls. Not only are they great ball players, they're great athletes. And you check their grades and they're very good student athletes."
The run to the state championship game hasn't come as a surprise necessarily to Beebe. He said in talking to other coaches who have had teams play for a state championship, those coaches believed Moniteau could make a run. "We've got all the pieces to the puzzle. We just have to execute. And we are on our way to Penn State
Moniteau is planning on making it a full experience for the players with the team planning to travel to Penn State Wednesday in front of the Thursday game and practice at a local high school in the State College area
After its win, Moniteau stayed to root on DuBois Central Catholic in its PIAA Class A semifinal game against West Greene, which the Lady Cardinals lost 5-2. Beebe said it was important for his team to stay since DCC had come early to cheer his squad on.
While District 9 teams have won three PIAA softball titles in the last 10 years – the only three PIAA softball titles in D9 history – those titles have all come in Class A with Curwensville winning championships in 2007 and 2009 and Elk County Catholic last year
The team received a fire-truck escort back to the school Monday night prompting Beebe to tweet


Fire truck escorts: still officially the coolest thing ever #RollTeauRoll ⚫️??

— Daniel A. Beebe (@CoachBeebs) June 14, 2016
MONITEAU 3, SOUTH PARK 0
Score by Innings
South Park 000 000 0 – 0
Moniteau 002 001 x – 3
South Park 0
Player, Position, AB, R, H, RBI
Bre Nugent cf 3010, Kaitlyn Morrison ss 3010, Katlyn Pavlick 3b 3000, Katie Isenberg c 2000, Justine Dean 1b/p 2000, Angela Shine p/1b 3000, Cassie Scanlin 2b 3010, Laura Shinavski rf 3000, Jessica Dean lf 2000. Totals 24-0-3-0.
Moniteau 3
Player, Position, AB, R, H, RBI
Gabby Stewart rf 3120, Cortney Claypoole ss 2110, Kennedy DeMatteis p 3121, Kristina DeMatteis c 2000, Sara Hull 3b 3000, Megan Hepler 1b 3000, Alyssa Dailey 2b 2001, Courtney Sowinski lf 3000, Alazia Greaves cf 2000. Totals 23-3-5-2.
LOB – South Park 5. Moniteau 5. Errors – South Park X. Moniteau 1. DP – South Park 1. 2B – Kennedy DeMatteis. 3B – Morrison, Stewart. SAC – Kristina DeMatteis. SF – Dailey. SB – Claypoole.
Pitching
South Park
Angela Shine – 0 IP, 1 H, 0 R, 0 ER, 0 BB, 0 K
Justine Dean – 6 IP, 4 H, 3 R, 1 ER, 0 BB, 6 K, 1 HB
Moniteau
Kennedy DeMatteis – 7 IP, 3 H, 0 R, 0 ER, 2 BB, 7 K
Winning pitcher – Kennedy DeMatteis
Losing pitcher – Justin Dean
Shine faced one batter in the first inning