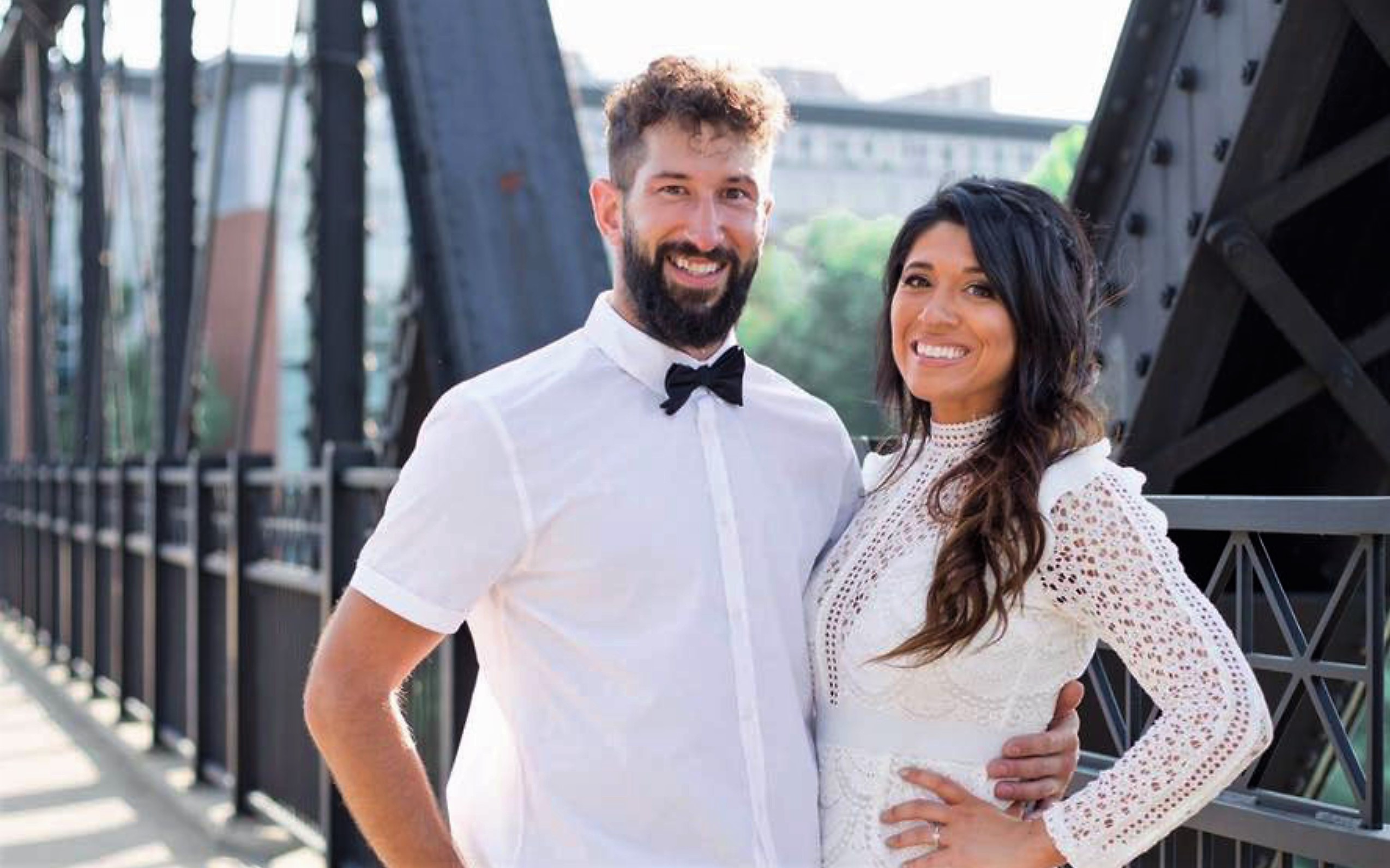 ST. MARYS, Pa. – Kali Grumley, formerly Kali Carnovale, and Calvin Grumley are two of the more recognizable athletes that District 9 has ever known.
(Calvin (left) and Kali (Carnovale) Grumley. Submitted photo)
Their athletic accomplishments are well documented and unmatched by most, especially with regards to basketball.
Calvin, who played for Johnsonburg, holds the all-time record for points in D9 with 2,255, while Kali set the St. Marys' scoring record in her time on the varsity squad (which has since been broken).
These were the destinations of extraordinary journeys that not only secured spots in the D9 history books but brought these two together with aspirations beyond athletics.
It seemed as though Calvin and Kali were destined to make basketball history, as from young ages basketball was a part of their lives. When asked about when he got started with the game, Calvin stated
"I can remember having Little Tikes hoops in the living room…[and being part of] little dribblers club in third grade," Calvin said.
He additionally recalled that he always has a ball in his hands, whether it was a basketball, football, or baseball, from the time he was around three years old.
"Sports were a part of my life for as long as I could remember," Calvin said.
Kali got started with basketball a little later than Calvin, as she reminisced playing in the front yard with her father starting in the third grade. She remembered getting so encompassed with the game that she would spend hours just shooting and practicing on her own, spending several late nights doing so growing up. When questioned if there was a specific point where she "fell in love" with the game, Kali emphasized how much of an NBA fan she was and that attaching to Shaquille O'Neal and the Lakers boosted her aspirations to continue playing the game.
From the time they became freshmen in high school, Kali and Calvin played key roles on their respective varsity teams. The Grumleys both started their high school basketball careers starting for their respective varsity squads, and both were expected to perform well from the outset of their careers.
Calvin recalls being one of the primary scorers on his team during freshman year. He helped his team make it to the state semifinals, losing to Sewickley Academy. Unfortunately, Johnsonburg would not reach these same heights during Grumley's reign over D9 basketball.
Kali, on the other hand, was not that much of a scorer during her first year, as she recalls being more of a "role player" in her first year or so on the varsity team and then being molded into a team leader in her junior and senior years.
Despite their teams' success during their varsity careers, neither Kali nor Calvin were able to beat Elk County Catholic (ECC) in their careers and neither won an Elk County Holiday Tournament title, partially due to the aforementioned fact.
However, both reflected on this experience somewhat fondly, as they welcomed the challenge of trying to beat ECC.
In response to questions about his team's rivalry with ECC, Calvin mentioned the likes of Jesse Bosnik and Brad Meholic as two of the guys that would challenge him the most. He also credited longtime head coach Aaron Straub in stating, "Coach Straub always had a good game plan and knew how to beat us."
Additionally, Kali and Calvin talked about the nights they reached 1,000 points.
Kali and the Lady Dutch were squaring off against Punxsutawney in the 2003 District 9 semifinal game during her junior year. Sadly, it was not a memorable night for St. Marys basketball, as the teams was defeated by the Lady Chucks and eliminated from the playoffs, and as Kali recalls when she scored her 1,000th point, "No one really knew it at the time … it was more about losing the game at that point. I remember that being a miserable game." She did find out later about the accomplishment, however, and was properly honored by the school.
Calvin told a different story though.
He remembers that the nights on which he scored his 1,000th and 2,000th points were both road games, the latter of which was a loss against DCC.
It did not take Calvin long to get to 1,000, though, as it was only halfway through his sophomore campaign in a regular season game against Brockway that he scored his 1,000th point, and to top it off, Johnsonburg was able to pull out the win.
Other than becoming part of the 1,000-point club, Kali and Calvin made many memories and learned a lot in their times as varsity basketball players.
For Kali, it was more than just being part of a basketball team. It was about becoming a family with her coach and teammates.
"Before home games, we (she and her teammates) would alternate our parents' houses for spaghetti dinners," Kali said. "We would play [board and video] games. We weren't thinking about basketball; we were kind of a family unit."
Calvin's favorite memories came on the court. He especially looked fondly upon the night he scored 52 points in a 104-96 overtime thriller versus St. Marys in the 2006 Holiday Tournament, which Johnsonburg was able to win. The thing he remembered most about that night was going back and forth with Louis Pisani, who nailed seven threes in the game and scored, according to Grumley, around 40 points (38 to be exact).
Kali and Calvin went on to have great success in college athletics as well.
Kali was a two-time all-conference basketball champion at Ithaca College, where she attended school for speech pathology. Calvin was both a starting and relieving pitcher with Penn State University's baseball team.
After their athletic careers ended, Kali and Calvin had to take on what they perceived to be a great challenge, no longer being an athlete.
"It was challenging to adjust to being Kali the speech pathologist vs being Kali the basketball player," Kali said. "It was a very depressing time when I figured out I was never going to play organized basketball again."
While Kali had in mind what she wanted to do after school and eventually adjusted to adulthood, that same task proved to be a greater challenge for Calvin.
"I had no idea what it was like to be an adult," Calvin said. "I did not go to college with a major in mind and just chose the easiest major."
Like Kali, not being involved in athletics proved to be quite the test for Calvin.
They have both passed this test, though, as Kali and Calvin recently got married and live in St. Marys.
Kali is a speech pathologist at Penn Highlands Elk and Calvin works as a sales representative for Sandberg Oil. They are currently trying to build a family. Yet, they have not forgotten where they come from and what helped them get to where they are today.
Editor's Note: This is the first in series of stories on District 9 1,000-point scorers.