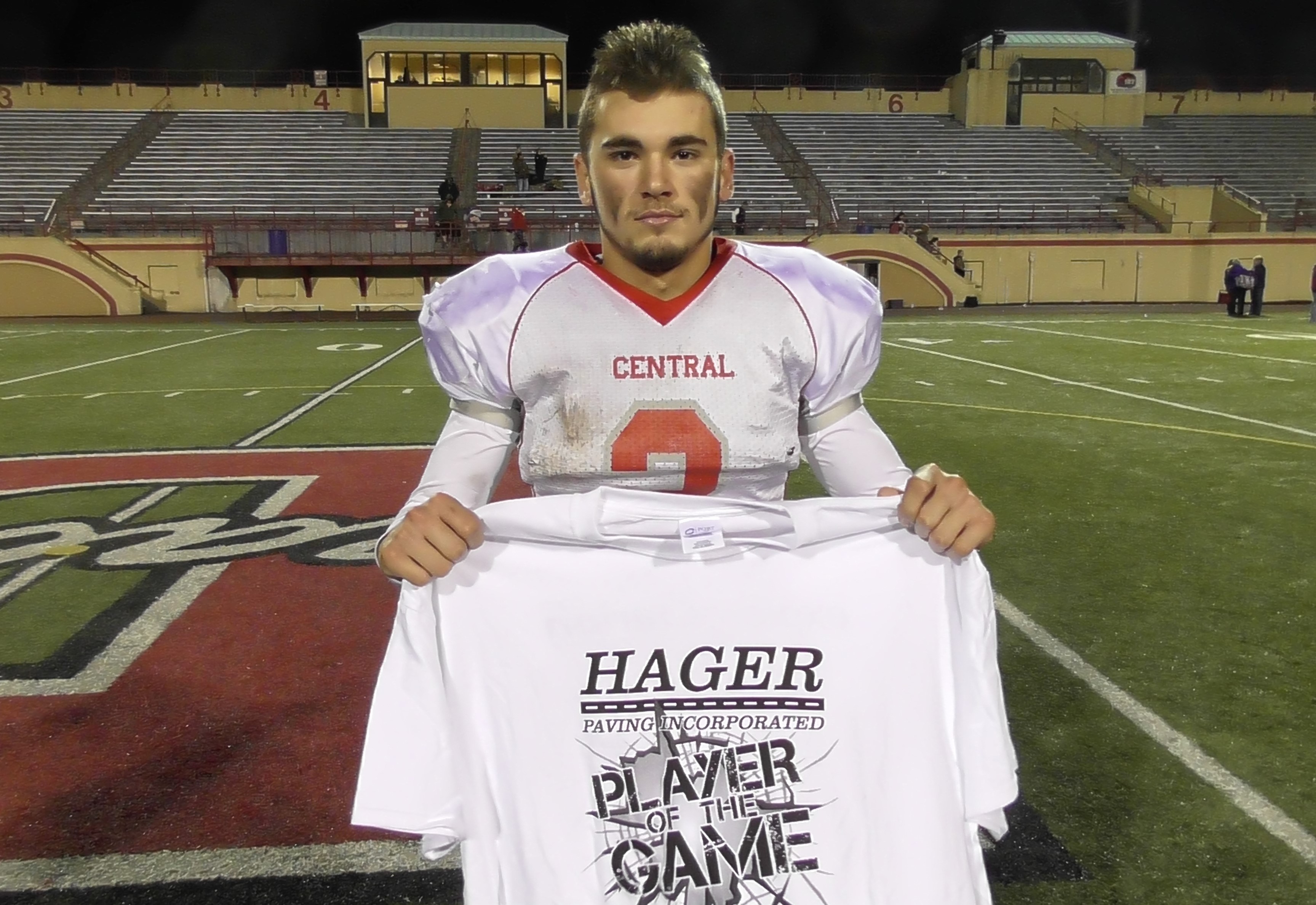 By Chris Rossetti
DUBOIS, Pa. – Karns City is going to have Alex Hoenstine nightmares throughout the offseason.
(Cover Photo of Alex Hoenstine of Central-Martinsburg. Photo by Scott Shindledecker)
Hoenstine, Central-Martinburg's star senior do-everything player, accounted for 81.6 percent of the Dragons offense and all five touchdowns in a 36-21 win over Karns City in the PIAA Class 3A quarterfinals Friday night at DuBois' Mansell Stadium.
The 6-foot-2, 186-pound Hoenstine lined up at running back, wide receiver and in the Wildcat for Central (12-1), who will play Beaver Falls in the PIAA semifinals next week, and beat Karns City (10-3) from all three positions.
He ran the ball 38 times for 240 yards and the five touchdowns while catching one pass for 15 yards and going 3 of 4 passing for 52 yards.
"I've been here eight or nine years, and he's the best all-around player I've been around," Central head coach Dave Baker said. "He's so good for the number of things he can do. He will do them every night, work at them every night. Our plan was to give him the ball. That's not much of a secret, is it?"
Watch a highlight of Hoenstine during the game.
Hoenstine was an obvious problem for Karns City, but he was only as effective as he was because of the way the Dragos' offensive line owned the line of scrimmage. It was a big reason Central ran 66 plays for the Gremlins' 40 and held the fall for 33:06 compared to 14:54 for Karns City.
"I was disappointed that they seemed to own the line of scrimmage," Karns City head coach Ed Conto said. "They were getting off the ball better on both sides. I knew we would be a little smaller, but I thought we could get underneath them. I was surprised that they owned the line of scrimmage like they did. I think that was the biggest difference in the game."
Central's dominance up front on offense was never more evident than on third down where the Dragons were an impressive 14 of 17, including 8 of 8 in the second half. Eleven of those conversions came on what could be described as third-and-medium or longer (anything four yards or more) including 6 of 9 on third-and-5 and longer (and one of the misses ended up being converted on a fourth-and-10 play). Hoenstine had a lot to do with the conversions accounting for 10 of them himself (seven rushing and three passing).
"I didn't expect them to get five or six yards a crack," Conto said. "But they seemed to do that at will. That's what disappointed me."
Despite the lopsided stats – Central outgained Karns City 376-205 – the Gremlins were right in the football game after a rare defensive play helped cut a 14-7 halftime deficit to 14-13 midway through the third quarter.
After Karns City had been forced to punt on its opening possession of the second half, the Dragons took over at their 11-yard line.
On first down, Preston Karstetter dropped back to pass but was picked off by Karns City's Clay Garing near the line of scrimmage with Garing returning the ball to the 5-yard line.
"That was a great defensive play," Conto said. "We didn't make a lot of defensive plays tonight, but he read that well and picked it and helped get us that score which kept us in the game. He did a nice job on that."
The score took all four downs for Karns City but occurred when Chandler Turner broke through from the 1-yard line to get the Gremlins to within a point, 14-13, after a rare missed extra point by Kaiden Powers.
Watch Turner score
That rare miss loomed large when Central took the ensuing kickoff a drove 71 yards on 17 plays, its second 17-play drive of the game, to go up 20-13 on a 1-yard Hoenstine run with 10:18 to play in the game. A 16-yard pass from Hoenstine to Larry Corle on second down from the 17 following a 12-yard penalty on the Dragons was a key play.
Up seven, Baker decided to force the issue and called for a 2-point conversion play which Hoenstine completed to Austin Garner making it a two-score game, 22-13.
Down by nine, Karns City called three straight pass plays that all feel incomplete and was forced to punt.
Taking over at its 44-yard line, it took the Dragons, well Hoenstine, just three plays to make it a 16-point game.
A 45-yard run by Hoenstine on second down from the Central 48 set the Dragons up at the Karns City seven, and he finished the job on the next play making it 29-13 with nine minutes left.
Karns City wasn't quite down, as the Gremlins had a big play of their own.
Facing fourth-and-their season (fourth-and-14) from the Central 49, Jacob King hit Turner in stride for a 49-yard touchdown down the home sideline. King then found Cullen Williams for the 2-point conversion – Williams nearly fell as he hauled in the swing pass around the five but kept his balance and scored – and Karns City trailed by just a touchdown, 29-21, with 7:15 to play.
"I thought our kids fought back a couple of times," Conto said. "But, we just couldn't get it going to keep that rolling."
After the Turner touchdown, Karns City elected to kick it deep rather than go for the onside kick.
But again Hoenstine and the Central offensive line owned the play, as the Dragons marched 73 yards in nine plays to put the game away on a 1-yard Hoenstine touchdown run with 3:13 to play.
"The little things we needed to execute, we didn't do it quite well, and they did," Conto said. "That makes a big difference."
Central made a statement that they were the better football team on the game's first drive.
After Karns City won the toss but deferred to the second half, the Dragons started the game at their 20 and went 80 yards in 17 plays taking 7:48 off the clock before scoring on a 2-yard Hoenstine touchdown run. Central was 4 of 4 on third downs during the scoring drive.
"We thought it would be an even game," Baker said. "Their game with Clearfield and ours were pretty much the same (Clearfield beat KC by seven and Central by two). We thought we had a chance to win the game, but we thought they did too.
"We told the kids we weren't going to run up and down the field all night. We knew we would have to get first downs and keep punching at them."
The game remained 7-0 until late in the first half when Karns City's defense came up with a stop on fourth-and-3 from the Gremlins 18 and took over with 4:29 to play in the half.
A 53-yard Eric Dodd run on second down from the 25 flipped the field putting the ball at the Central 22, and three plays later the Gremlins went to some trickery to tie the game.
On first-and-goal from the 8, Turner took a pitch from King, stopped and found an open Jimmy Thompson for an 8-yard touchdown pass and a tie game with 2:33 to play in the half. That play had worked with Williams a couple of times this season, but it was the first time Turner threw it.
Watch Thompson score
The Gremlins defense then appeared to get a stop on third down from the Central 41 early in the Dragons' ensuing drive, but a roughing the passer penalty on Karns City gave Central the first down inside Karns City territory.
Again, Karns City looked poised to stop Central when the Dragons faced fourth-and-10 from the 29, but this time it was the Dragons who went to the halfback pass when Hoenstine took a pitch from his quarterback and threw a pass to a wide open Jacob Muthler that went 28 yards to the 1-yard line.
Watch Muthler pick up the first down
Hoenstine then plowed in from there to give the Dragons the 14-7 halftime lead.
"I can't comment on it (the roughing the passer) because I didn't see it," Conto said. "I was back talking with my offensive lineman on something and didn't see it. But it hurt big time. It gave them a first down, and they were able to go on and run the trick play and get it in there. Against a team that is getting off the ball and getting physical like that, you want to keep the momentum. We lost our momentum right there."
Editor's note – Scott Shindledekcer contributed to this story
CENTRAL-MARTINSBURG 36, KARNS CITY 21
Score by Quarters
Central-Martinsburg 7 7 0 22 – 36
Karns City 0 7 6 8 – 21
Scoring Summary
First Quarter
CM – Alex Hoenstine 2 run (Jacob Muthler kick), 4:12
Second Quarter
KC – Jimmy Thompson 8 pass from Chandler Turner (Kaiden Powers kick), 2:33
CM – Hoenstine 1 run (Muthler kick), 0:42
Third Quarter
KC – Turner 1 run (Power kicked failed), 6:07
Fourth Quarter
CM – Hoenstine 1 run (Austin Garner pass from Hoenstine), 10:18
CM – Hoenstine 7 run (Muthler kick), 9:00
KC – Turner 49 pass from Jacob King (Cullen Williams pass from King), 7:15
CM – Hoenstine 1 run (Muthler kick), 3:13
TEAM STATISTICS
Central-Stat-Karns City
22 First Downs 8
55-292 Rushes-Yards 22-117
84 Passing Yards 88
5-11-1 Comp-Att-Int 6-18-0
66-376 Plays-Yards 40-205
1-0 Fumbles-Lost 1-0
3-22 Penalties-Yards 3-33
1-24 Punts-Avg 3-32.3
33:06 Time of Possession 14:54
INDIVIDUAL STATS
RUSHING – Central: Alex Hoenstine 38-240, Jared Smith 9-39, Preston Karstetter 3-negative 7, Chase Smith 1-6, Cameron Norris 1-4, Trystan Detwiller 1-12, Team 2-negative 2. Karns City: Chandler Turner 5-11, Kaiden Powers 3-14, Cullen Williams 5-4, Eric Dodd 3-71, Jacob King 5-17.
PASSING – Central: Preston Karstetter 2-for-7, 32 yards, 1 interception. Alex Hoenstine 3-for-4, 52 yards. Karns City: Jacob King 5-for-17, 80 yards, 1 touchdown. Chandler Turner 1-for-1, 8 yards, 1 touchdown.
RECEIVING – Central: Alex Hoenstine 1-15, Austin Garner 1-17, Jacob Muhler 1-28, Larry Corle 2-24. Karns City: Jimmy Thompson 5-39, Chandler Turner 1-49.
INTERCEPTIONS – Karns City: Clay Garing.