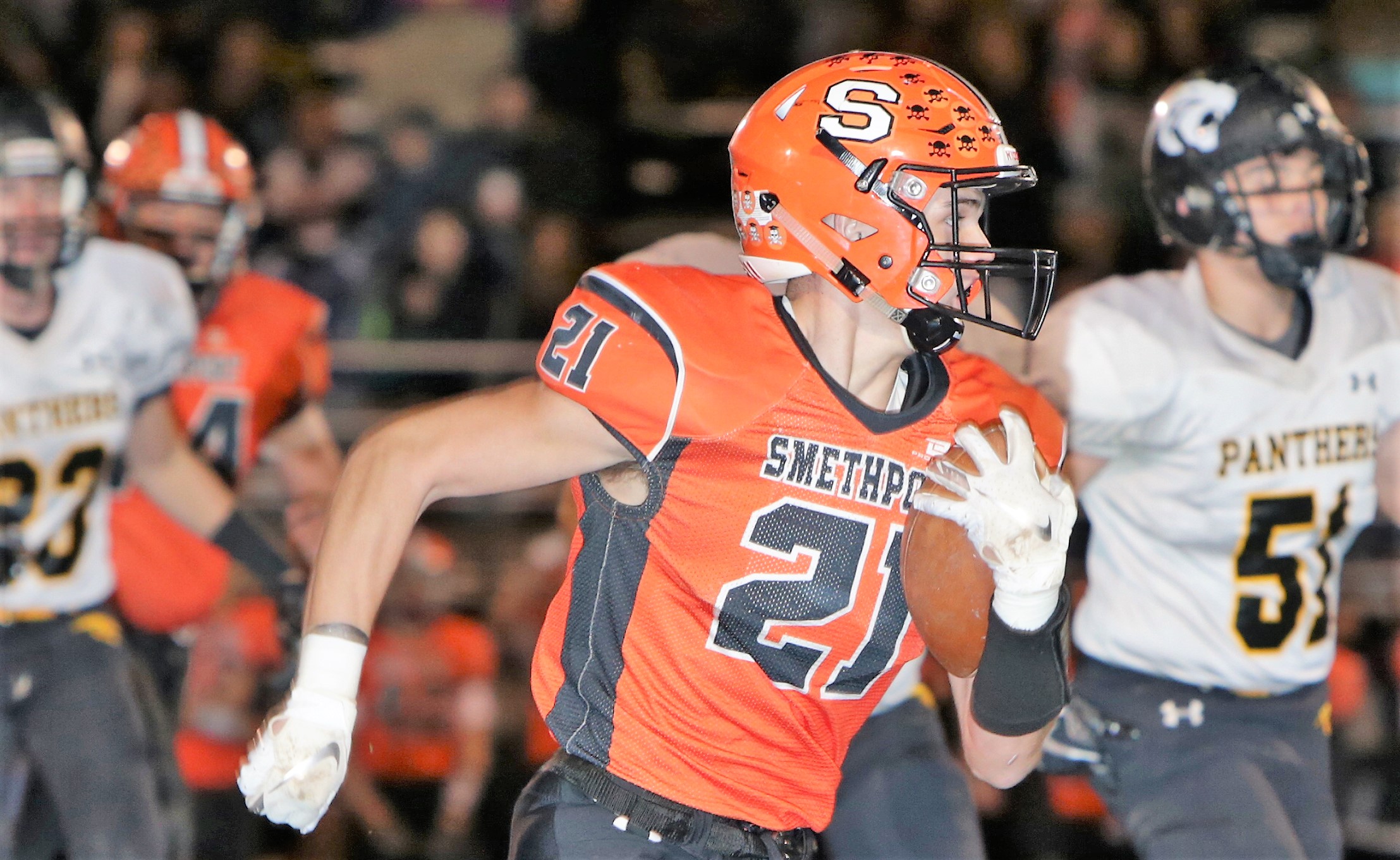 BRADFORD, Pa. – Nathan Hollowell ran for three touchdowns, and both Hollowell and Blake Kinner went over 100 yards on the ground to help Smethport return to the District 9 Class 1A title game for the first time in 20 years with a 28-0 win over Curwensville in the semifinals at Bradford's Parkway Field.
(Photo: Nathan Hollowell had 3 TDs for Smethport Friday night. Photo by Paul Burdick. Check out more of Burdick's work here)
Hollowell scored on runs of 1, 21 and 4 yards, with the first two coming before halftime. He ran 21 times for 141 yards. Kinner added 32 carries for 185 yards, as unbeaten and top-seeded Smethport (11-0) rushed for 329 yards on the night.
"It's kind of been the same thing all year with those two complimenting each other," Smethport head coach Adam Jack told the Bradford Era."
While Hollowell and Kinner were bullying their way over the Curwensville defense, the Hubbers defense was doing what it has done so well all year. Stop other teams.
The shutout was the second in a row in the postseason for Smethport, the third in four games and the fourth on the year. The Hubbers haven't allowed more than 20 points in any game all year and are giving up an average of 7.6 points per game.
"It just seems like they have been getting better each and every week," Jack told the Bradford Era. "They are really stepping up now, especially that it means more with each game."
Hollowell gave Smethport the only points it needed when he scored from a yard out with 5:04 left in the first half, and the 7-0 lead stuck until just under two minutes left in the half when Hollowell broke free on a 21-yard run to make it 13-0 at halftime.
The 13-0 lead held until the last two minutes of the third quarter when Hollowell scored again, this time from four yards out to make it 21-0.
Grant Ognen capped the scoring for Smethport with a 1-yard run with 3:06 to play.
Cole Bressler led an even Curwensville rushing attack with 68 yards on 13 carries. Avery Francisco added four carries for 52 yards and Blake Passarelli had 12 for 43. The Golden Tide finish the year 7-5.
Smethport, meanwhile, returns to the District 9 champion for the first time since beating Clarion-Limestone, 28-14, in Class 1A in 1998 at Johnsonburg. That was the fifth straight trip to the D9 1A title game for Smethport, which won D9 titles in 1A in 1998, 1996 and 1995 during that stretch. The Hubbers also won D9 1A titles in 1992 and 1991 and a 2A title in 1990 while finishing as the 2A runner-up in 1989.
The Hubbers will face rival Coudersport in the title game in a rematch of a Week 8 game that saw Smethport rally from a 20-7 fourth-quarter deficit to win 21-20. It is the first time these teams have met in a D9 title game since the Falcons took home the 1994 championship in a classic, 21-20. Smethport beat Coudersport for the 1990 2A title, 19-0.