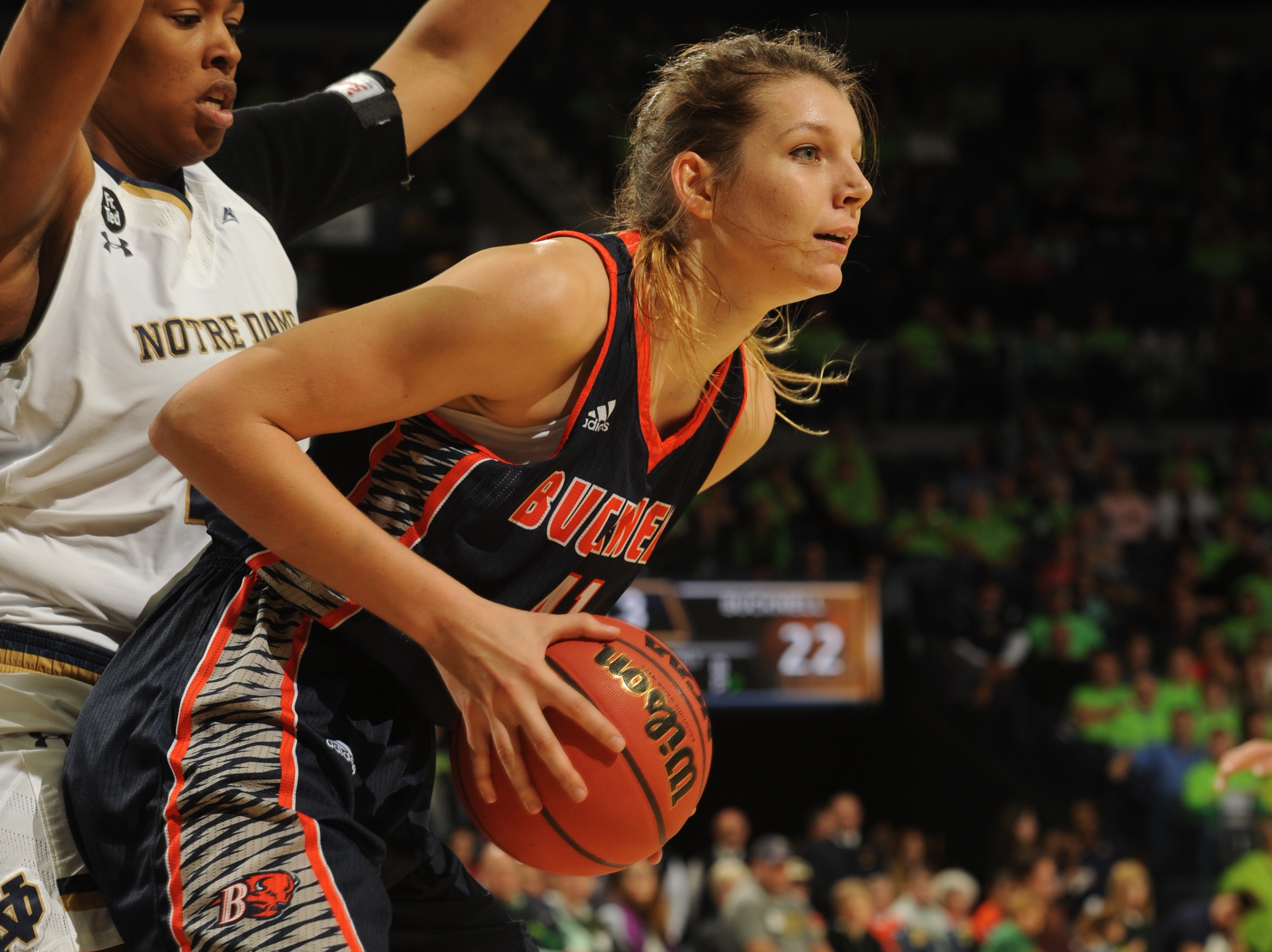 The following is an excerpt from a story on Cranberry graduate Suné Swart that appears on the Bucknell Athletic website. The full story is linked to at the end of the except.
(Photos courtesy of Bucknell Athletics. Photo by Joe Raymond))
LEWISBURG, Pa. (Bucknell Athletics) – Home is an indefinite term for Suné Swart, a senior on the Bucknell women's basketball team. Carved out by a journey most won't experience in a lifetime let alone before their 21st birthday, Suné's interpretation of the word has transcended a physical address, a city, or even a country for that matter. It's not cliché to say, because it's only the truth, that for her home has become wherever she is surrounded by family.
For the past few years, that family has been her Bison teammates and coaching staff. Home has been the Bucknell campus, the basketball court at Sojka Pavilion, the locker room and the team bus.
It's not uncommon for college athletes to form a lasting bond with their teammates, but life-altering events have strengthened those relationships for Suné. Sadly, it was the loss of an immediate family member that had Bison players, many that have now graduated, rallying around the one player known for keeping up the spirits of those around her. In 2014, Suné's father, the man who instilled in her the character traits that have made her so popular not just on the team, but all around campus, passed away unexpectedly.
Life Before Basketball
There is a reason Suné's definition of home is different from that of others. Her life has been divided by two countries, numerous cities, multiple schools, and even now an uncertainty of what comes next. But to understand why that is, you have to go back to the beginning.
Suné was born in South Africa and lived there until sixth grade. Her father was a pastor in the country that was still trying to find its footing in a post-Apartheid climate. Segregation laws began to be repealed in 1991, but 50 years with a culture and system built around racial separation put the country's population in an emotional state that may take many more years from now to straighten out. Suné's father, Jannie, was there to do his part.
The pastor of a Dutch Reformed Church consisting of a mostly white congregation, Jannie felt a calling to not just preach about inclusion, but to put those words into action. He began diversifying the church by inviting pastors with all sorts of backgrounds to deliver sermons, many in different languages. Jannie was more than just a pastor, he was a teacher of values. His biggest influence on his two children, Suné and her younger brother Janco, was to treat all people with equal respect.
Faith and teaching went hand-in-hand for Jannie, which is what brought the Swart family to the United States. He wanted to pursue his dream job of combining the two. That journey took the family to Minnesota, where he spent four years achieving a PhD. The plan was to return to South Africa, but at the last second, Jannie was offered a position to be a pastor in a small town in northwest Pennsylvania.
Read the rest of the story at BucknellBison.com.