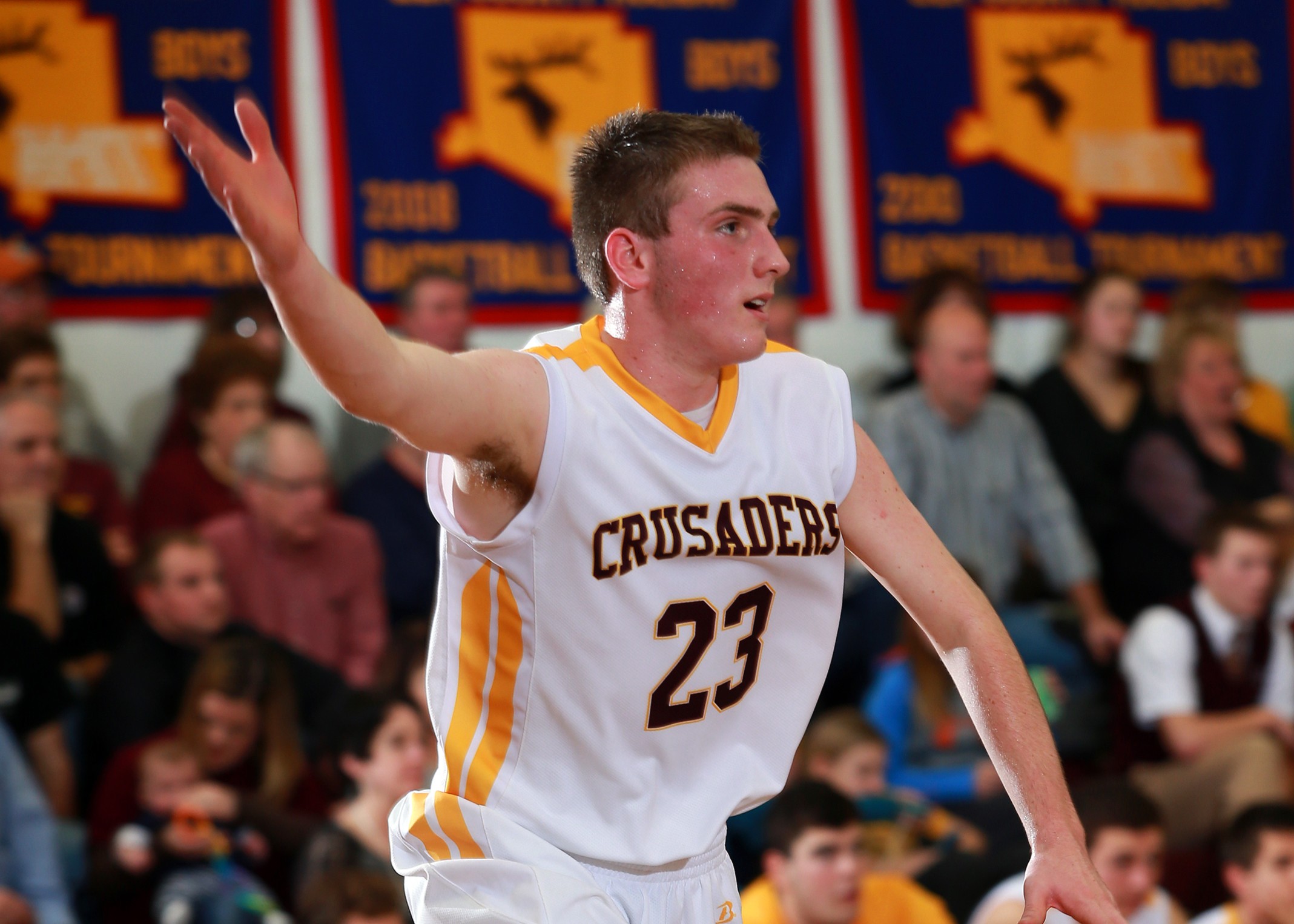 By Chris Rossetti
CLARION, Pa. – Top-seeded and unbeaten Elk County Catholic buried 10 of 16 3-pointers in the first half and rolled to a 75-48 win over fifth-seeded Union in the District 9 Class A boys' semifinals Wednesday night at Clarion University's Tippin Gym.
"It starts in the lockerroom," ECC's Gabe Kraus, who had a career-high 32 points while hitting 7 of 11 3-pointers said about the quick start, which has become a bit of a trend for the Crusaders. "Our mental preparation is really good. That leads to it. That might have been something missing here for a while. Just getting back to it, is really helping, especially in the first quarters coming out."
Kraus hit three straight 3-pointers in a span of just over a minute early in the first quarter to help ECC jump out to a 15-3 lead.
"I just had it tonight, but I'm not here to talk about myself," Kraus said. "My teammates, those are the guys that need talked about. They are the real guys."
Despite the quick start by ECC, Union stabilized things and was only down six, 24-18, following a Cole Morris jumper with 3:27 left in the first half.
But again, ECC got hot, hitting four more 3-pointers including three my Kraus in the final 2:37 of the half to end the half on a 16-4 run that all but put the game away with a 40-22 lead.
"I'm disappointed with our defense," Union head coach Jeff Hepler said. "We had been playing good defense, and I'm disappointed we didn't recognize where they were at. We knew who their shooters were, and it was frustrating to watch them get wide-open threes. But Elk moves the ball so well. They set some nice screens, even with our zone. It wasn't our night."
ECC extended its lead to as many as 27 in the third quarter, 58-31, and again cruised from there.
While the hot shooting was a big part of the win, so was ECC's defense.
The Crusaders held Union star Cole Morris to 15 points, which was below his season average on just 6 of 16 shooting including 0 of 8 from 3-point range.
"We came into the game knowing he was going to be someone we needed to take away in order to win tonight," Kraus sid. "Dan Stauffer, Brad Dippold and Jared Braun did an unbelievable job tonight. That's the season we got it done."
ECC is back in the title game, where it will face Coudersport, looking for its first title since 2011.
"We had a meeting, all of us players," Kraus said. "That was one of our biggest goals to come back and win a district (title). It's nice to be back here. But we aren't satisfied being here. We know we have work to do."
Union falls into the consolation game where it will face Ridgway. That game is set for 12:30 p.m. Saturday at Tippin Gym. The title game will also be at Tippin later Saturday.
ECC 75, UNION 48
Score By Quarters
Union 8 14 11 15 – 48
ECC 18 22 19 16 – 75
UNION – 48
Hank Murphy 5 0-1 11, Sutton Varner 0 1-2 1, Cole Morris 6 3-6 15, Gavin Hawk 2 0-0 4, Lucas Bowser 3 0-4 7, Kolby Montgomery 2 0-0 4, Trey Miles 0 0-0 0, Hunter Johnson 0 0-0 0, Gavin Guntrum 0 0-0 0, Dana Logue 1 0-0 3, Reice Saylor 1 0-0 2, Patrick Uarekist 0 1-2 1. Totals: 20 5-14 48.
ECC – 75
Benji Hoffman 4 0-0 12, Dan Stauffer 2 0-0 4, Gabe Kraus 10 5-5 32, Cory Huff 2 3-4 7, Nate DaCanal 5 0-1 10, Frank Singer 0 4-4 4, Bryce Gabler 1 0-0 2, Brad Dippold 1 0-0 2, Jack Wolfe 1 0-0 2, Jared Braun 0 0-0 0, Joe Kucenski 0 0-0 0, Doug Schatz 0 0-0 0. Totals: 26 12-14 75.
THREE-POINTERS – Union 3 (Murphy, Bowser, Logue), ECC 11 (Kraus 7, Hoffman 4).