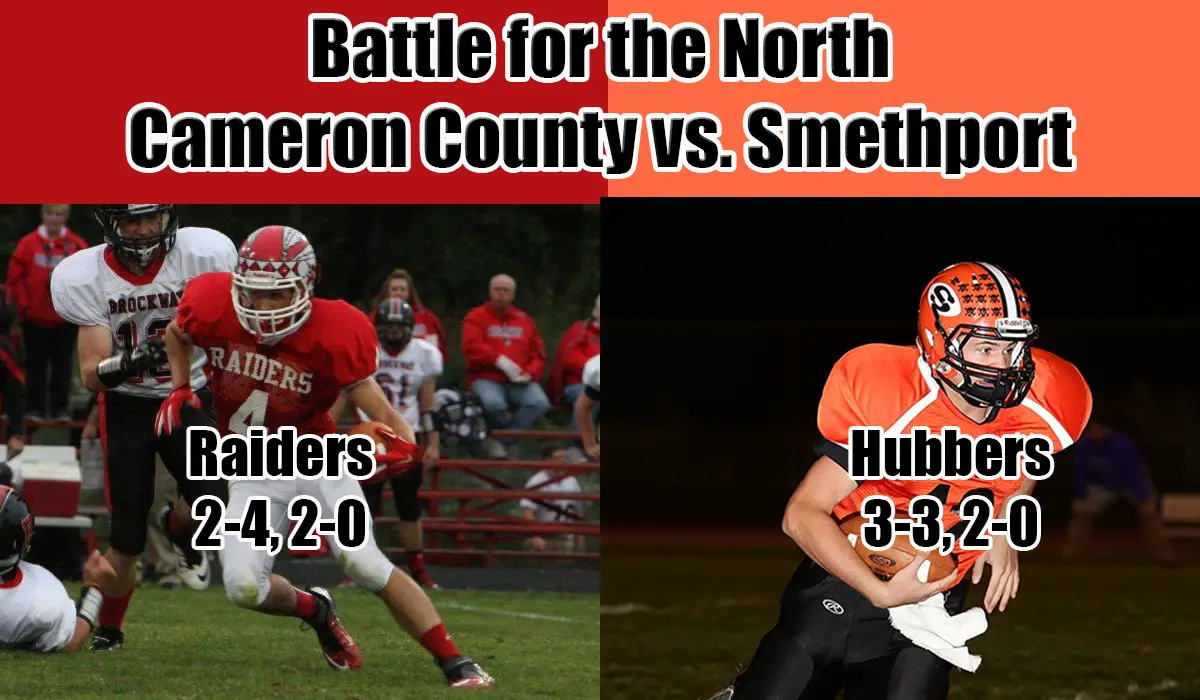 By Rich Rhoades
The Allegheny Mountain League's North Division title could be on the line Friday night as the Smethport Hubbers host the Cameron County Read Raiders.
Both Smethport (3-3) and Cameron County (2-4) have won their first two AML-North games, so Friday's winning will have the inside track to the division title. Smethport hasn't won an AML-North crown since 2001 while Cameron County won four straight division titles from 2007-2010.
The AML-North clash is one of 14 games on the district's Week 7 schedule. Three games are scheduled for Saturday, including 1:30 p.m. starts at Sheffield where the Wolverines host Coudersport and St. Marys where Elk County Catholic hosts District 6's Northern Cambria. Saturday night in Rimersburg, the Union Knights host Clarion.
The Hubbers have won three straight games since starting 0-3, averaging 37 points per game over the stretch. They started the streak with a 46-32 win over Clarion-Limestone followed by a 33-32 win over Sheffield. They beat Otto-Eldred 32-14 last week as Adam Shunk ran for 208 yards and two touchdowns, and Devon Brown added 146 yards on 15 carries and two scores. The Hubbers, who average 184 yards per game on the ground, ran over the Terrors for 401 yards.
So perhaps Smethport will try to establish the running game against Cameron County. Quarterback Dustin Zetwick has completed 28 of 68 passes for 310 yards and six touchdowns, so there is a little bit of a passing threat.
But the strength is the running game. Shunk is up to 474 yards with four touchdowns while Zetwick has 288 yards and three scores. Brown's season total is 166 yards with most of it coming in last week's win.
Cameron County's first two wins came the past two weeks against the AML-North after starting the year 0-4. The Red Raiders beat Sheffield, 41-14, last week after their first win in a 45-16 rout of Port Allegany.
The Red Raiders are a little more balanced offensively than the Hubbers. Quarterback Keith Spehalski has passed for 591 yards and two touchdowns while Caleb Burnside (474 yards, 3 TDs) and Rusty Setzer (70 carries, 448 yards, 7 TDs) lead the running game. Brandon Saline is Spehalski's top receiver with 14 catches for 328 yards.
The Hubbers and Red Raiders share two common opponents going into this weekend. Smethport lost to Brockway (38-0) in Week 1 and Kane (42-6) in Week 2 while Cameron County lost to Kane (13-0) in Week 1 and Brockway (35-7) in Week 3.
The Hubbers have won the past three meeting, including 35-18 last year. The Red Raiders won six straight games from 2005 through 2010.
At first glance, several games on the Week 7 docket appear to be toss-ups on paper. In the AML since divisional play began two weeks ago, for instance, five of the 10 games have been decided by seven or less points.
Here is a look at the rest of this week's schedule:
AML-North
In the other two divisional games, Port Allegany (1-5 overall, 1-1 AML-North) hosts Otto-Eldred (0-6, 0-2) Friday night. Otto's Seth Drummond continues to account for an overwhelming percentage of his team's yards from scrimmage, 885 of the Terrors' 1,253 yards to be exact.
In the Saturday game at Sheffield, the Wolverines (0-6, 0-2) host Coudersport (1-5, 1-1). Sheffield quarterback Adam Higby is one of four D9 quarterback over 1,000 passing yards. He's thrown for 10 touchdowns.
AML-South
Going into this week, Ridgway (6-0, 2-0) is the lone unbeaten, but things could change in a hurry in the divisional race if the Elkers lose at home to Brockway (4-2, 0-1). A Rovers win could leave four of the division's five teams tied in the loss column with one loss.
For that to happen, the Rovers will need to bounce back from a tough 9-7 loss to Kane last week. The Rovers were limited to 144 yards of offense by the Wolves' defense. Brockway's offense is about as balanced as possible (949 yards passing, 820 rushing) with quarterback Braden Martini (683 yards, 5 TDs), Anthony Benson (347 yards rushing, 8 TDs; 21 catches, 316 yards receiving) and Anthony Isabella (20 catches, 288 yards).
The Elkers are 6-0 to start a season for the first time since 1989 and haven't won more than six games in a season since an 8-2 season in 2003 and they could clinch that as early as this week. Quarterback Ben MacDonald has rushed for 501 yards and 13 touchdowns while passing for 334 yards and six touchdowns. Cole Myers leads the team with 500 yards rushing, averaging 10 yards per carry with four touchdowns. J.P. Cerroni has 401 yards on the ground with two touchdowns.
Ridgway ended a 13-game losing streak to the Rovers last year. Prior to that, the Elkers last beat the Rovers in Brockway's first year in the AML back in 1999.
In the other AML-South game, Curwensville (5-1, 0-1) tries to say in contention when it hosts Kane (5-1, 1-1). Two of the top backs in the district will hit the turf at Riverside Stadium. Kane's John English has rushed for 766 yards with 13 touchdowns and he's coming off last week's game where Brockway limited him to 34 yards on 14 carries.
Curwensville freshman Nick Stewart is poised to go over 1,000 yards as he's rushed for 942 yards and 12 touchdowns.
KSAC-Large
Two games feature Brookville (1-5) traveling to Moniteau (4-2) while St. Marys (5-1) hosts Punxsutawney (4-2).
Josh McBride and quarterback Cody Skiver have both rushed over 700 yards for Moniteau, with McBride nearing the 1,000-yard plateau with 981 yards. Skiver has rushed for 715 yards and eight touchdowns.
For the Chucks, quarterback Dylan Thomas has passed for 701 yards and eight touchdowns while rushing for 251 yards. Perry Arrington leads the team with 576 yards rushing and five scores. Receiver Braxton Giaviadoni has 23 catches for 541 yards.
The St. Marys running game is led by T.J. Hogan (728 yards, 7 TDs) and Kyle Glatt (456 yards, 7 TDs).
KSAC-Small
After a week off, the Redbank Valley Bulldogs (5-0) clinch one of the two KSAC automatic Class A playoff berths if Clarion beats Union regardless what the Bulldogs do at A-C Valley (0-6).
A Clarion (5-1) win at Union (2-4) also secures a playoff berth for the Bobcats, who have won 20 straight games against the Knights dating back to Union's last win in 1994.
Bulldogs quarterback Jake Dougherty has passed for 1,068 yards and 14 touchdowns.
Clarion, the No. 6 scoring team in the state at 49.5 points per game, has Ian Corbett with 806 yards rushing and 16 touchdowns. Union quarterback Lane Cicciarelli has passed for 1,038 yards and 11 touchdowns. Chet Carmichael, the team's top receiver at 18 catches for 306 yards, also has an impressive 404 return yards.
Also, Keystone (1-5) visits Clarion-Limestone (1-5).
Mountain League
Clearfield (4-2, 3-1) at Tyrone (6-0, 5-0)
Can we guarantee a close game? Seems like it as three of the last four games between the Bison and Golden Eagles have been decided by one point. Last year at Clearfield, the Bison won 27-26 while they won 14-13 in Tyrone in 2012. The Bison beat Tyrone, 35-34 back in 2008 with Tyrone's 23-14 win in 2009 being the only game not decided by a point. The teams did not meet in 2010 and 2011.
Erik Sellers (617 yards, 10 TDs) and Seth Caldwell (604 yards, 5 TDs) have both rushed over 600 yards while quarterback Cody Spaid has passed for 645 yards and six touchdowns.
Tyrone quarterback Garrett Hunter has passed for 851 yards and nine touchdowns. Aleic Hunter has rushed for 716 yards and eight touchdowns.
District 10 Region 5
DuBois (4-2, 2-1) at Bradford (1-5, 1-2)
The Beavers head to McKean County to take on the Owls with their 52 points per game averaging ranking third in the state behind Clairton (71.7) and Bishop Guilfoyle (53.5).
Beavers quarterback Gabe French moved into the No. 4 spot on the district's all-time passing yardage list, his 6,234 yards surpassing Chad Kroell's mark of 6,088 yards. He's within range of passing one more on the list as Smethport's Mike DeFilippi sits with 6,638 yards.
For the year, French has completed 105 of 149 passes for 1,865 yards with 24 touchdowns and six interceptions. He's also rushed for 213 yards and five scores.
French's top receivers are Cole Kriner (25 catches, 611 yards, 8 TDs), Dante Dawson (24 catches, 439 yards, 6 TDs) and Bryson Paulinellie (25 catches, 376 yards, 5 TDs), who has missed the past two games. Devin Clark has rushed for 584 yards.
The Beavers have scored 195 points in their last three wins over the Owls, including 59-0 last year, 84-6 in 2012 and 52-21 in 2011. Bradford won in 2010, 54-26.
Non-Conference
Erie Central Tech (5-1) at Karns City (6-0)
The Gremlins, still No. 7 in the Pennsylvania Football News Class AA state rankings, take on a good Central Tech squad coming off its first loss of the year, a 35-8 setback to state-ranked Cathedral Prep (No. 4 in Class AAA by PFN).
The Falcons are almost exclusively a running team, attempting just 10 passes on their first five games. Through five games, the Falcons averaged almost 400 yards per game on the ground with junior Eddie Leggett (706 yards, 14 TDs) leading the way.
Karns City, averaging 46.2 points per game, churns out 441 yards per game offensively and 289 yards on the ground despite not having a back over 400 yards for the season. Tristan Rhoades is close at 396 yards. Quarterbacks Cody Deal and Caleb King have combined for 912 yards passing and eight touchdowns.
Northern Cambria (2-4) at Elk Co. Catholic (5-1)
The Crusaders host the Colts in an afternoon game at Dutch Country Stadium Saturday afternoon.
Crusaders quarterback Mitchell Smith has been a dual threat with 549 yards rushing with 10 touchdowns and 505 yards rushing and nine scores.
The Colts have lost two straight games, including a 28-24 loss last week to Purchase Line.