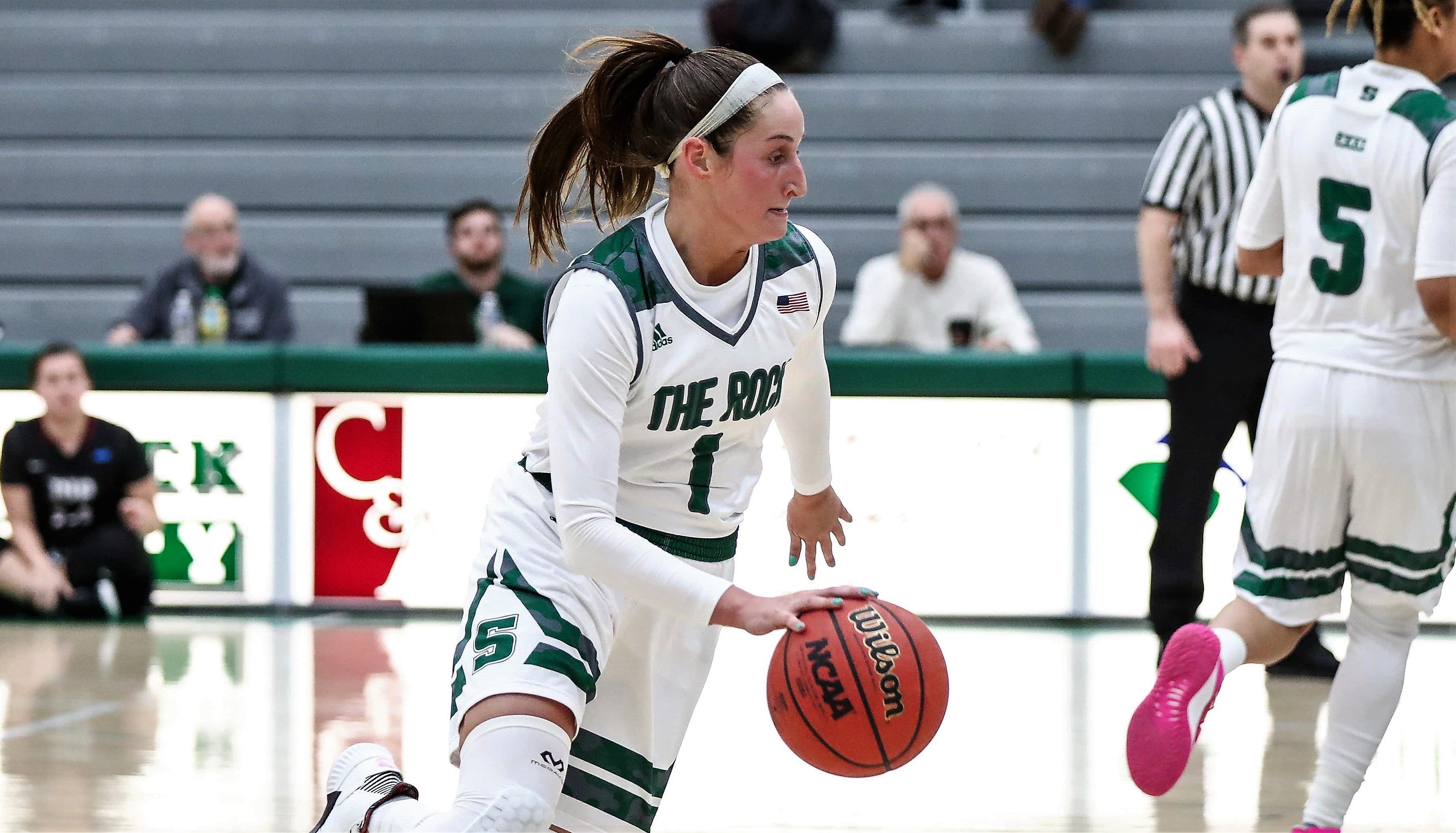 SLIPPERY ROCK, Pa. – Three KSAC alumnae helped lead Slippery Rock to a 25-point win, 86-61, over visiting Clarion.
(Photo of Slippery Rock University's Madison Johnson, a Keystone graduate, who had eight points in The Rock's win over Clarion Wednesday. Photo courtesy of Slippery Rock University Athletics. Photo by Mike Schnelle)
Redbank Valley grad Brooke Hinderliter netted a game-high 24 points on 10 of 18 shooting from the floor including 3 of 3 from 3-point range for The Rock with Keystone grad Madison Johnson chipping in eight points and Karns City grad LeeAnn Gibson adding seven points. Hinderliter also had five rebounds with Gibson adding six boards.
Morgan Henderson also reached double digits for Slippery Rock with 13 points and completed a double-double with 11 rebounds.
In a game that saw five total KSAC graduates play, Clarion got five points from Venango County grad Taylor Moltz, while Karns City grad Emily Hegedus, a former teammate of Hegedus', was held scoreless but did collect two rebounds while adding a steal.
Kadijah Dickson paced Clarion with 15 points and five rebounds with Yndiah Bobo adding 14 points and five steals. Jordan Bekelja chipped in 10 points and Yasmin Lewis had nine points and eight rebounds.
Slippery Rock built a 9-point, 38-29, halftime lead that it then stretch to 12 points, 59-47, after three quarters of play.
The win improved Slippery Rock to 7-8 overall and 5-4 in the PSAC West. It ended a four-game losing streak for The Rock.
Clarion fell to 7-9 overall and 1-8 in conference play. The Golden Eagles have dropped six in a row.
Slippery Rock is back in action at 5 p.m. Friday at Mansfield with Clarion returning to the hardwood at 1 p.m. Saturday at Gannon.
OBENRADER HAS SOLID GAME IN GANNON WIN
Staying in the realm of KSAC alumnae, North Clarion grad Tori Obenrader, who was the PSAC West Freshman of the Week for the third time this season earlier this week, had eight points, six rebounds and five assists in Gannon's 71-57 win at Edinboro Wednesday.
THOMPSON HELPS MANSFIELD TO FIRST WIN
Additionally, A-C Valley grad Ellie Thompson netted four points to go with six rebounds to help Mansfield, coached by Keystone graduate Mike Whitling, secure a 46-40 win over visiting Kutztown for Mansfield's first win of the year.