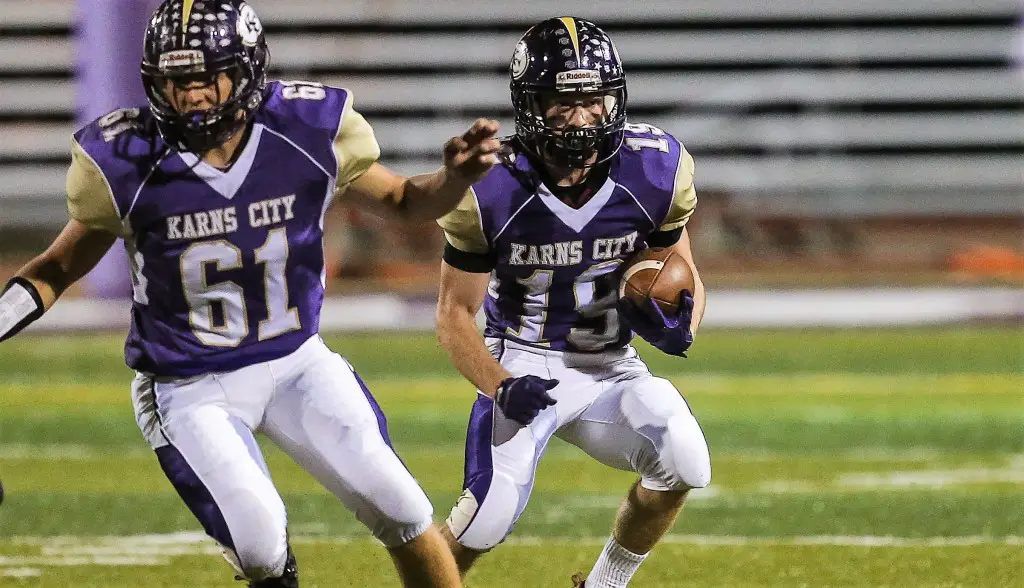 KARNS CITY, Pa. – It will be a heavyweight title bout between interdistrict powerhouses in the opening round of the PIAA Class 3A football playoffs at 1 p.m. Saturday at Slippery Rock University's Mihalik-Thompson Stadium.
(Cover photo of Karns City's Kaiden Power. Photo by Mike Schnelle. Check out more of Schnelle's work here)
In one corner wearing the red, black and white will be the District 10 champion Hickory Hornets, who have won six straight D10 titles (5 in 2A and 1 in 3A) standing with 11 wins and no losses.
In the other corner wearing the purple and white will be the District 9 champion Karns City Gremlins who have won five consecutive District 9 championships (4 in 2A and 1 in 3A) who enter the contest with a record of nine wins and two losses.
"It's important this time of year because it means you are really, really playing for something," Karns City head coach Ed Conto, whose Gremlins are an impressive 54-11 with four post-D9 playoff victories since 2012, said.
What the teams are playing for is the right to meet the winner of the Juniata/Central-Martinsburg contest in the PIAA quarterfinals Thanksgiving weekend.
That's a round both teams are familiar with each being quarterfinalist in each of the past four seasons.
For Hickory, it's actually a five-year run with the Hornets going a combined 67-11 since 2011 with a pair of PIAA victories.
"They are very similar to both (Armstrong and Clearfield – Karns City's two losses)," Conto said. "They are big like Armstrong and have a stud running back like Armstrong. They had a little more of a weapon in the passing game until they lost their No. 1 quarterback a couple of weeks ago, but the sophomore that is in there does a pretty nice job. They also have a great receiver on the caliber of the two from Clearfield. They have a little bit of everything, and they are well coached."
The "stud" running back Conto is referring to is Chuck Carr.
A 5-10, 198-pound senior, Carr has run for 2,182 yards and 41 touchdowns on the season while averaging eight yards per carry. He also has a receiving touchdown and has four catches for 72 yards. Carr has rushed for a District 10 record 6,748 career yards.
"It's tough to slow down a kid like that," Conto said. "He is just a great athlete. I've heard people say he is a Division 1 running back. He's fast, he's strong, he's powerful. He seems to be a kid who can keep going even after the hits. The only thing we can do is team tackle. Everybody has to be in their gaps and now allow him to get a quick hole where he can get up and burst into the secondary and make a big play. And we have to team tackle and frustrate him."
Carr, who ran for 182 yards and a touchdown in a 45-13 win over Sharon in the District 10 title game last week, is the main weapon for a Hornets' offense that averages 45.4 points per game, but he isn't the only one.
Will Gruber has 28 catches for 655 yards and eight touchdowns, although he has been limited since starting quarterback Luke Brennan (42 of 84 for 797 yards, 7 TDs, 3 Ints) went out with an injury during a win over Wilmington Oct. 14. Since then, Gruber has six catches for 165 yards although four of those have gone for touchdowns.
Sophomore Hayden Gallagher has stepped in nicely for Brennan going 14 of 23 for 260 yards and five touchdowns with just one interception in his three starts. He is coming off his best game of the year against Sharon going 4 of 7 for 112 yards, three touchdowns and an interception. His last three passes against the Tigers went for touchdowns.
"You just have to do things right (in coverage)," Conto said. "No. 1, you have to be in the right places in the secondary. If you are in man, you have to be jamming and taking away the timing throws. If you are in zone, you have to be in the right spots so he doesn't get easy reads and he has to hesitate. With your pass rush, you have to rush to him and not by him. If you have a kid in a guy's face the less likely he is going to be able to see clear lanes. If you rush by and allow him to step up in or go off tackle and get outside on a roll out, then he's got clear lanes and it makes it a heck of a lot easier to throw a pass. We have to do things correctly."
Karns City's defense has been stout all season allowing 13.9 ppg, although 46.4 percent (71 of 153) of those points against the Gremlins have come in the past two games – in KC's defense 16 of the 36 points put up by Perry in a 54-36 Karns City win in the D8-9 title game came in the final minute of play against the Gremlins backups.
"I was real pleased with our first half (against Perry)," Conto, whose team led 41-6 at halftime, said. "I thought our guys came out and executed. Our kids came out and stopped the running game, and we stopped the throwing game. We had a couple of really bad plays there midway through the second quarter where they got a touchdown. We lined up wrong. We can't do that. But defensively, I was really happy."
The Gremlins offense is nearly as explosive as Hickory's averaging 41 points per game But Karns City takes a different approach than the Hornets on the ground relying on a running-back-by-committee approach to average 276.5 yards per game on the ground and 7.8 yards per carry.
A pair of backs averaging over 12 yards per carry lead that attack.
Chandler Turner has rushed for a team-best 952 yards and 13 touchdowns on 79 carries (12.1 yards per carry), while Kaiden Powers, who had four touchdowns last week in three different ways (2 receiving, 1 rushing, 1 interception return) adds 577 yards and nine scores on 47 totes (12.3 yards per carry).
Cullen Williams (63 carries, 538 yards, 9 TDs, 8.5 YPC) and Eric Dodd (57 carries, 406 yards, 5 TDs, 7.1 YPC) also play key roles in the Karns City ground game.
Last week, the Gremlins rushed for 195 yards and three touchdowns despite facing, eight- and nine-man fronts from Perry all night.
"I was concerned when they brought everyone up (to the line)," Conto said. "But we picked up their people and did what we needed to do, and Jake threw the ball where he needed to throw it and things came together."
Jake is Karns City senior quarterback Jake King.
King has been strong for the Gremlins this season completing 54.7 percent (76 of 139) of his passes for 1,115 yards, 14 touchdowns and four picks in his first season as the full-time starter (he shared time with Williams last year). He was 6 of 10 for 152 yards and three scores in last week's win over Perry.
"One of the things we still need to do is get rid of the ball a little faster," Conto said. "We also need to pass protect a little longer."
King's favorite targets are familiar names to Gremlin fans, and the receiving corps is a lot like the running back corps – a by-committee approach.
Powers leads the way with 15 catches for 308 yards and five touchdowns, while Jimmy Thompson has a team-high 17 catches for 272 yards and four scores. Turner, who ran for a touchdown and caught a TD last week, chips in with 11 grabs for 276 yards and three touchdowns, while Williams has 12 catches for 188 yards and a score and Dodd 14 catches for 127 yards.
One thing that has Conto a little bit concerned is the 1 p.m. start time, an unusual starting time for the Gremlins, who have played all their games at 7 p.m. this year with all but last week's Thursday night contest being on Friday night. Hickory, meanwhile, has played two straight 1 p.m. Saturday games beating Slippery Rock and Sharon in the District 10 playoffs.
"I don't know you do about it," Conto said. "It's not about the preparation part. It's just more about your kids are used to playing nights. A lot of times when you play an afternoon game it's different. There is a little different feeling about it. I don't know why that is. I guess maybe because you see everything. It's not so focalized like a Friday night football game. I think the lights are on and the focus is right there. Afternoon games, everything's around you. You have to get used to that. I've found out over the year, we don't start out so well in some of those games like that. Hopefully, we can get there this week."
EXTRA POINTS
Hickory allows 13.8 points per game
Hornets head coach Bill Brest told the Sharon Herald last week this run of D10 championships is the most dominant stretch of football in Hickory history. And this from a program that won the 1989 PIAA 2A crown. "I don't know if this can be repeated for a long time with Hickory football," Brest told the Herald after the win over Sharon. "But we are just so happy with the guys and the coaches believing in the mission, the vision, the philosophy of the program. It's a real battle sometimes. But we truly believe in reaching full potential, focusing on that process. I think, just by our work-ethic as a program, I think that's why we're here, where we're at today."
Brest told Bob Greenburg of Sports Radio 96.7 FM and 790 AM WPIC in Hermitage this week that Karns City "is the best team they will face all year, including Wilmington." Hickory beat Wilmington 28-20 Oct. 14.
Karns City and Hickory played each other in 2010 and 2011 with Hickory winning 28-14 in 2010 and 42-20 in 2011.