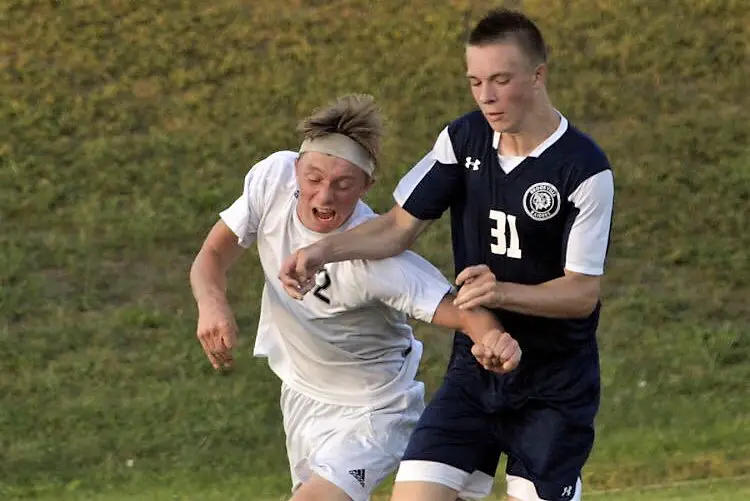 DUBOIS, Pa. – Tino Inzana's scored on a header off a direct kick from Zane Puhala with two minutes to play to lift District 9 champion Brockway to a 3-2 win over WPIAL third-place finisher Seton La Salle in the opening round of the PIAA Class 1A playoffs at DuBois' High School.
The Rovers trailed at the half, 1-0, but tied the game on a Hunter Allenbaugh goal that came after Devin Velez took a free kick.
The Rebels went back ahead 2-1, but Allenbaugh scored on a penalty kick with seven minutes left after Clayton Heckman was tripped in the box.
Brockway will take on WPIAL runner-up Springdale, a 2-0 winner over Windber, in the second round Saturday at a time and place to be determined.
CARDINAL WUERL NORTH CATHOLIC 5, PORT ALLEGANY 0
CORAOPOLIS, Pa. – Joe Kearney's hat trick lifted WPIAL champion Cardinal Wuerl North Catholic to a 5-0 win over District 9 runner-up Port Allegany in the opening round of the PIAA Class 1A soccer playoffs at Moon High School.
Ryan Augustine and Bryce Kopchak also scored for the Trojans.
QUAKER VALLEY 8, ST. MARYS 0
BROCKWAY, Pa. – WPIAL runner-up Quaker Valley had no trouble topping District 9 champion St. Marys, 8-0, in the opening round of the PIAA Class 2A playoffs at Brockway's Varischetti Field.
Frankie Fernandez had five goals for the winners.
WEST ALLEGHENY 7, DUBOIS 0
HYDE, Pa. – Evan Blunkosky's two goals and an assist lifted WPIAL runner-up West Allegheny to a 7-0 win over District 9 champion DuBois in the opening round of the PIAA Class 3A playoffs at Clearfield High School.
Also scoring for the Indians were Jacob Schiefelbein, Connor Blazer, Nate Graziani, Nathan Dragosich and Fletcher Amos.
DuBois had two shots on goal.