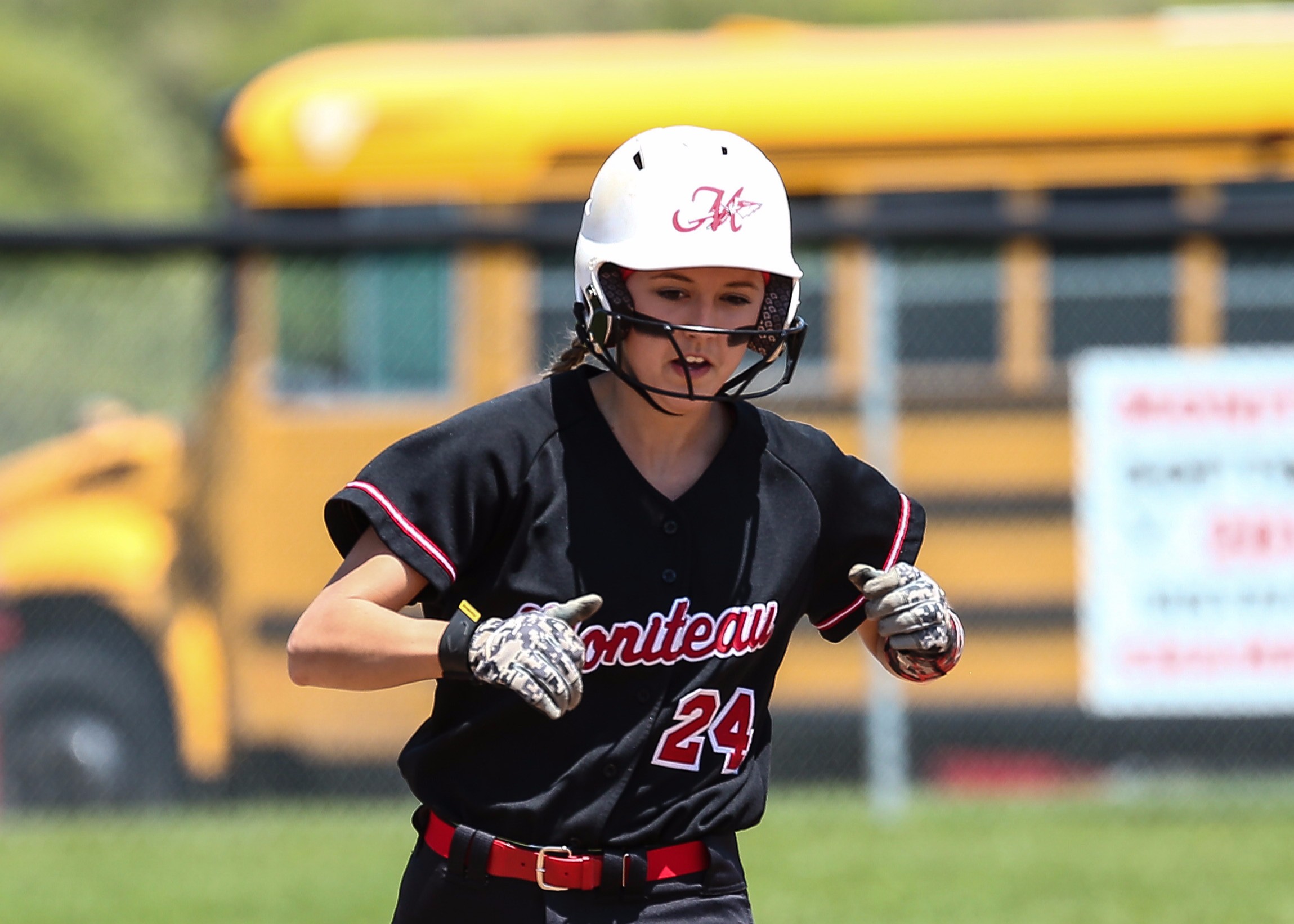 UNIVERSITY PARK, Pa. – The talk is over. The strategy is in the book. Now comes the fun.
(Cover photo of Cortney Claypoole by Mike Schnelle)
The Moniteau Lady Warriors are one win away from the PIAA Class AA softball title, which would be the first state title of any kind in school history.
All that stands in the way of Moniteau and everlasting glory is none other than the defending state champion Holy Redeemer Royals.
The two will meet – weather permitting – at 3 p.m. Thursday at Beard Field on the campus of Penn State University.
"I think we would be the underdog because they are the defending champs until someone knocks them off," Moniteau head coach Dan Beebe said. "It's going to be a great game."
Holy Redeemer, under the direction of Jerome Paulukonis, is 24-3 on the year and return seven starters from last year's title team that beat Deer Lakes, 10-5, for the championship.
"I was in the stands at that game last year," Beebe recalled. "Funny how things have changed. Instead of sitting there, I am now participating and coaching against basically the same team. They are a great team one through nine. They put the ball in play. They put a lot of pressure on Deer Lakes' defense last year and tested them more on defense than maybe they had been up to that game, and Deer Lakes' defense got exposed in that game."
Maybe the most important players back for Holy Redeemer are the Royals two pitchers, junior Kristen Coffay and sophomore Morgan Bienkowski.
Both pitchers threw in the title game last year with Bienkowski being the more effective of the two going five innings without allowing a run after Coffay started and gave up five runs in two innings.
The two have continued to split time in the circle this year with Coffay going 12-2 with a 1.32 ERA and Bienkowski 8-0 with a 0.46 ERA. Coffay has struck out 100 in 84 ⅔ innings of work, while Bienkowski has fanned 129 in 75 ⅓ innings. Neither walks many with both issuing 16 free passes. Opponents do hit Coffay better (.206 to .128).
"Pitching is where it starts," Beebe said. "Anytime you have a good pitcher, you have a chance to win. They have two really good pitchers. We have one dominant pitcher. The teams really match up well in that regard. It's going to come down to who takes care of the ball."
Dominant, at this point, might actually be an understatement for Moniteau junior hurdler Kennedy DeMatteis.
DeMatteis has a minuscule ERA of 0.72 while going 23-1 on the year with 235 strikeouts in 137 innings of work. Opponents are batting just .098 against her this season.
But that ERA is zero, yes you are reading that right, zero, since May 1.
In fact, Moniteau hasn't given up a run of any kind, earned or unearned, since suffering its only loss of the year, 5-4, to Philipsburg-Osceola April 30.
Since then, the DeMatteis has thrown 60 innings and has given up 10 hits and 19 walks while allowing two extra-base hits.
"Never did I expect it to be this good," Beebe said. "And that's not disrespect to Kennedy. Sometimes you just miss a pitch and a home run happens or you commit an error and a run scores. Even if you win 12-1 you still gave up a run. It's incredible. It's now something we strive to do. It's sort of a competition within the game for us. We want the shutout. If it doesn't happen, we have to find a way to get on the plus side and get the W. I never expected a run like this. We've kind of been spoiled. But I'm not going to complain about it. It's been an unreal ride. It's a run like I've never seen before."
Beebe said internally they don't look at the scoreless streak as an 11-game streak.
"Before the playoffs started, we played a pretty good Punxsutawney team in an exhibition game and they got some runs on us. It ended in a 3-3 tie. That game is obviously off the books, but internally we look at it as we started another streak. In the book, it's 11 games. In our minds, it's three games. That scrimmage vs. Punxsutawney went a long way for us."
With all the talk about pitching, it is sometimes easy to forget that Moniteau has a pretty good offense as well.
The Lady Warriors are hitting .479 as a team with a team OPS of 1.211, which, at least on paper, gives them an advantage over a Holy Redeemer squad that is hitting .332 as a team with an OPS of .868.
"Hopefully we can get Kennedy enough run support to get her some gold after this," Beebe said. "Because she will give it everything she's got."
Kennedy DeMatteis is actually one of the top offensive threats as well for Moniteau and is hitting .589 with 13 doubles, three triples, three home runs and 48 RBIs.
She is one of four Moniteau regulars hitting over .500 and one of five hitting at least .485.
Gabby Stewart, an all-around great athlete who was the James Manners Award winner in track and field for scoring the most points at the District 9 meet, is hitting a worldly .667 with a .690 on-base percentage. She has scored 44 runs out of the leadoff spot and stolen 27 bases.
Cortney Claypoole is a five-tool player. She is hitting .600 with 11 doubles, seven triples and a team-leading six home runs while also leading the team with 51 RBIs and 47 runs scored. She has also stolen 18 bases, and as the starting shortstop has committed just one error while fielding at a .974 clip.
Kristina DeMatteis, Kennedy's twin sister and catcher, bats .537 with 12 doubles, a triple, a home run and 26 RBIs, while third baseman Sara Hull comes in at .486 with 33 RBIs.
Holy Redeemer has three players hitting above .380 paced by freshman Tiana Wren, who is hitting .488 with a team-leading nine home runs, seven doubles, three triples and 38 RBIs.
Abigail Shorts is batting .389 with 17 RBIs, and another freshman, Allyson Laiuvara comes in at .382.
Bienkowski can also handle the bat hitting .345.
Beebe acknowledged that nerves will play a role Thursday.
"I think in a game like this at a stage like this they always do," Beebe said. "But it starts at the top, and it also has to come from me. I have to get them prepared. But I'm not the one making the plays. I'm going to be calm, and Kennedy is going to be calm. That should relax the rest of the girls."
Beebe has tried to prepare his team the best he can for this moment. From playing top-notch competition out of conference throughout the year to getting his players comfortable with playing at Penn State, he has taken steps over the last couple of years so that a moment like Thursday isn't too big for the Lady Warriors.
"We kind of know what we are getting into," Beebe said. "We went up Wednesday. We did a team dinner and went over to look at the field. Two years ago, we took a team trip to watch a Penn State-Nebraska softball game and get the lay of the land when a lot of these girls were freshman. We are going to do a little walk through. Take it in a little calm before the storm and smell the roses.
"We have played in front of big crowds this year, but this is going to be bigger. Nerves will be a factor, but in the end the game is still the game. You just take care of the ball and play your game and the best team will win at the end of seven innings."
Extra Bases
Eight of the 14 runs DeMatteis has given up this year came APril 30 with P-O scoring five times and Altoona three. She also gave up five runs in the season opener against Revere (Ohio). Other than that, the only run she allowed was a run to A-C Valley April 13.
In a great show of sportsmanship and respect for each other, Philipsburg-Osceola and Moniteau got together for a team photo with P-O wishing the Lady Warriors the best of luck.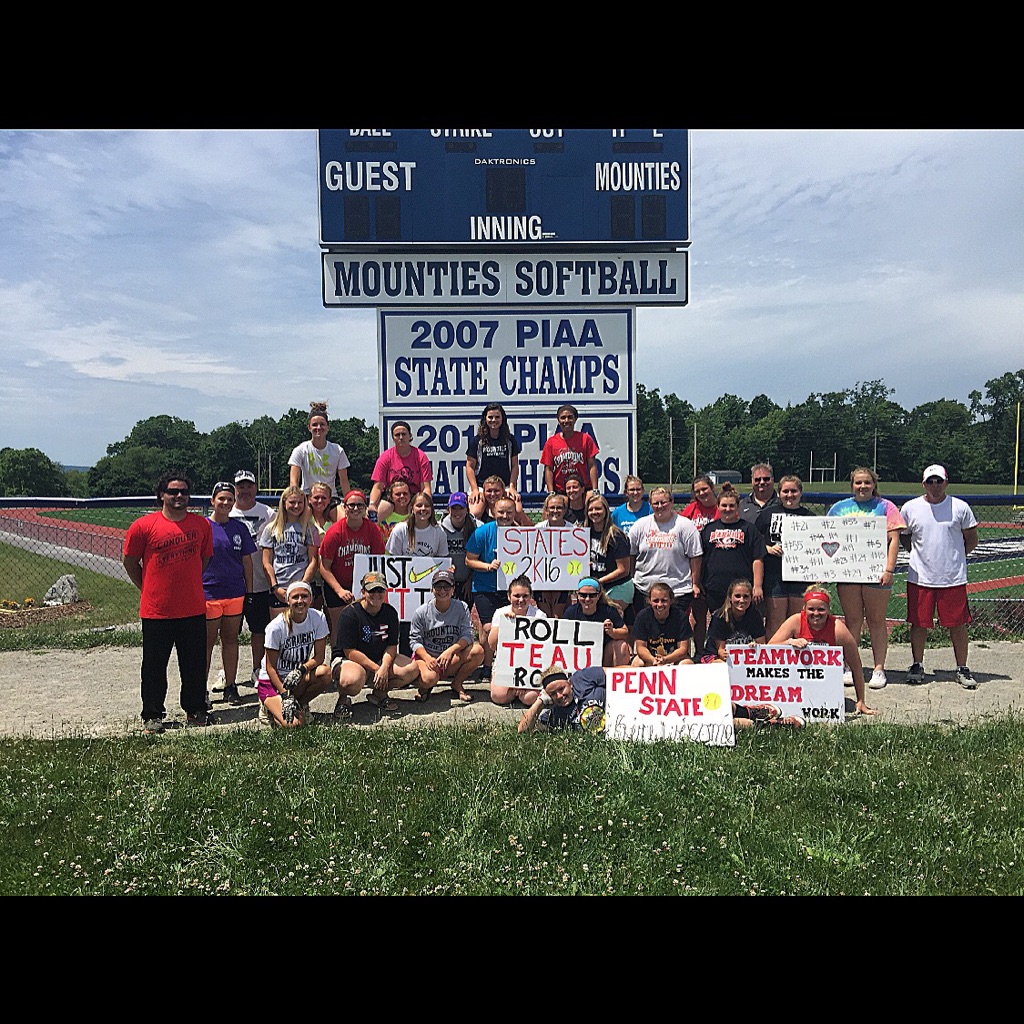 Moniteau is looking to become the fourth District 9 team to win a PIAA softball championship in the past 10 years but the first in Class AA. Curwensville won state titles in Class A in 2007 and 2009 and Elk County Catholic won the Class A crown last year. The Lady Warriors are the fifth District 9 team to reach a softball state championship game since 2007, as Clarion was the 2011 runner-up."We (District 9) can compete with the bigger schools from the WPIAL and other districts in baseball and softball," Beebe said. "It has shown in the past few years, especially in Class A, with teams getting there and winning it and again this year with DuBois Central Catholic (a Class A semifinal softball team) and us. It's not out of the question for District 9 team to make strong spring runs."
Never say ball players aren't superstitious. Moniteau's softball team took a charter bus to its opening round PIAA playoff game in 2015 to Everett and lost. The team then took a charter bus to Clarion University to play Karns City in the District 9 Class AA basketball title game this year and lost. So the players told Beebe, no more charter buses. Thus, the Lady Warriors made the trip to State College on a school bus."Lots of teams had charter buses at the state championship last year," Beebe said. "But one team that didn't was Elk County Catholic and they won the state title. You don't need a charter bus to win a state title."
Moniteau will be the home team per a memorandum from the PIAA
Probable Starting Lineups
(2-1) Holy Redeemer (24-3)
No.-Player-Pos.
5 Morgan Bienkowski SS/P
25 Allyson Laiuvard DP
15 Olivia Mennig 2B
11 Tina Wren CF
14 Brittany Hebda 3B
3 Kristen Coffay P/SS
20 Abigail Shorts C
18 Meghan Armstrong 1B
2 Samantha Raja LF
26 Randie Kuhar* RF
Manager: Jerome Paulukonis
9-1 Moniteau (24-1)
No. -Player-Pos.
21 Gabby Stewart RF
24 Cortney Claypoole SS
2 Kennedy DeMatteis P
5 Kristina DeMatteis C
55 Sara Hull 3B
22 Megan Hepler 1B
29 Alyssa Dailey 2B
1 Courtney Sowinski LF
11 Alazia Greaves CF
Manager: Dan Beebe
How they got here (Class AA Bracket)
Holy Redeemer
June 6 – Beat (4-1) Milton 7-3
June 9 – Beat (3-1) Kutztown 7-1
June 13 – Beat (11-1) Pine Grove 4-0
Moniteau
June 6 – Beat (5-1) Everett 6-0
June 9 – Beat (7-1) Ellwood City 11-0, 6 innings
June 13 – Beat (7-2) South Park 3-0