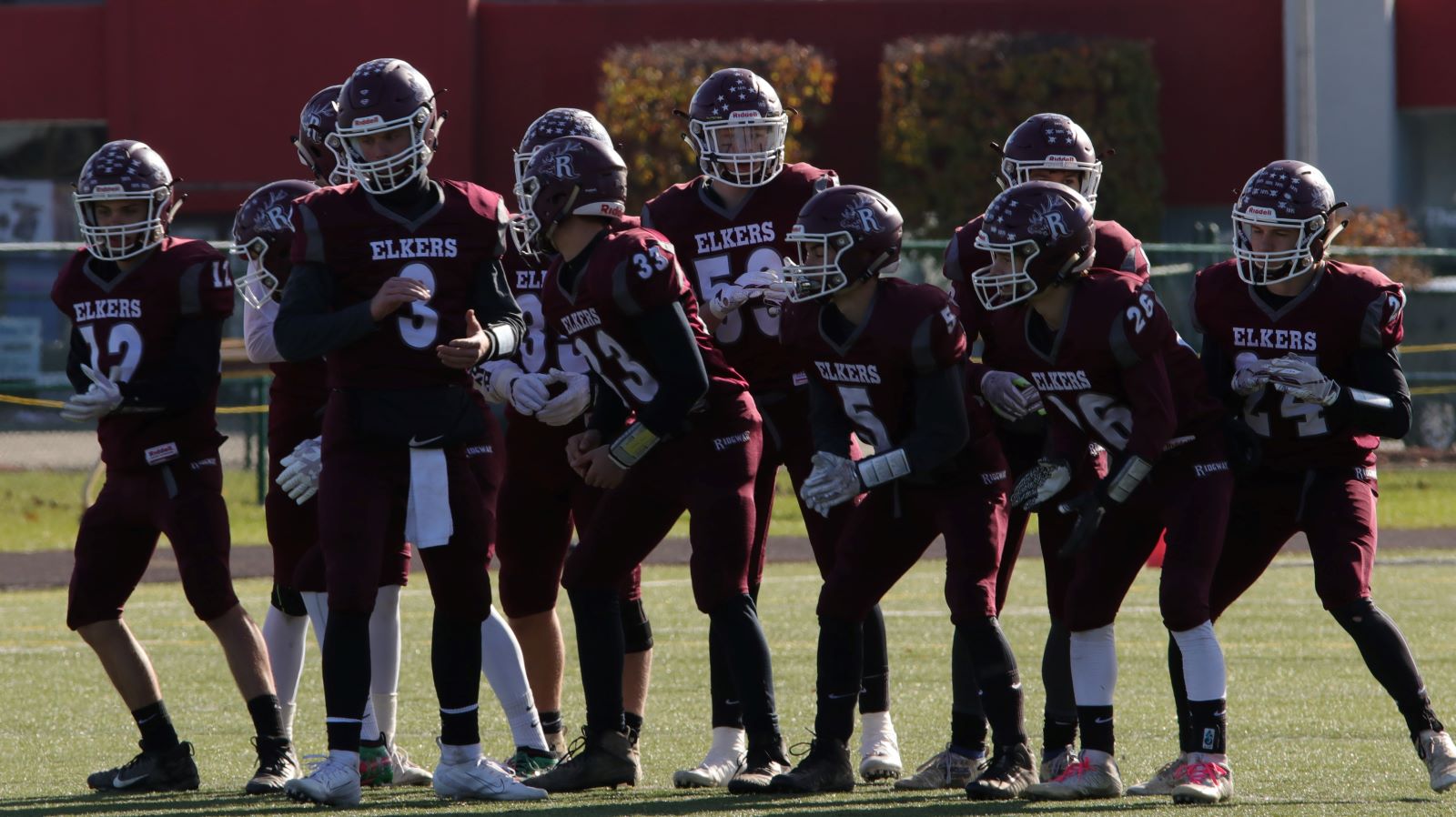 SLIPPERY ROCK, Pa. — Looking to break through the District 10 barrier that guards the PIAA Class 2A quarterfinal round, the Ridgway Elkers take another crack at Wilmington Friday night at Slippery Rock University with a 7 p.m. kickoff at Mihalik-Thompson Stadium.
(Photo: The Ridgway Elkers face Wilmington for the second straight year in the PIAA Class 2A quarterfinals Friday night at DuBois' E.J. Mansell Stadium. Photo by Jared Bakaysa of JB Graphics. See more of Bakaysa's work here)
The 11-1 Elkers meet the 11-0 Greyhounds for the second straight year.
Last year at Karns City High School the Greyhounds won in a 56-14 rout.
From there, the Greyhounds beat WPIAL champion Steel Valley 26-6 before losing to Southern Columbia 49-14 in the PIAA Championship game.
It was the same script in 2017 for Wilmington, which beat Clarion 33-6 and WPIAL champion Washington 49-42 before losing as well to powerful Southern Columbia. And in 2018, the Greyhounds routed D9 champion Kane 42-0 in the quarterfinals before a loss to Steel Valley in the semifinals.
Wilmington, which won the 2008 PIAA 2A title and also finished second in the state in 2A in 1988, is 7-1 all-time against D9 teams in the PIAA playoffs with its only loss coming to Brookville in a 23-14 decision back in 1994.
Ridgway, meanwhile, still seeks its first state playoff win. The Elkers lost to back-to-back Class 1A playoff games to Farrell, 36-0 in 2017 and 20-7 in 2016.
Wilmington has run the table thus far, outscoring foes by an average margin of 42.8 to 8.2 per game, turning in five shutouts including a 40-0 rout of defending Class 1A state champion Farrell in the second week of the season.
Last week, the Greyhounds won their state playoff opener in a 35-20 win over District 5's Chestnut Ridge.
Head coach Brandon Phillian, in his second season, lost some key players to graduation, including all but one starter on the offensive line, but it's the usual retooling for a long-time football power from District 10.
Wilmington's offense isn't quite as run-heavy as it's been in past seasons — 283 yards rushing per game compared to 113 yards passing on only 10 attempts per game. Juniors Darren Miller (151-1,215, 15 TDs) and Ethan Susen (85-676, 10 TDs in eight games) lead the running game along with junior quarterback Caelan Bender, who's rushed for 381 yards and 7 TDs while completing 60 of 108 passes for 1,222 yards. He's thrown for 19 touchdowns and zero interceptions. The Greyhounds have thrown just one interception all season, on Susen's only pass attempt.
Bender's top receiving target is senior tight end/split end Junior McConahy (34-673, 9 TDs).
The Elkers rallied from a 28-14 halftime deficit to beat Clarion 56-35 in last week's D9 Class 1A Championship game in DuBois. They racked up 469 yards of offense, improving on their average game output of 401 yards — 222 rushing and 179 passing.
Senior quarterback Paul Gresco has been on fire when it matters the most. In the last three games, two of them in the playoffs, he's completed 39 of 48 passes for 741 yards with nine touchdowns and no interceptions. For the season, he's completed 129 of 177 passes for 2,122 yards with 21 TDs and four interceptions.
He's had plenty of help of course as Jake Wickett (101-649, 12 TDs), Gabe Watts (88-595, 11 TDs), Matt Dush (63-559, 8 TDs) and Tyler Watts (63-463, 2 TDs) anchoring a balanced running game. Last week, Wickett ran for 106 yards on 16 carries.
Dush (39-680, 4 TDs) is Gresco's top receiver with Austin Green (35-614, 9 TDs) at nearly the same numbers.
Robert Briggs (129 tackles), Greg Simon (87 tackles), Gabe Watts (81 tackles, 14 sacks), Damon Kelley (79 tackles, 8.5 sacks) and Jake Cowan (5 interceptions, 3 vs. Clarion last week) anchor an Elkers defense that's helping the team outscore its foes by a margin of 41 to 12.7 points per game.
Friday's winner meets the WPIAL champion in next week's semifinals. Washington meets Avonworth on Saturday at Norwin High school starting at noon. On the other side of the bracket, it's defending state champion Southern Columbia vs. Upper Dauphin and Bishop McDevitt vs. Richland. Both of those games are Friday night.