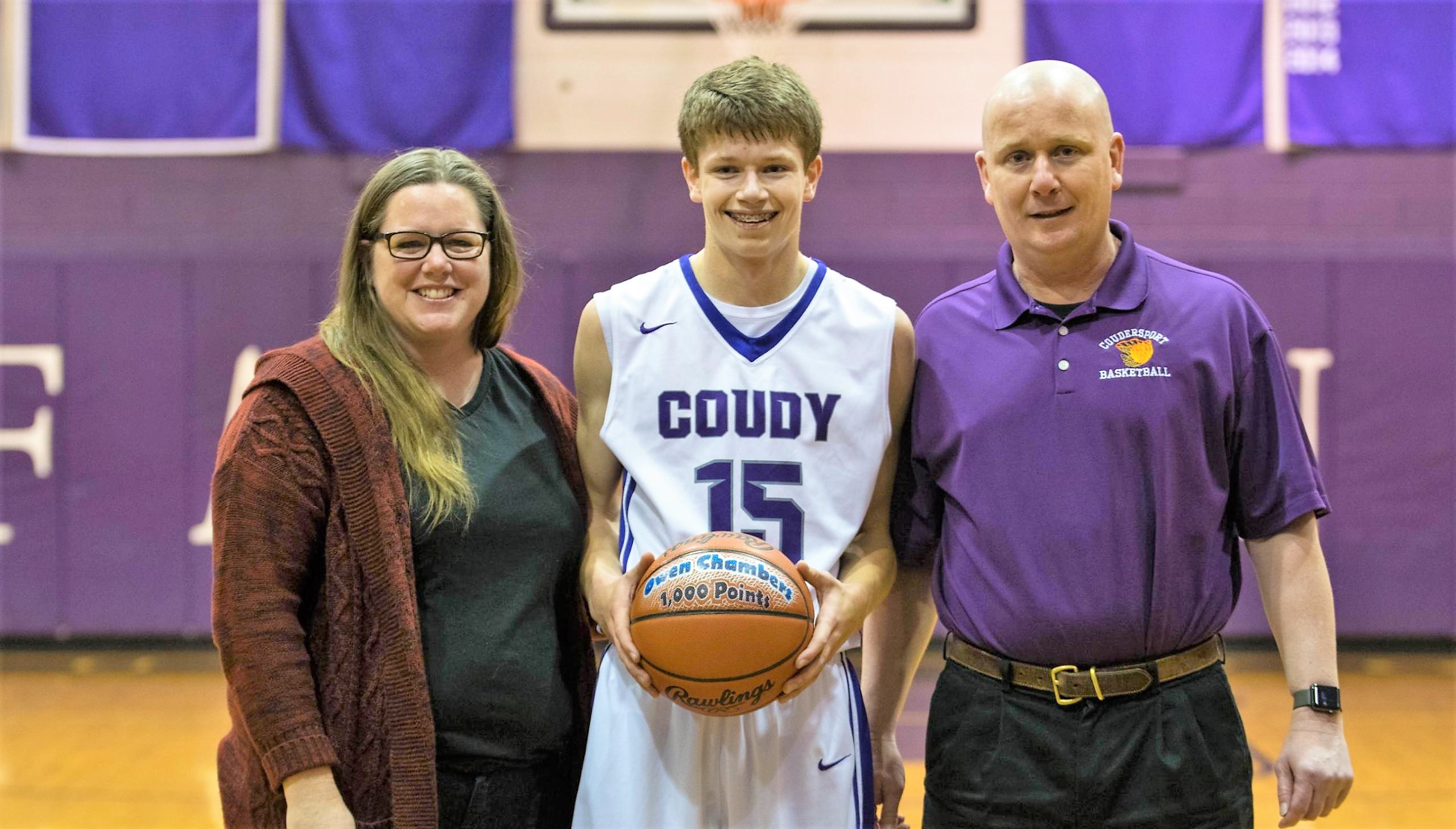 Jan. 10 recaps.
(Photo of Owen Chambers of Coudersport with his parents after scoring his 1,000th career point Wednesday. Photo by Taylor Green.)
COUDERSPORT 77, SMETHPORT 34
COUDERSPORT, Pa. – Owen Chambers exploded for 37 points including his 1,000th career points to lift Coudersport to a 77-34 win over visiting Smethport in North Tier League action.
Chambers needed 37 points coming into the night to reach the milestone and did so on his only basket of the fourth quarter. The junior had 19 points at halftime and then went off for 16 in the third quarter while hitting three third-quarter 3-pointers – he had five triples in the game.
While Chambers was the only Falcon in double digits, Hunter Ricke added eight points for Coudersport with Derek Keglovits chipping in seven.
Caleb Lutz paced Smethport with 15 points with Ian Woodruff adding 11.
OSWAYO VALLEY 51, AUSTIN 50
SHINGLEHOUSE, Pa. – Blake Burgett's shot at the horn for Austin rimmed in and out, and the visiting Panthers dropped a 51-50 North Tier League decision to Oswayo Valley.
The Green Wave missed a free throw with three seconds to play, and Dempsey Glover gathered the rebound for Austin. He then out letted to Jackson Glover who passed down court to Burgett, who nearly won the game for the Panthers.
The missed final shot allowed the home team to complete a comeback from down 10, 42-32, going to the fourth quarter.
In the fourth, Theo Henry exploded for 10 of his game-high 23 points for Oswayo Valley while Gavin Babcock added seven of his 14 points.
Burgett led Austin with 17 points with Dempsey Glover adding 15.
GALETON 56, PORT ALLEGANY 44
PORT ALLEGANY, Pa. – Behind a game-high 24 points from Evan Brooks, visiting Galeton claimed a 56-44 North Tier League win over Port Allegany.
Joel Griffen added 16 points for the Tigers with Isaiah Shoemaker adding 10.
Howie Stuckey had a team-best 21 points for Port Allegany with Jordan Card adding 11 tallies.
CAMERON COUNTY 64, OTTO-ELDRED 52
EMPORIUM, Pa. – Adam Shaffer knocked down seven shots, including a pair of 3-pointers, while scoring a game-high 21 points to give Cameron County a 64-52 home North Tier League win over Otto-Eldred.
Dino Brown added 15 points for the Red Raiders with Caden Beldin scoring 12 and Ty Bauer 10.
Dylan Close led Otto-Eldred with 14 points with Cole Sebastian adding 10 and Andrew Sheeler eight.
DUBOIS 65, ST. MARYS 61
MARYS, Pa. – Kenny Garvey, Alex Beers and Justin Manduley combined for 44 points, as visiting DuBois held off St. Marys, 65-61, in D9 League action.
Garvey led the Beavers, who led 50-40 going to the fourth quarter, with 16 points with Beers and Manduley each scoring 14. Jonathan Cruz and Chase Husted each chipped in with nine.
Nathan Schneider and Jared Groll scored 47 of St. Marys' 61 points with Schneider netting a game-high 25 points and Groll, who hit six 3-pointers, adding 22.
ELK COUNTY CATHOLIC 65, PUNXSUTAWNEY 51
PUNXSUTAWNEY, Pa. – Ryan Newton and Logan Hoffman both reached double digits to lift visiting Elk County Catholic to a 65-51 D9 League win over Punxsutawney.
Newton again led the Crusaders with 21 points with Hoffman adding 17.
Brandon Matthews paced a balanced Punxsutawney squad with 14 points, Kevin Constant added 12 tallies, Tyler Richardson 11 and Willie Hoover nine.
The game was tied at 24 at halftime before ECC outscored the CHucks, 24-5, in the third quarter.
CLEARFIELD 53, BALD EAGLE AREA 45
WINGATE, Pa. – Reese Wilson had a double-double with 16 points and 11 rebounds to lead Clearfield to a 53-45 Mountain League win at Bald Eagle Area.
The Bison took a 24-18 lead into the third quarter and outscored BEA 15-10 to take an 11-point lead into the final eight minutes. Taye Lynch and Jon Gates each added 10 points.
BROOKVILLE 63, SHEFFIELD 51
SHEFFIELD, Pa. – Aaron Park led a trio of double-figure scorers as Brookville notched a 63-51 win at Sheffield.
Park scored 15 of his 19 points in the second half while Brady Caylor and Trenton Gilhousen finished with 14 and 11 points respectively.
Cale Albaugh led Sheffield with 13 points.
BRADFORD 73, WELLSVILLE (N.Y.) 67
BRADFORD, Pa. – Deondre Terwilliger netted 21 points and Danny Manion had a double-double with 10 points and 11 rebounds to help Bradford to a 73-67 win over visiting Wellsville (N.Y.).
Tyler Gigliotti also had a solid game for the Owls with 18 points and seven assists with Donny Pattison adding 10 points.
Joe Tronetti had a game-high 32 points for Wellsville.
VENANGO CATHOLIC 49, TIDIOUTE CHARTER 32
OIL CITY, Pa. – Josh Puleo and Parker Slagle combined for 35 points to help Venango Catholic to a 49-32 win over visiting Tidioute Charter.
Puleo led the Vikings with 18 points with Slagle adding 17.
Jared Veasey had 16 points to pace Tidioute Charter.
FOREST AREA 63, REDBANK VALLEY 56
TIONESTA, Pa. – Seth Berlin had 29 points and 22 rebounds to give Forest Area its first win of the season and the first for first-year head coach Dan Miller, 63-56, over visiting Redbank Valley at West Forest High School.
Jared Kahle added 16 points and three steals with Dillon DiCorpo chipping in six points and seven steals for the Fires. Franklin Meals also had seven tallies.
Keaton Kahle paced Redbank Valley with 17 points with Ethan Hetrick adding 15 points and Nick Smith 12.
CLARION-LIMESTONE 77, UNION 46
STRATTANVILLE, Pa. – Ian Callen had a double-double and nearly had a quadruple-double with 23 points, 10 rebounds, eight assists and seven steals, as Clarion-Limestone rolled past visiting Union, 77-46.
Deion Deas added 21 points for the Lions with Christian Smith chipping in 18 tallies.
Lucas Bowser had a double-double for Union with 11 points and 11 rebounds, while Nolan Cumberland also scored 11 points.