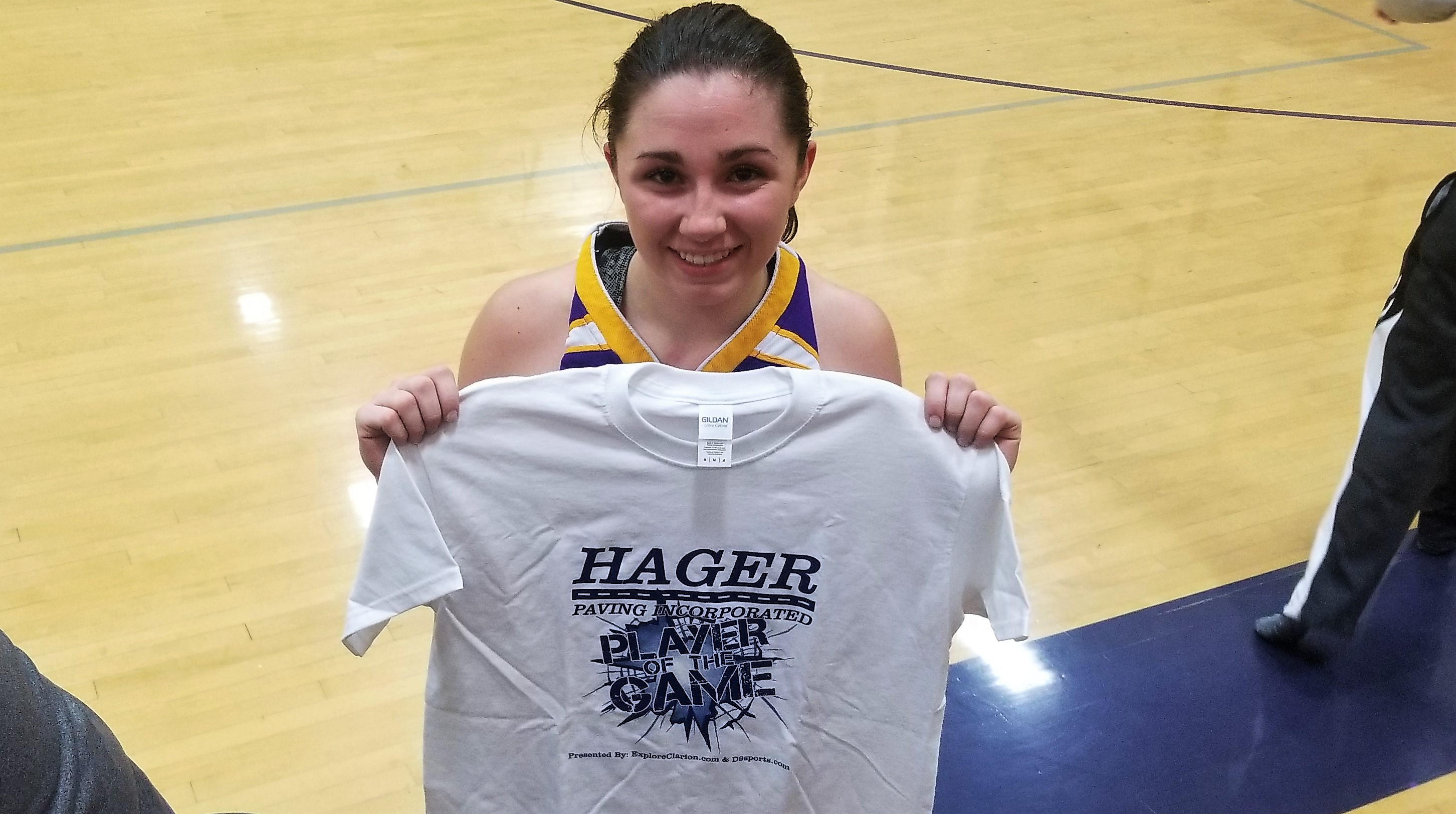 Jan. 10 recaps.
(Photo: Gabby Schmader, North Clarion)
NORTH CLARION 59, KARNS CITY 57
KARNS CITY, Pa. – Gabby Schmader exploded for a career-high 20 points, including 19 in the second half, as North Clarion rallied past Karns City, 59-57.
The She-Wolves, who led by three at halftime, 28-25, trailed by two, 45-43, going to the fourth quarter and got down 50-45 a minute into the final eight minutes.
But Schmader scored nine straight points, including a pair of 3-pointers, to put North Clarion up for good, 56-53, with 2:45 to play.
Schmader talked about the win.
Karns City twice cut the lead to one, 56-55 and 58-57, but couldn't take advantage of North Clarion going 1-for-6 from the free-throw line in the final 21.5 seconds. The She-Wolves grabbed three offensive rebounds off missed free throws in the final 11.5 seconds, though.
Rebounding was a big factor in the game with North Clarion out rebounding Karns City 44-36 including 25-11 on the offensive glass.
Tori Obenrader added 17 points and 12 rebounds for the She-Wolves with Mackenzie Bauer, all five-foot-one of her, recording a double-double as well with 11 points and 10 rebounds.
Emily Hegedus led all scorers with 30 points for Karns City and also had a double-double with 11 rebounds while adding five steals. Alyssa Stitt chipped in 13 points for the Lady Gremlins, including hitting three 3-pointers.
MONITEAU 69, CLARION 66
WEST SUNBURY, Pa. – Kristin Auvil and Izzy Bair combined for 49 points to help Moniteau hold off visiting Clarion, 69-66.
Auvil led the Lady Warriors, who led 31-25 at halftime but by only three, 48-45, going to the fourth quarter with 25 points with Bair completing a double-double with 24 points and 14 rebounds. Andie Arblaster chipped in 14 points for Moniteau, who played without leading scorer Emma Bair.
Wendy Beveridge and Kait Constantino each reached 20 points for Clarion with Beveridge leading the Lady Cats with 23 points, nine blocked shots and six assists. Constantino added 21 points and eight helpers with KK Girvan chipping in 13 points and seven rebounds and Ali Troese nine points and seven rebounds.
UNION 46, CLARION-LIMESTONE 44
RIMERSBURG, Pa. – Frankee Remmick scored 22 points to lead Union to a 46-44 win over visiting Clarion-Limestone.
Marli Hawk added 10 points for the Golden Damsels.
Morgan Clark led Union with 12 points with Anna Kennemuth adding nine points.
Union led by five in the fourth quarter before C-L closed the gap. But the Lady Lions missed a shot that would have tied the game late.
CRANBERRY 49, KEYSTONE 41
KNOX, Pa. – Malliah Schreck had 22 points and 14 rebounds to help Cranberry get some revenge for a loss over the Christmas holiday to Keystone with a 49-41 win on the road against the Lady Panthers.
Erin Merryman added 12 points and five steals for the Berries with Hannah Duncan chipping in nine tallies.
Taylor Geer paced Keystone with 19 points, and Emily Lauer added 10.
REDBANK VALLEY 56, FOREST AREA 37
TIONESTA, Pa. – Lexi Holt scored 14 points in her first game of the season, and visiting Redbank Valley knocked off Forest Area, 56-37, at West Forest High School.
Tara Hinderliter led the Lady Bulldogs with 18 points, and Kelsie Elmer chipped in 11.
Bianca Hetrick and Emily Everett each scored 10 points to lead the Fires.
WEST BRANCH 37, CURWENSVILLE 19
CURWENSVILLE, Pa. – Skylar Ceprish scored 20 points to lead visiting West Branch to a 37-19 win over Curwensville in Moshannon Valley League action.
Madi Weber led Curwensville with seven points.
PUNXSUTAWNEY 64, ELK COUNTY CATHOLIC 33
ST. MARYS, Pa. – Building a 27-point lead by the end of the third quarter, Punxsutawney ran away for a 64-33 D9 League win at Elk County Catholic.
The Lady Chucks led 30-16 by halftime, then outscored ECC 22-9 in the third quarter.
Kate Horner nailed five 3-pointers on her way to 23 points. Sarah Weaver scored 12 points and dished out seven assists, and Leah Miller filled the stat sheet with nine points, 10 rebounds, three blocks and five steals.
Taylor Newton led ECC with 14 points.
BROOKVILLE 58, BRADFORD 20
BROOKVILLE, Pa. – Outscoring visiting Bradford 50-10 through three quarters, Brookville turned in a 58-20 D9 League rout.
Only Marcy Schindler reached double-figure scoring for the Lady Raiders with 10 points, all of them coming in the first half. Morgan Johnson scored eight points.
Kate Huber scored 10 points for Bradford.