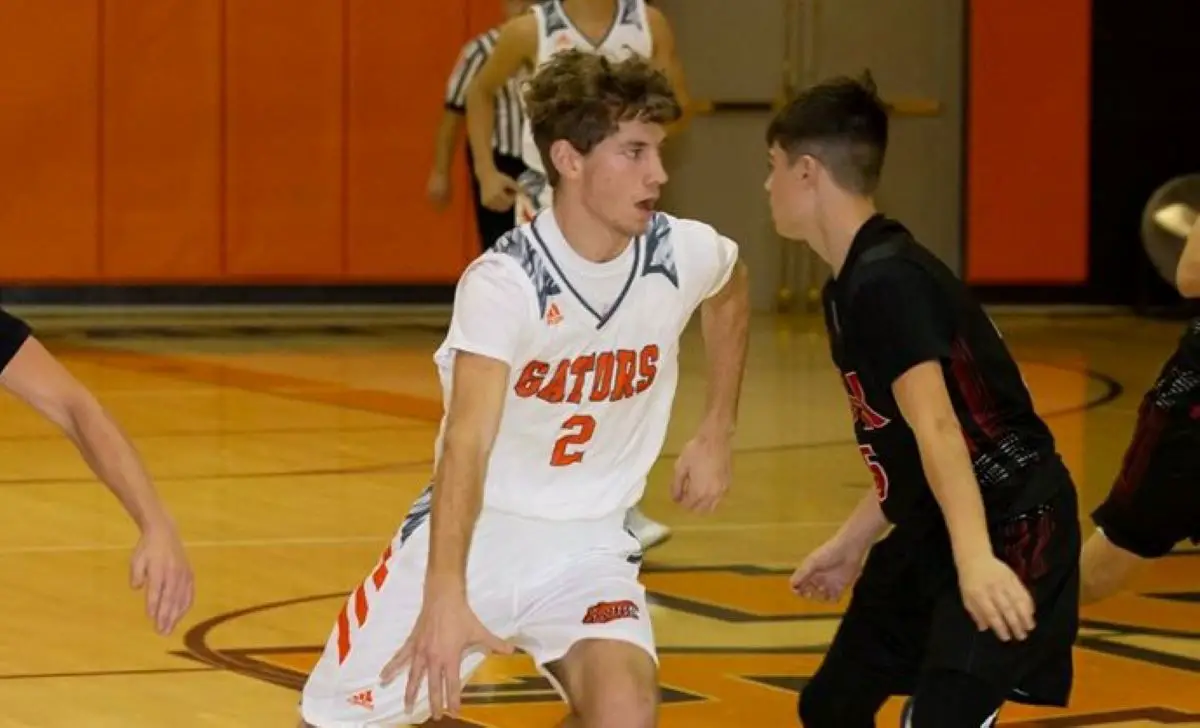 Jan. 10 boys' basketball recaps.
(Photo of Port Allegany's Howie Stuckey, who scored a career-high 45 points Friday night. Photo by Patrick Crants. See more of Crants work here.)
PORT ALLEGANY 65, GALETON 27
PORT ALLEGANY, Pa. – Howie Stuckey exploded for a career-high 45 points to lead Port Allegany to a 65-27 win over visiting Galeton in NTL action.
Stuckey drained eight 3-pointers, nine 2-pointers and was 3-for-4 from the free-throw line while putting in the second 40-point game of his career. His previous career high of 42 points came during the 2018 season against Austin. It was also the ninth time in his career he has scored at least 30 points, including the second this year.
Stuckey hit four 3-pointers in the first quarter alone while scoring 14 first-quarter points helping the Gators to a 24-2 lead after eight minutes.
By halftime, Stuckey had 25 points before scoring another 13 in the third quarter and seven in the fourth.
Jordan Card added nine points for Port Allegany.
Ty Stover, Hunter Crowell and Gavin Sykora each scored five points to lead Galeton.
JOHNSONBURG 40, RIDGWAY 32
RIDGWAY, Pa. – Austin Green led a balanced offensive attack as Johnsonburg outlasted Ridgway, 40-32.
Green had 11 points and scored his 1,000th point to lead the Rams offense. Garrett Gregori added 10 points with Eric Christoff and Gabe Watts each chipping in six.
Zack Zameroski paced the Elkers offense with 14 points. Alex Bon hit a pair of 3-pointers and finished with eight points.
REDBANK VALLEY 72, FOREST AREA 69
TIONESTA, Pa. – Redbank Valley held off a strong Forest Area comeback attempt in the fourth quarter to edge the homestanding Fires, 72-69, at West Forest.
The Bulldogs led by 13, 63-50, going to the fourth quarter only to watch Forest Area claw its way back into the game behind eight fourth-quarter points from Franklin Meals, who hit a pair of 3-pointers in the frame.
But Redbank Valley got just enough scoring, including four points from Owen Magagnotti, to hold off the comeback.
Bryson Bain and Magangonii each paced the Bulldogs with 19 points and were two of four Redbank Valley players in double digits.
Declan Fricko and Landon Pence each added 13 points in the win with Chris Marshall contributing eight.
Meals had a team-best 18 points for Forest Area while Jullian Gillenwater added 12 points and five assists. Noah Burke (10 points, 9 rebounds), Jacob Eddy (8 points, 8 rebounds) and Waylon Dashner (8 points, 11 rebounds) all just missed double-doubles for the Fires with Allen Johnson contributing 13 points.
KANE 57, DUBOIS CENTRAL CATHOLIC 40
KANE, Pa. – Chad Greville exploded for 22 points to help Kane defeat visiting DuBois Central Catholic, 57-40.
Carson Whiteman tallied 11 points for the Wolves. Mason Zuzek, Zuke Smith and Bryce Bizzak each had six points.
Jalen Kosko had nine points to pace the Cardinals offense in the loss. Ethan Kness netted seven while Dante Armani scored six.
ELK COUNTY CATHOLIC 56, ST. MARYS 43
ST. MARYS, Pa. – Fifteen points from Regis Wortman lifted Elk County Catholic over St. Marys, 56-43, in D9 League action.
Carter Lindemuth and Mark Kraus each added 12 points for the Crusaders.
Mitchell Reiter paced the Dutch with 13 tallies while Cahil Parrish netted 11.
BROOKVILLE 63, BRADFORD 41
BRADFORD, Pa. – Robert Keth led a balanced Brookville attack with 14 points to help the Raiders pick up a 63-41 D9 League road victory over Bradford.
Aaron Park added a double-double for Brookville with 13 points and 10 rebounds with Jace Miner also scoring 13 points.
Tyler Gigliotti led Bradford with 14 points with Gavin Piscitelli adding 12 and Cam Austin eight.
HARMONY 55, CURWENSVILLE 39
CURWENSVILLE, Pa. – Curtis Boring hit three 3-pointers and finished with 15 points to lead Harmony over Curwensville, 55-39, in Mo Valley League play.
Jay Westover added 12 points for the Owls. Jordan Schneider had eight tallies and Adam McGarvey chipped in seven.
Ty Terry paced the Tide with 13 points, including a pair of 3-pointers. Trevor Lansberry netted nine tallies while Adam Miller had eight.
CENTRAL-MARTINSBURG 51, CLEARFIELD 43
MARTINSBURG, Pa. – Jacob Eberlin netted 15 points as Central-Martinsburg rallied to defeat Clearfield, 51-43.
The Dragons trailed 27-21 at halftime but outscored the Bison 20-14 in the second half and allowed four fourth-quarter points.
Braden Kitt had nine points for the Dragons with Leyton Kling adding eight. Devon Boyles and Hunter Klotz each had six tallies.
Cade Walker had 15 points and grabbed seven rebounds to pace the Bison in the loss. Andrew Lopez chipped in 10 points and had six assists.
COUDERSPORT 60, AUSTIN 34
AUSTIN, Pa. – Thirty-seven combined points from Hayden Keck and Kolby VanWhy earned Coudersport a 60-34 road victory over Austin.
Keck led the Falcons offense with 19 points, including three 3-pointers and grabbed eight rebounds while VanWhy netted 18 points with eight rebounds. Dillon Keglovits added eight points with Derek Easton chipping in seven.
Jackson Glover scored 11 points and grabbed eight rebounds in the loss for the Panthers. Parker Glover added eight tallies and Caden Rees had six.
SMETHPORT 42, OTTO-ELDRED 40
DUKE CENTER, Pa. – Layne Shall's runner with 1.1 seconds left lifted visiting Smethport to a 42-40 win over Otto-Eldred in NTL action.
Shall's shot helped Smethport held off a fourth-quarter comeback attempt by Otto-Eldred, which trailed 31-23 going to the final eight minutes but rallied to tie the game at 40 behind 13 fourth-quarter points by Jake Merry, who hit three of his four 3-pointers in the quarter.
Merry finished with a game-high 18 points for Otto-Eldred while Shall and Richie McDowell led a balanced Smethport attack with 10 points each.
Also for the Hubbers, Conner Alfieri scored eight points and Noah Lent and Hunter Heasley added seven ach.
For the Terrors, Cole Sebastian chipped in nine points and Gavin Jimmerson scored seven.
CAMERON COUNTY 71, OSWAYO VALLEY 46
EMPORIUM, Pa. – Dino Brown and Caden Beldin combined for 57 points to help Cameron County defeat visiting Oswayo Valley, 71-46, in NTL play.
Brown led the Red Raiders with a game-high 31 points with Beldin adding 26 tallies.
Noah Wichert netted 15 tallies while Cayden Black chipped in 14 in the loss for Oswayo Valley.
CLARION 83, VENANGO CATHOLIC 29
CLARION, Pa. – Cal German led an explosive offensive as Clarion handled visiting Venango Catholic, 82-29.
German led the Bobcats offense with a game-high 25 points while grabbing eight rebounds. Nick Frederick scored 17 points, including a pair of 3-pointers with Skylar Rhodes netting 14 points grabbing nine rebounds. Christian Simko chipped in 11 points and Hunter Craddock had 10 boards with six points.
Andrew Burda had 14 points to pace the Vikings offense.
KARNS CITY 51, NORTH CLARION 40
KARNS CITY, Pa. – A jaw injury didn't keep Chase Beighley and Karns City down.
After injuring his jaw in Wednesday's loss to Union, Beighley was right back on the court Friday scoring 28 points to go with seven rebounds and five assists to lead the Gremlins past visiting North Clarion, 51-40.
Beighley hit three 3-pointers and went 7-for-8 at the line to lead the Gremlins offense. Nathan Waltman added nine tallies and 10 rebounds in the win and Caiden Corbett chipped in six.
Devon Walters knocked down four 3-pointers and finished with a team-high 12 points to pace the Wolves, who led 16-3 early. Matson Higgins added 10 tallies.
A-C VALLEY 55, CRANBERRY 50
SENECA, Pa. – Eddie Stravanus had a double-double with 16 points and 12 rebounds as A-C Valley held on to defeat Cranberry, 55-50.
Broc Weigle had 11 points for the Falcons while Eli Penny chipped in 10. Levi Orton grabbed 11 rebounds and had nine points with four steals.
Matt McQuaide had a game-high 18 points to pace the Berries in the loss while JT Stahlman added 11 tallies.
KEYSTONE 74, UNION 39
KNOX, Pa. – Troy Johnson and Colin Say each had 15 points to help Keystone defeat visiting Union, 74-39.
Andrew Lauer had a double-double with 11 points and 10 rebounds for the Panthers. Marc Rearock had 10 points while Alex Rapp had three points and five assists.
Truman Vereb paced the Knights with 13 points. Karter Vogle had seven tallies and Caiden Rainey chipped in six.
CLARION-LIMESTONE 71, MONITEAU 51
WEST SUNBURY, Pa. – Deion Deas hit four 3-pointers and scored a game-high 28 points, as Clarion-Limestone rebounded from Tuesday's loss to Keystone to blast Moniteau, 71-51, on the road.
Deas added eight rebounds, six assists and two steals
Hayden Callen had a double-double for the Lions with 18 points and 10 rebounds while adding eight assists, three steals and three blocked shots, and Mitch Knepp a career-high-tying 14 points to go with nine rebounds.
Ethan McDeavitt paced Moniteau with 17 points and nine rebounds. Gage Neal had 10 points and eight rebounds and Kyle Pry also scored 10 points.