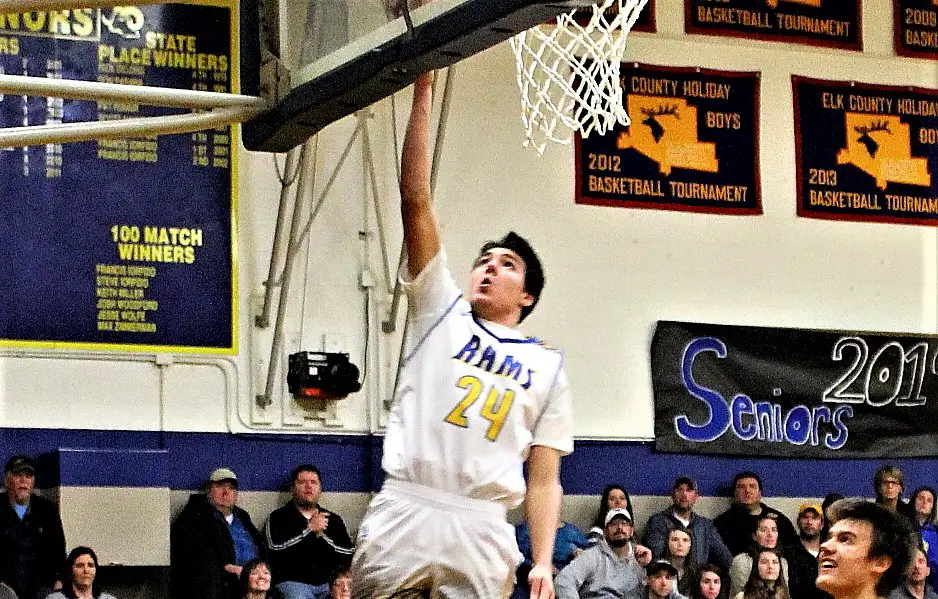 Jan. 11 boys' recaps.
(Austin Green scored 15 points and had two key overtime steals to help Johnsonburg beat Ridgway Friday night. Photo by Rich Quiggle)
JOHNSONBURG 37, RIDGWAY 31, OVERTIME
JOHNSONBURG, Pa. – Strong play from Austin Green in overtime helped Johnsonburg knock off visiting rival Ridgway, 37-31, in AML action.
Ridgway rallied from a 29-24 deficit with just over three minutes to play in regulation to force overtime with the game tied at 29.
The Elkers then won the tip to start the extra session and went into a spread offense taking nearly two minutes off the clock before Green got a steal and fed Isaac Schloder who was fouled trying a layup. Schloder hit both free throws to put the Rams ahead for good, 31-29.
Green then came up with another steal and this time drove to the hoop himself to make it 33-29, and Johnsonburg hit just enough free throws, 4 of 10, to put the game away.
Down five late in regulation, Ridgway got back in the game when Parker Rohr hit a 3-pointer with 3:06 left to cut the lead to 2:47. Will Thompson then tied the game at 29 on an offensive rebound and bucket with 2:47 to play.
The Elkers got the ball back with 2:12 left and stalled before taking a timeout with four seconds to play in regulation. Out of the time out, Jake Reynolds attempted a 3-pointer, but his shot was off the mark sending the game to overtime.
Green led Johnsonburg with 15 points with Schloder adding 12.
Thompson paced Ridgway with 10 points with Daunte Allegretto adding nine.
NORTH CLARION 74, KARNS CITY 51
KARNS CITY, Pa. – In a matchup of KSAC division leaders, North Clarion got hot from the outside on its way to a 74-51 win at Karns City.
Relisten to the game:
The Wolves hit 11 3-pointers led by six from Korey Mills, who scored a game-high 24 points to go with five rebounds, a steal and a blocked shot.
Mills talked about the victory.
Tyler McCord-Wolbert added three 3-pointers and finished with a double-double of 17 points and 10 rebounds in the win, while Sam Minich chipped in eight points, 10 assists, three rebounds, two steals and two blocked shots. Logan Minich added seven points and four assists and Kyle Mills had eight points and nine rebounds.
Chase Beighley paced Karns City with 19 points and five rebounds. Nathan Waltman added 16 points and seven rebounds and Austin Fahlor had seven points and six rebounds despite fouling out late in the third quarter.
ELK COUNTY CATHOLIC 45, ST. MARYS 35
ST. MARYS, Pa. – Alex Breindel had a team-high 10 points to lead Elk County Catholic to a 45-35 road victory over St. Marys in D9 League action.
Will Uberti and Regis Wortman also contributed to the Crusader offense with Uberti scoring nine points and Wortman seven.
Cahil Parrish paced Saint Marys with 10 points.
GALETON 70, AUSTIN 52
AUSTIN, Pa. – Joe Griffen and Evan Brooks both recorded double-doubles to lead Galeton to a 70-52 road NTL win over Austin.
Griffen and Brooks combined for 45 points in the win with Brooks netting 24 and Griffen 19. Isaiah Shuemaker chipped in 16 for the Tigers.
Jackson Glover had a team-high 18 points, Blake Burgett tallied 17 and Dempsey Glover chipped in for 14.
CLARION-LIMESTONE 67, UNION 44
RIMERSBURG, Pa. – Deion Deas had a game-high 19 points to lead visiting Clarion-Limestone over Union, 67-44.
Ian Callen, in his first game of the year, added 16 points and eight rebounds for the Lions with Curvin Goheer netting 10 points. Hayden Callen tallied 16 rebounds to go along with nine points and Julian Laugand had six assists.
Karter Vogle paced Union with a team-high 11 points, Caiden Rainey scored nine tallies and Luke Bowser and Quintin Weaver each chipped in eight points. Bowser added nine rebounds and Weaver eight.
SMETHPORT 55, PORT ALLEGANY 27
SMETHPORT, Pa.- Ian Woodruff and Eric Szarowicz combined for 22 points to lead Smethport to a 55-27 victory over visiting Port Allegany in NTL action.
Woodruff had a team-high 12 points while Szarowicz had 10. Noah Costa also chipped in nine points for the Hubbers.
Collin Smith paced Port Allegany with 12 points. Howie Stuckey did not play in this game for the Gators.
PUNXSUTAWNEY 64, MARION CENTER 52
MARION CENTER, Pa. – Carter Newcome and Ethan Blose went off for a combined 33 points to help visiting Punxsutawney defeat Marion Center, 64-52.
Newcome netted 17 points for the Chucks and Blose added 16. Daren Byers chipped in for 13 and Micah Kriebel added 10.
Marcus Badzik had a team-high 16 points to pace Marion Center.
DUBOIS CENTRAL CATHOLIC 50, KANE 42
DUBOIS, Pa. – Justin Miknis exploded for 24 points to help DuBois Central Catholic defeat visiting Kane, 50-42 in AML play.
Peter Downer added 13 tallies for the Cardinals.
Carson Whiteman and Alex Rezzelle paced Kane with 14 points apiece.
CAMERON COUNTY 66, BROCKWAY 54
EMPORIUM, Pa.- Jake Walters had a game-high 27 points to guide Cameron County to a 66-54 win over Brockway Friday night.
Walters hit nothing but the bottom of the net the entire game shooting 12 of 12 from field-goal range. Matt Swartz and Marcus Brown each had 12 tallies themselves for the Red Raiders.
Brockway also had a balanced offensive attack with Alec Fremmer scoring 19 points, Zane Puhala netting 12 and Jon Wood adding 10.
BROOKVILLE 54, BRADFORD 49
BROOKVILLE, Pa. – Trenton Gilhousen scored seven of his 10 points in the fourth quarter as Brookville finally found separation from visiting Bradford in a 54-49 D9 League victory.
The teams mirrored each other through three quarters with each scoring nine first-quarter points, 14 second-quarter points and 12 third-quarter points before the Raiders were able to secure the victory with a 19-point fourth quarter.
Logan Byerly led Brookville with 12 points with David Cable chipping in 11.
Tyler Gigliotti had a game-high 24 points for Bradford while adding four assists and three steals. Gavin Babcock added 15 points and five rebounds for the Owls with Donnie Pattison chipping in five points and six boards.
CENTRAL-MARTINSBURG 53, CLEARFIELD 44
HYDE, Pa. – Hunter Klotz scored 12 of his game-high 23 points in the third quarter to help visiting Central-Martinsburg erase a four-point halftime deficit on its way to a 53-44 Mountain League win over Clearfield.
Clearfield led 20-16 at the break but behind Klotz, the Dragons outscored the Bison 19-9 in the third quarter and 37-24 in the second half.
Braden Kitt added 12 of his 14 points in the second half for Central-Martinsburg.
Karson Rumsky paced Clearfield with 21 points and six rebounds. Cade Walker added 16 points and six boards for the Bison with Andrew Lopez chipping in seven points, six rebounds, four assists and two steals.
COUDERSPORT 99, OSWAYO VALLEY 16
COUDERSPORT, Pa. – Owen Chambers scored 18 of his game-high 25 points in the first quarter, as Coudersport rolled past visiting Oswayo Valley, 99-16.
Behind Chambers, the Falcons led 35-8 at the end of the first quarter and extended the lead to 46-11 by halftime. They then outscored the Green Waver 43-5 in the second half.
Hayden Keck added 19 points for Coudersport, which saw all 11 players who dressed scored. Kolby VanWhy chipped in nine tallies, Dillon Keglovits eight and Dalton Keglovits and Matt Daniels seven apiece.
Camden Graves and Gunner Bean each netted four points for Oswayo Valley.
OTTO-ELDRED 73, NORTHERN POTTER 43
DUKE CENTER, Pa. – Andrew Sheeler had 20 points, nine rebounds and four steals to lead Otto-Eldred to a 73-43 home NTL win over Northern Potter.
Braden Maholic added 14 points, Cole Sebastian 11 and Cameron Grigsby seven points and 12 rebounds for the Terrors.
Carter Anderson had 20 points for Northern Potter.
A-C VALLEY 79, VENANGO CATHOLIC 60
FOXBURG, Pa. – Levi Orton continued his hot hand scoring 37 points and hauling down 15 rebounds in a 79-60 win over visiting Venango Catholic.
It was the fourth time in the past five games Orton has scored at least 30 points, and he is averaging 33.8 points per game over that stretch.
Cole Dehart added nine points and Austin Cratty eight for the Falcons.
Ben Gillispie netted 23 points to lead Venango Catholic with Andrew Burda adding 18 and Parker Slagle 11.
REDBANK VALLEY 75, FOREST AREA 36
NEW BETHLEHEM, Pa. – Keaton Kahle led a foursome of Redbank Valley players in double digits with 22 points as the Bulldogs rolled past visiting Forest Area, 75-36.
Chris Marshall added 15 points for Redbank Valley with Nick Smith adding 12 and Declan Fricker 10.
Luke Cussins paced Forest Area with eight points with Noah Burke and Jonah Spunk each adding seven.