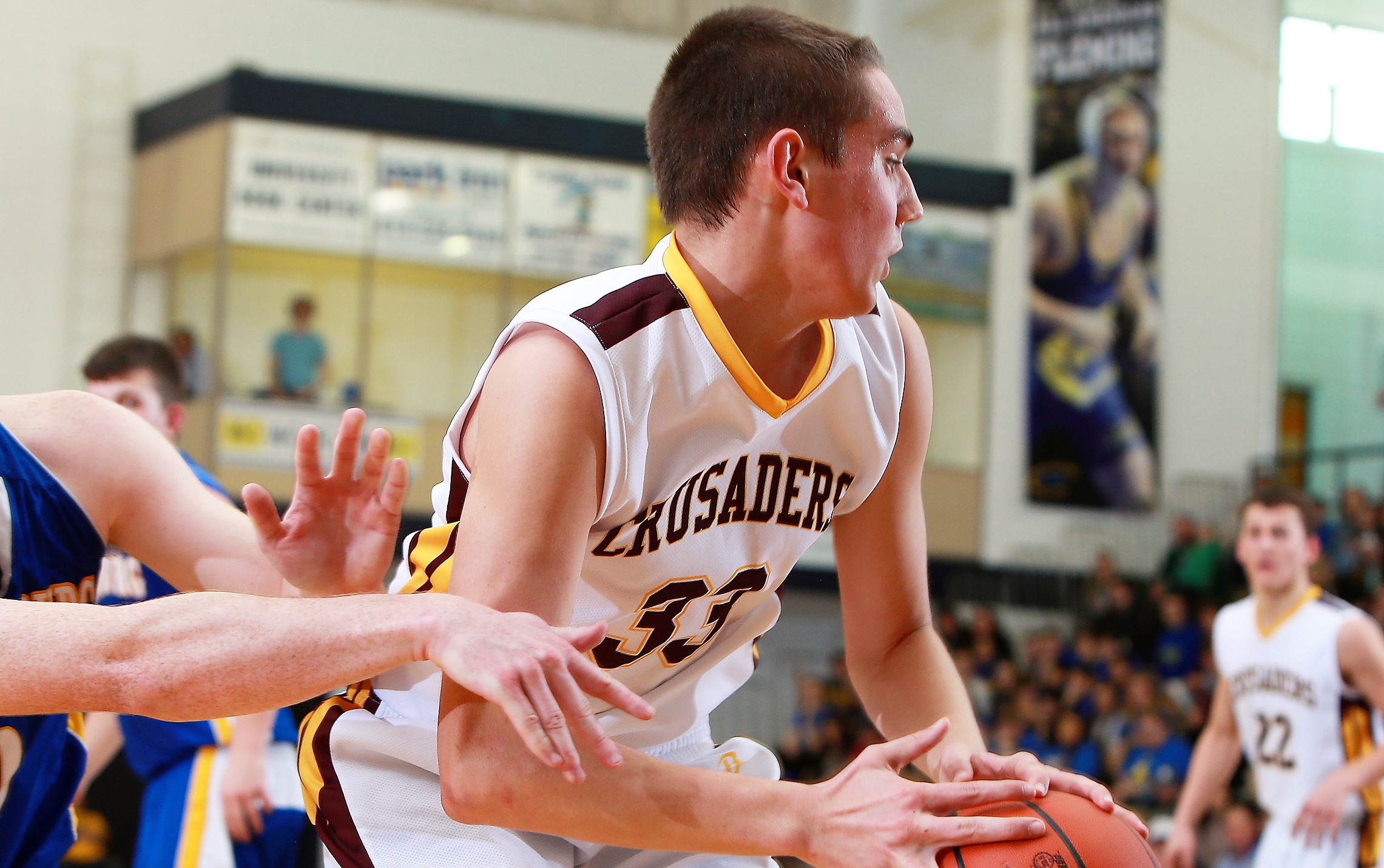 Jan. 12 recaps.
(Photo: ECC's Ryan Newton forced overtime with a late 3-pointer and scored 24 points to lead the Crusaders past St. Marys Friday night. Photo by Paul Burdick. Check out more of Burdick's work here)
BOYS
ELK COUNTY CATHOLIC 60, ST. MARYS 56, OVERTIME
ST. MARYS, Pa. – Ryan Newton hit a late 3-pointer to force overtime and then scored four of Elk County Catholic's nine points in the extra session to help the Crusaders rally past visiting St. Marys, 60-56, in D9 League action.
ECC trailed by 10, 42-32, going to the fourth quarter but rallied to tie the game at 51 at the end of regulation thanks in part to three 3-pointers in the fourth quarter – one each from Logan Hoffman, Newton and Alex Breindel with Brady Schneider adding six points in the quarter and Newton five,
Newton led ECC with 24 points with Brady Schneider scoring nine and Breindel and Leo Gregory eight each.
St. Marys, which broke a 25-all halftime tie by outscoring ECC 16-7 in the third quarter, got a game-high 26 points from Nathan Schneider with Cahil Parrish adding 12 points on three 3-pointers and three free throws.
CLEARFIELD 40, PENNS VALLEY 28
HYDE, Pa. – Reese Wilson scored a game-high 17 points to lead Clearfield past visiting Penns Valley, 40-28, in Mountain League action.
Cade Walker added nine points for the Bison with Ryan Chew chipping in with eight.
Cameron Shaffer paced Penns Valley with 10 points.
GIRLS
PENNS VALLEY 53, CLEARFIELD 30
SPRING MILLS, Pa. – Hannah Montminx scored a game-high 23 points, all in the first three quarters, to help Penns Valley to a 53-30 home Mountain League win over Clearfield.
Peyton Homan chipped in seven tallies for the Lady Rams.
Nicollette Brossard scored 10 points to pace Clearfield with Brooke Cline adding eight tallies.