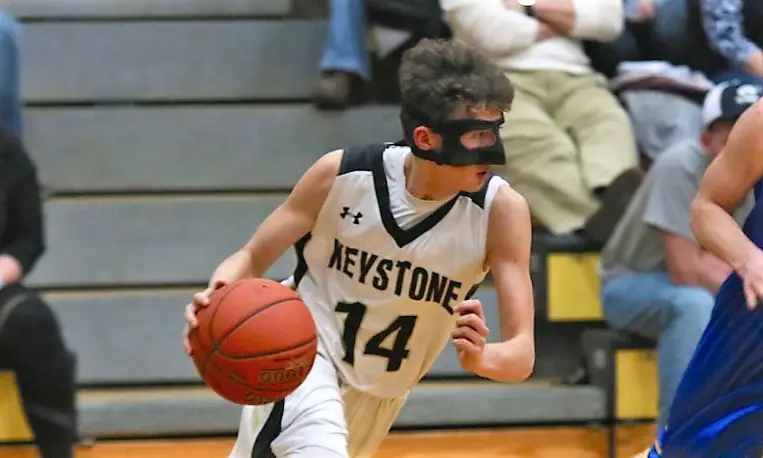 Jan. 12 boys' and girls' basketball recaps.
(Photo of Keystone's Dawson Steele, who had 14 points in the Panthers overtime win over Clarion Saturday. Photo by Mary Rearick)
BOYS
KEYSTONE 62, CLARION 58, OVERTIME
KNOX, Pa. – Isaak Jones scored four of Keystone's five overtime points, as the Panthers rallied past visiting Clarion 62-58.
The Panthers trailed 24-19 at halftime but took a 43-40 lead at the end of three quarters thanks to six points each from Troy Johnson and Jones.
But Clarion rallied back outscoring Keystone, 17-14, in the fourth quarter to force overtime.
Archer Mills' two free throws for the Bobcats tied the game at 57, and each team had a chance to win in the final minute of regulation. But Clarion turned the ball over and Keystone missed a shot with under two seconds to play.
Jones was one of three Keystone players in double digits with 16 points. Dawson Steele added 14 points with Andrew Lauer scoring 12. Johnson also added nine tallies for the Panthers.
Nick Frederick led Clarion with 19 points with Cal German adding 17 and Josh Craig 10.
SHEFFIELD 80, OSWAYO VALLEY 45
SHEFFIELD, Pa. – Tyler Hepinger exploded for 33 points to lead Sheffield past visiting Oswayo Valley, 80-45.
Jakob Vinopal had a double-double for the Wolverines, who secured their first win of the season, with 10 points and 12 rebounds while adding seven assists. Tony Richards also scored 12 points for Sheffield.
Conner Stedman paced Oswayo Valley with 14 points with Gunner Bean adding 11.
DUBOIS 62, WARREN 48
WARREN, Pa. – Chase Husted went off for 26 points as visiting DuBois toppled Warren, 62-48.
Alex Beers added 11 points for the Beavers with Jonathan Cruz chipping in 10.
Jake Kupchella led Warren with 11 points and Mitchell Grosch added 10.
GIRLS
CLARION 59, KEYSTONE 29
KNOX, Pa. – Behind 23 points from KK Girvan Clarion knocked off shorthanded Keystone 59-29.
Kait Constantino added 12 points for the Lady Cats.
Danae Hurrelbrink paced Keystone, which played its second straight game without leading scorer Emily Lauer (injury), with eight points. Jozee Weaver and McKenzie Hovis each added seven points.
ST. MARYS 37, ELK COUNTY CATHOLIC 28
ST. MARYS, Pa. – Megan Quesenberry led a balanced St. Marys attack with 11 points, as the visiting Lady Dutch topped crosstown rival Elk County Catholic, 37-28, in D9 League action.
Lauren Eckert added nine points for the St. Marys with Kyla Johnson scoring eight.
Taylor Newton had 16 points and 10 rebounds for ECC, which got as close as four with three minutes to play. Sady VanAlstine added seven tallies for the Lady Crusaders.