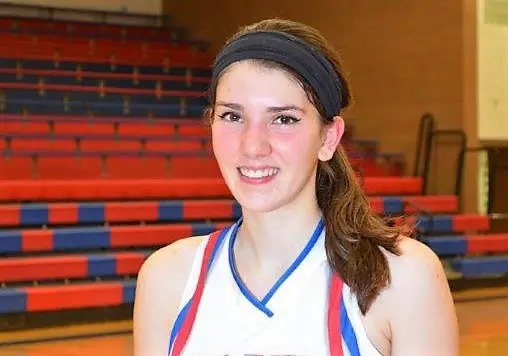 Jan. 12 girls' and boys' basketball recaps.
(Cover photo of St. Marys' Rachelle Armanini, who had 19 points in the Lady Dutch victory over DuBois)
GIRLS
ST. MARYS 38, DUBOIS 36
ST. MARYS, Pa. – Rachelle Armanini scored 19 points, and St. Marys without a late-second 3-point attempt by DuBois' Chelsea DeSalve in pulling out a 38-36 D9 League victory.
Armanini teamed up with Megan Quesenberry to score 10 of St. Marys' 12 fourth-quarter points, and the Lady Dutch watched a DeSalve contested 3-pointer from the corner fall short in the getting the win.
Quesenberry scored five of her eight points in the fourth quarter, as St. Marys held on after taking a 26-23 lead to the fourth built on the strength of a 6-3 third-quarter advantage.
Ashley Hallowell turned in another monster game for DuBois with 20 points and 19 rebounds. But for the first three quarters she was pretty much the entire Lady Beavers offense scoring 16 of the team's 23 points going into the fourth quarter.
DeSalve came alive in the fourth netting five of her 12 points in the frame.
COUDERSPORT 62, AUSTIN 11
AUSTIN, Pa. – Ally Easton and Shae Black each scored 10 points, as visiting Coudersport cruised to a 62-11 win at Austin in North Tier League action.
Black added eight rebounds for the Lady Falcons with Easton coming away with five steals. Also for Coudersport, Tory Crosby had 11 rebounds to go with eight points while Alyssa Wood chipped in seven points and eight boards. Kiara Perkins also scored nine points with Haley Keck scoring seven. Ten different Coudy players scored.
Madison Hooftallen paced Austin with five points.
JOHNSONBURG 33, RIDGWAY 22
RIDGWAY, Pa. – Behind 14 Nicole Myers points visiting Johnsonburg grabbed a 33-22 win over Ridgway in an AML rivalry game.
Emily Dillinger added seven points for the Ramettes, who used a 10-4 second-quarter advantage to grab an 18-10 halftime lead.
Emily Fullem had another strong game for ridgway with 16 points, 14 rebounds, 11 blocked shots, two steals and two assists. Hannah Park added four points, five boards, six assists and a block.
NORTHERN POTTER 62, OSWAYO VALLEY 30
SHINGLEHOUSE, Pa. – Kalie Cowburn and Gracie Hamilton each had double-doubles to help visiting Northern Potter grab a 62-30 North Tier League road win over Oswayo Valley.
Cowburn had a monster night with 26 points and 10 boards with Hamilton chipping in 11 points and 13 rebounds.
Also for the Lady Panthers, Jenna Hyde scored 11 with Tory McCutcheon adding nine.
Shayla Bickel netted 18 points to pace Oswayo Valley.
PORT ALLEGANY 53, CAMERON COUNTY 39
EMPORIUM, Pa. – Autumn Buchsenschutz led a trio of Port Allegany players in double digits with 17 points while adding eight steals, as the visiting Lady Gators dispatched of Cameron County, 53-39, in North Tier League action.
Erin Stauffer added 11 points for Port with Cailey Barnett chipping in 10 points and seven rebounds. Becca Lathrop also had seven boards for the Lady Gators.
Madi Guisto had 10 points, five assists and two steals for Cameron County with Madison Harrier also scoring 10 points and Amily Schatz adding seven points and 10 rebounds.
GALETON 55, SMETHPORT 37
GALETON, Pa. – Cortney Parsell, Makaya Shadle and Olivia Pagano combined to score 36 points to help Galeton knock off visiting Smethport, 55-37, in North Tier League play.
Parsell led the Lady Tigers with 14 points, Shadle added 12 and Pagano 10.
Abbey Woodard led all scorers with 23 points for Smethport.
BOYS
CLEARFIELD 51, PENNS VALLEY 34
CLEARFIELD, Pa. – Tommy Hazel scored 24 points, grabbed 10 rebounds and came away with three steals to lead Clearfield to a 51-34 win over visiting Penns Valley in Mountain League action.
Will Myers chipped in 12 points, seven rebounds, two assists, two blocks and two steals for the Bison who also got 10 points, nine rebounds and five steals from Evan Brown.
Luke Snyder scored 13 points to pace Penns Valley.